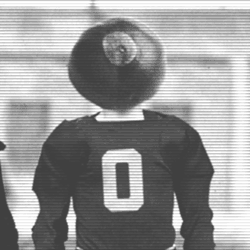 wigmon
---
MEMBER SINCE February 10, 2017
Recent Activity
someone on espn, I believe Bilas said osu didn't belong in the tourney.
The lineup choices were "crazy", but in the end, you realized that the choice was to put out a team that could defend isu's strengths and then ride Wesson and one of the two guards (it happened to be woods with the hot hand this game) on the offensive end. No ahrens and barely saw washington and muhammad. Now, some of that is taking a chance that the other team isn't going to hit enough shots to win but honestly, we made it tough for them to score and that credit goes to the game plan and the effort put forth.
The sarcasm seems pretty thick to me.
Agreed. There was a case recently decided in Chicago where two men were found guilty of armed robbery for pulling on guns on someone, forcing them into their apartment, then robbing them. The one man got 8 years because he had committed a bunch of crimes previously, but the other man got 2 years probation. Yes, you heard that correctly. Pulling a gun on someone and robbing them in their home and avoided jail.
Because first time offenders get a slap on the wrist, but if they plead guilty and are caught again, then the punishment will be more severe. They don't really want to spend the money to go through the trial, but want the guilty plea on record.
"This is a standard first-time offender plea offer," said Palm Beach County State Attorney's Office spokesman Mike Edmondson.
The office extended the offer to 24 other men arrested in the case, but no one has accepted it so far, Edmondson said.
ISU is very hot and cold. They lost 6 of their last 8 (4 to teams not in the ncaa tourney) before winning the conference tournament. They moved up a couple of seeds by winning 3 straight games, so we are getting a team that might be a little overseeded, though KenPom and BPI would have them on the 4/5 line. We have 2 common opponents, Iowa and Illinois. We split with both teams as did ISU (2-2, 1-1).
Clearly their ceiling is higher than ours, so how do we keep them from playing well? We need to defend and not turn the ball over. We've done a pretty good job in half court defense most of the year, but the half court defense tended to suffer when we turned the ball over (ie, poor decision making on offense led to less discipline on defense). We obviously can't control how many shots we make, but we have to take care of the ball and get good shots, which means moving the ball quickly and looking for the extra pass. I felt like we got too impatient at times, but our assist numbers were up the last few weeks. Their defense has been very suspect in their losses, so if we can execute on offense and keep the turnovers down, we should get good looks. Whether we make enough of those looks to win, I dunno.
I agree that overall, you have to view this past season as a positive one. We finished tied for 8th which is was pretty close to what was predicted, but few saw us as an NCAA tourney team. I'd still say I'd look at it as a rebuilding year and getting into the NCAA was a bit fortunate given the nature of college basketball this year. You can't expect to get in the tourney every year with the resume we had. Not ready to talk about next year yet, but I would say that '19-'20 was the season I was pointing to with expectations when Holtmann was hired.
We will need to get really good guard play in order to prolong our stay in the tourney, but we don't have a crazy difficult road to make it to the S16. ISU got hot at the end and elevated their seeding from an 8/9 to a 6 with the b12 tourney win, but they had lost 6 of their last 8 league games including 4 games to teams that did not make the dance. They are a hot and cold team. If we best them, we most likely would get a Houston team who is pretty much a mirror image of the Cincy team we beat early in the season. I am not saying I am predicting it, or it should be expected, but we got a pretty good seeding and draw to make it happen.
I understand people saying they want diallo because center is a clear position of need. But understand, diallo is a project who isn't going to be major college ready for at least a couple of years.
not sure I get this grad transfer offer unless we think someone is transferring (jallow?) and the two frosh are going to be playing at the 4 and 5 next year (something that I think is a reasonable possibility).
While I don't disagree with anything in the post really, even if those smaller conference chose to send their regular season champ, it wouldn't change how the at large teams were selected. If anything, some of these smaller conferences gain a chance to get 2 teams in, though I agree that the committee all too often snubs that regular season champ.
Personally, I would go back to a 64 team field. The play in just seems silly.
I would say after last nights games (losses by a lot of other bubble teams), we are safely in the field no matter the outcome today. Lunardi currently has us in the last 4 byes category and as the top 11 seed (moved up 5-6 places with the win over Indy).
in looking at bracketmatrix (better than just looking at one individual), we were listed as the last at large before today, but there were 4 teams listed above us that weren't "in" as many brackets as us. Bracketmatrix only averages the ones you are listed in, so their averages were inflated. I think that means we were actually in the "last by" slot. Of the teams in the bottom 8, nc state lost, tcu lost, st johns got crushed and we beat IU. I would say right now, we are at least 3-4 spots clear of the cut line and probably not having to play the play in game. If we don't win tomorrow, I think we are back to a 90% chance of being in, but we will be in a play in game.
Indiana actually had a pretty good resume for the tournament (much better than a lot of bubble teams). They've beaten Marquette, Louisville, MSU x2 and Wisky. I don't think any other bubble team has close to those quality of wins, other than maybe Texas who has to win their first B12 game just to stay above .500 for the season.
I'll still to what I said the other day, which was beat IU and we have a 90% chance of being in. After Gonzaga lost, I'd say it probably dropped us to about 75% chance of being in which is where I'd say we sit today. I think we may have jumped NC State with their close Clemson game and loss today and think our resume is very similar to Oklahoma's after their loss to WVU. I think it would take at least 2 more conference tournament upsets to knock us out (and thats if teams like TCU, Texas, Florida, ASU, St. Johns all win another game in their tourneys). We are rooting for Buffalo, Nevada and Washington in their conference tourneys. The BE and American conferences could also produce a champ that could steal a bid.
We aren't definitely in by any means, but odds are in our favor.
Oklahoma loses to last place WVU. They were "safely in" before the loss, but I think they move to the edge of the bubble with this loss. If you compare our records, they are pretty similar. They were 7-11 in conference, we were 8-12. Their non-conf wins were Wofford, Creighton at home, Florida and Dayton neutral. Our best were Cinci and Creighton road, UCLA neutral. I'd say slight advantage to us with the road wins. In conference, their best wins were TCU twice and Kansas at home. TCU is a bubble team, but the Kansas win was good. We have home wins over Iowa and MN which are tourney teams and road win against IU which is a bubble team. I'd say slight advantage them. Ken Pom, they are 42, we are 45. They do have an edge in NET ranking 40 to 55 though we get a chance to move up a little in the NET with a neutral win over #51. Overall, I'd say as it sits right now, we look very comparable. Beat IU and I think that should put us slightly ahead.
It doesn't have anything to do with the "new system". The pac12 would normally have 5-7 tourney worthy teams. This year, if washington or asu win the conference tourney, they will only get 2. The big east is down as well (only 2 teams over .500 conference record). They had been putting in 6 or 7, probably only 4 this year. The teams around the bubble just have worse records this year.
I still think we are likely in with a win against IU unless there are 2 or more other conference champs that steal bids. Its certainly possible and we are in a more precarious position with the Gonzaga loss.
I don't know whether he is considering that or not, but just in looking at his skill set/size (decent height, short arms), he's more suited to the 4 and I think he considers himself a 4/3. But next year we have young, andre, liddell and gaffney who are all battling for minutes at the same position as ledee. does he want to stay and battle for pt, or try another venue? I have no idea.

I understand your point and agree that it should be a consideration, but the committee instructions are very specific this year in that when the wins and losses occurred are supposed to have 0 impact on the decision. Now, I am sure it will still have some sway, but those stats of last 10 or 12 games will not be present on the record sheets for each team.
I laid this out in a post yesterday, but there are maybe 10 teams that need to win their first round conference tourney game or they could be out. For example, Oklahoma has a 7-11 conference record and has a very similar OOC resume to ours and they are viewed as an 8-9 seed. Texas has to beat Kansas in its first game or finishes the season 16-16 (no team without a winning record has ever made the tourney as an at large). NC State and Clemson are also playing a winner in/loser out game, so thats at least 1 team that is currently in that is going to drop. TCU was 7-11 in conference and their only somewhat decent ooc win was home against fellow bubble team Florida. Their first round B12 matchup doesn't provide them any boost and OkSU could beat them. Certainly there are teams off the bubble that could move up as well. Here is the way I would state it:
- If we are lose we are out (duh)
- If we beat IU and lose to MSU, we are about a 90% chance to be in. I wouldn't say its a lock or that we deserve it, but its just the nature of a weak bubble. If we only win 1 game, I would personally take Belmont or UNCG given how we've played the last 3 months, but while those teams have packed on the wins, they don't have any significant ones.
- We are 100% in if we win 2 BTT games.
Probably doesn't happen a lot, but In '14-'15 ferrell was 1st team for 8th place iu (dar was on as well, but we were 7th place)
Agree that there are possible bid stealers, but there are also teams that will drop if they lose. Texas, Oklahoma and TCU would likely all drop behind the winner of the IU/OSU game if they lose their first round game in the B12 tourney. Texas needs to beat Kansas to stay above .500 for the season. TCU has a first round game against OKSt which only provides an opportunity to drop, with no boost for winning, so they might need to win 2 games to assure a bid. Oklahoma will get in if they beat WVU which they should, but a loss will push them to the edge of the bubble. Florida, NC State, Clemson (maybe another playin/playout game between NCSt and Clemson), ASU, St. Johns are all teams that could drop from current positions with first round losses in their conference tourneys, so there is probably a better chance to move up on the bubble than down by going 1-1 in the BTT.
you know, I will take back what I said about the loser definitely being out. IU has some really top notch wins and I think there are 4-5 teams on the good side of the bubble facing weaker teams in their conf tourney that could drop below IU even if they lose. I don't think our wins are good enough, so we are definitely out with a loss.
IU has fewer losses and I think better wins than Texas who is projected to be in the tourney. The bubble is just that weak.
Its crazy to think we can get in with our record and performance since the beginning of 2019, but I agree that the winner of this game is most likely in (90%) and the loser is out.
Wanting to know and feeling you are owed an explanation are two entirely different positions.
ITs not just that the writer wants to know the reason and is blaming individuals without knowing the reason. ITs that he doesn't know anything about basketball. Young (and to some extent Ledee) did just as good a job on Happ (maybe even better) than Kaleb would have. Yeah, he ended up with 16 points, but on 6/14 shooting so we held him below his average. Iverson plays the 3 and was guarded by different players, mostly Andre and Jallow, but would never have been guarded by Kaleb.
First off, Land Grant writers are mostly morons (at least on basketball stuff). I mean they just called Kahlil Iverson Wisconsins "star center". Never mind that he doesn't play center, but how can anyone with even a rudimentary basketball knowledge of the Big Ten not know that Wiscosins star center, who may win player of the year in the conference, is Ethan Happ?
The writer is upset because he doesn't know the reason for the suspension. I'd say its none of his business. I imagine his teammates know why he is suspended and the fact that it hasn't leaked out probably means they are trying to protect Wesson.
Yes, this suspension has affected the team and obviously we don't know the particulars, but if you want to blame someone for the impact on the team, it should be the offender, not the disciplinarian.
I'm as critical as anyone of coaching choices, but I really don't get the criticism over the last shot. We made a smart decision to go a little early believing Wisky would foul and they did with about 7 seconds left. Still enough time to get a decent shot off. Its too easy to switch and double team with that short amount of time left, so you give the ball to your best one on one guy and let him try to get the last bucket. We don't really have a go to guy, so Holtmann went with the senior who was having the best game of anyone on our team by far. Wisky backed off significantly and he had a wide open look at a pull up three. He just didn't get a good handle on the ball before putting it up and he missed badly, but it was a pretty good look.
Now, personally, I may have gone to Woods in that situation. He's not as quick off the dribble, but seems to have a better knack for making the pull up/fadeaway 15 footer. However, he was being guarded by a bigger guy and it would have likely been a difficult shot. I've got no issues with the shot we got given the personnel on this team.