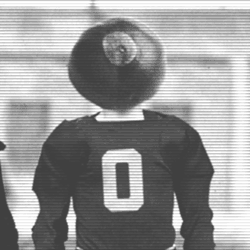 whobdis
---
Member since 13 November 2011 | Blog
Recent Activity
I usually enjoy your WMD's..but I wish I had not read the Jonestown story
I know this is about M's D but hard not to be frustrated with our recievers and route trees. Sometimes have nobody short...everyone is going deep. And when routes are finished guys just stand there.If QB starts to scramble you need to help him..either block if he's past the LOS or find an opening
Disagree with WIlson's speed in HS. He hit 10.5 in 100 MM...about what Devin Smiths' best time was. Smith
won the Div 1 title with 10.74.
Maybe not totally related..but I'd like to see them change the scheduling so the bye week team
travels for the next game. It's ridiculous for us to get home from Wisky (after they had a bye week) and then
travel the next week to a team that also had a bye. Listening to one of the sports betting talk shows
they give a sizeable disadvantage to the teams that have to do that.
My respect for Chris Ash just dropped like a rock. I think Sister Hazel is from the Gainesvill area..probably something to do with Urban.
Odd that Hausmann is not on the list..he's been playing
???? I only see 2 of our 10 wr's being under 6' and that's Dixon/Clark. Neither get much playing time.
yea..the LB's and safety(at times) were really cheating. Watch the first video above..they aren't worrying about any pass coverage. I would really like to see us make them pay for that. Personally I prefer going to the area where the defender is abandoning but counters would work as well.
Who is No 20..he's carrying the ball. Roster says Franklin but he's safety
I love this stuff...wish we had one every day. It's cool to see how these guys are on the practice field. Of course they know they are mic'd so hard to say how much that changes things. Happy for Luke
We'll see how it translates on the field..but hard not to notice how much stronger Paris looks now.
The guy is much bigger in the upper body area. I think he was known as a speed guy early on. I
think he showed a hint of that in the spring game as he brushed off a tackle that I think brings him down
last year. The coaches obviously see something in him and they know a lot more than we do..so we'll see.
Honestly I think this was part of CJ's problems last year...he was always looking for the long ball..big play.
Other teams knew this and would play deep. You could see CJ waiting for the deep ball to get open meanwhile
the underneath guys were uncovered.
prepare for another 'freaking out' if he doesn't select Ohio State. We've seen of late several in state prospects go elsewhere and this will not calm the waters if he were to go elsewhere.
I'm guessing Schiano's firing has humbled him a bit. I live in Tampa and I've seen plenty of his interviews. He's certainly different than he was.
Yep..that's where it starts. The mindset that the players mentioned...expectations start when you walk in the door. I'm sure if you walked in the workout facilities at some programs it would be completely different. I imagine that's where Herman started the change at Houston. It doesn't start on gameday.
have to agree with others..if Loving is that fragile than he's better off on the bench. We aren't going anywhere this season and we need some leaders to step forward as we build for next year. And the leaders have to be tough enough to handle adversity. The young man does not.
I love this kind of stuff..thanks for taking the time. I generally think I know football but after reading some of your articles I always come away knowing more than I did.
I believe Urban is 2-2 against MSU. Not a big difference but I don't like it when people hand pick a stat.
Hard not to notice number 3 with some great downfield blocking on both plays
Collinsworth last night was saying Seattle was running options but Russell wasn't carrying it last week. If the qb doesn't run then it's really not an option and makes it much easier to diagnose. I think we have some that right now. QB's ran for barely over 20 yards Saturday. Just to big a part of this offense imo to remove.This isn't what hurt us Saturday as mistakes were too widespead..
Have to agree with GB413...Eze isn't running like he did late last year. I thought it during the game and these clips show he's lowering himself to a point of no return. I think if the guys didn't even touch him he would have been down. He was running through bama lb's but one NI safety was getting him down. He started out like this early last year but picked up. We'll see..
First time I noticed how fast that ref was
as mentioned..we are in serious need of some tight ends. With all of the recruiting success we've missed on a boatload
of tight ends. I have no idea why as we do use them. Vannett is gone after this year and the tight end needs to know a lot in this offense so it takes some time. And you always wonder if Baugh is going to do something stupid again and get kicked off the team. Yes..it would be great if we can start building our next star tight end.
Much was made of the bear front but what struck me when rewatching the game was how many times the VT qb just made a great throw before being hammered. Some were caught on fingertips. He looked NOTHING like that in the two VT games I watched later. I doubt he pulls that off again. The basketball attendance numbers were kind of odd. I wouldn't have thought Nebraska would be so high. We were 5th I think and Illinois beat us by about 4 people per game. For an awful season that's about what I would expect. Most of us weren't happy by the effort from many on the team and that hurts more than losses imo
Georgia is not a bad school...one of a handful of SEC schools on par with B1G