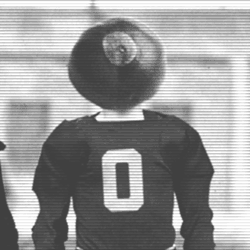 whobdis
---
MEMBER SINCE November 13, 2011
Recent Activity
Suprised Mathew Jones has already been passed by Miller. I know it's early but still..
Good stuff...and now it was Dennis who was talking to Fields so much in the spring game.
Unpaid internship isn't a good analogy either. They get no benefits whatsoever..no salary..health insurance ext. One can't say that about a student on scholarship. Room/board/education has a value. The original anaology isn't apples/apples but closer than internship
I know Crowley gets mentioned the most but I really like Chambers at RB. It will not surprise me at all if hes the first RB to see the field as Crowley needs some time in the weight room
it's 3 yards in college..used to be 5. Prince was called for being downfield and he was just at 3 and a half. Of course we get called for it as I seen lineman downfield all the time. Next time you see Auburn look how far downfield their lineman get on the RPO
I don't buy the argument that Urban coming back caused our issues. First of all our D is our main concern and he delegates that out. The run game is our main probable on offense and that was an issue from day one...it didn't start when he came back. I do think Haskins has looked a bit different but I think teams have started to figure out how to play him.
I'm probably in the minority but his reliance on so much man/man makes me nervous. I've seen us play that with little time remaining in the half and receivers are very close to making the play. We seen PSU do that for the past couple of years with tall wr's who make plays. It just puts a tremendous amount of stress on the D. What's saved us is the pressure from the front. There is a reason nobody us runs it as much as we do.
No it's not Schiano's...one can do a search and find the variables that go into the decision as to whether a DB turns. I wish they would put a sticky note somewhere so we don't get this response so often. Actually Speilman had a pretty explanation of it and said almost everyone uses that technique..even in the NFL. It's frustrating to have people blame the players
Probably like most here..I only paid attention during the WSU bowl game. Announcers claimed he was one of the 'up and coming' DC's. I'm not sure how one knows that. They did say he's had to adjust the D quite a bit as their D is undersized. Uses some unconventional scheme at times. Probably doesn't have to do that at OSU but it won't hurt to have that in the tool box.

I guess the obvious thought is something like the Patriots Edelman(who also played qb in hs)...Woodhead..guys like that. Undersized quick guys who can find open areas. We have no idea if he can catch but qb's usually have good hands. Could be interesting
rotted ham chandelier!!! LMAO
What was nice to see was guys were open quite a bit. There are a number situations where JT had multipe guys open. During the game many were complaining about WR not getting open but I seen several open wr's. JT just has to have the confidence to go to them Heck Indy rarely had guys wide open but they throw it anyway
So..you can accept flying dragons and walking skeletons..but can't accept they could find some chains? ;0)
Kareem Felder is now at Rutgers..changes his name to Tre Avery. No idea what that's about.
I usually enjoy your WMD's..but I wish I had not read the Jonestown story
I know this is about M's D but hard not to be frustrated with our recievers and route trees. Sometimes have nobody short...everyone is going deep. And when routes are finished guys just stand there.If QB starts to scramble you need to help him..either block if he's past the LOS or find an opening
Disagree with WIlson's speed in HS. He hit 10.5 in 100 MM...about what Devin Smiths' best time was. Smith
won the Div 1 title with 10.74.
Maybe not totally related..but I'd like to see them change the scheduling so the bye week team
travels for the next game. It's ridiculous for us to get home from Wisky (after they had a bye week) and then
travel the next week to a team that also had a bye. Listening to one of the sports betting talk shows
they give a sizeable disadvantage to the teams that have to do that.
My respect for Chris Ash just dropped like a rock. I think Sister Hazel is from the Gainesvill area..probably something to do with Urban.
Odd that Hausmann is not on the list..he's been playing
???? I only see 2 of our 10 wr's being under 6' and that's Dixon/Clark. Neither get much playing time.
yea..the LB's and safety(at times) were really cheating. Watch the first video above..they aren't worrying about any pass coverage. I would really like to see us make them pay for that. Personally I prefer going to the area where the defender is abandoning but counters would work as well.
Who is No 20..he's carrying the ball. Roster says Franklin but he's safety
I love this stuff...wish we had one every day. It's cool to see how these guys are on the practice field. Of course they know they are mic'd so hard to say how much that changes things. Happy for Luke
We'll see how it translates on the field..but hard not to notice how much stronger Paris looks now.
The guy is much bigger in the upper body area. I think he was known as a speed guy early on. I
think he showed a hint of that in the spring game as he brushed off a tackle that I think brings him down
last year. The coaches obviously see something in him and they know a lot more than we do..so we'll see.