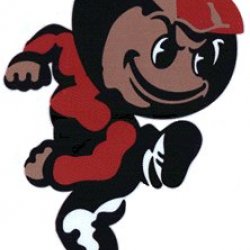 Whiskaz
---
MEMBER SINCE March 20, 2014
Recent Activity
Dobbins by 21
Depends on the kids?
Isn't Harrison committed?
Remember, kids ... Crack kills.
I heard you on the 11W radio show last week on this topic. I laughed when you avoided calling them the cocaine whites (assuming that's what you were thinking). Those are hands down my favorite.
You must be fun at parties.
And you have to consider the era ... 5'10" wasn't as relatively small then as it is now. That being said, I've never felt that a DB's height is that critical depending on his other attributes.
He's in the D League. Click on the link to the NBA/D League article in the opening paragraph.
Pretty sure the Saints have already added him to their roster.
Eh ... step away from the ledge. First, the performance this year is barely a glitch on the timeline of success for Ohio State and its defensive prominence. Second, and most important, if I'm a recruit like Harrison and I see OSU's defense is down this year, I see that as an opportunity to see the field sooner.
My twin nephews (technically 2nd cousins) went to Brentwood. Graduated last year so I drove down for a game. I had no idea they played against Herbie's son's team.
Logged in just so I could like this.
It was sold out for Saturday. I'm guessing tomorrow is too.
Sorry. Should have read further before I posted.
Unless I'm mistaken, Sully is getting married so Oden is actually replacing him on the roster.
Generally, you are correct. When Vegas was the only legal place for betting, they were the de facto regulator. That is the concern now. Vegas had all the monitoring in place to know when suspicious activity was happening. If it smelled funny, a game came off the board. Vegas wins best when there's equal money on both sides of a bet.
"Penn State was widely considered the favorite to land Kelly's commitment, but things took a dramatic turn in the last few days leading up to his announcement. The Hokies essentially came out of nowhere to secure his pledge on Thursday, as they weren't even listed among his top schools two months ago."
If there were ever two sentences that screamed for investigatory follow-up ...
Good to see the videographer survived to post the video. Still can't believe how that story got buried.
My daughter goes to Udub. Went out there Thanksgiving week last Fall. We watched the game at Buckley's in Belltown - which I didn't know to be a *ichgan bar. Needless to say, we enjoyed it.
Why not?
You should drink more or suck less.
Considering it's not even officially Spring, what exactly has been tough? The basketball team had a magical year that drove all of us to be fans again. The wrestling team is the #2 team on the country. The Lady Bucks are still alive. And I'm positive I'm forgetting other success stories. Just some friendly advice, enjoy the ride. The absolute most we can ask of our teams is to give us a reason to care. No further comment necessary.
Man, I'm giving you an upvote just for taking a stab at interpreting that. From what I could tell, we offered a high school (or college?) coach. All I can say is, commas matter.
The Chinese football program can't even hold a candle to Indiana - much less Ohio. #cmonman
Honestly, it's one of life's biggest mysteries.