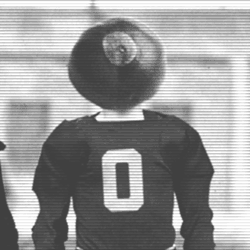 Whbrbl
---
Member since 10 October 2012 | Blog
Favorites
COLLEGE FOOTBALL PLAYER: Mike Doss
NFL TEAM: Cleveland Browns
NBA TEAM: Cleveland Cavaliers
MLB TEAM: Cleveland Indians
Recent Activity
2012 Perfect season (Two overtime games)
Agreed. If you can't keep the CFP trophy in Columbus, keep it in the B1G.
Presuming these are questions: "Really? These are the two division champs?" Either way, it will be interesting to see how the Spartans and Hawkeyes play in their respective bowl games. Hope they rep the B1G well. Be nice to see Alabama fall to the B1G Champion two years in a row.
A comment fades a bit with every down vote, if there aren't enough up votes to balance them out. It is possible for the reader to temporarily darken the font - by touching the font on a tablet's touchscreen, or by clicking the mouse when the curser is on the font.
The fade feature appears to be a function of 11W members' voting their disapproval, not moderator monitoring. Not sure what the vote threshold is, but at some point, the down/up voting on a comment is suspended, and it retains a permanent fade.
Really did expect more for The Game during the Coach Meyer years. No longer believe that they're "saving something" for The Game: No Braxton Miller passes. No wide open offensive onslaught with multiple playmakers getting touches in space. No trick play that catches their defense off-guard. Pleased with the victories. Disappointed with the loss. Hoping for a competitive game with no injuries, and a victory for the Buckeyes.
If they can't get Tressel, maybe Tom Herman?
Well, at least we're not LSU. Wasn't LSU #2 before they played Alabama? That SEC conference schedule just wrecks teams.
Looks like a Scarlet light saber. Pretty sure Blue is evil.
Don't think the second quote was aimed at Elliot. Coach Meyer has said in other interviews that he wants his players/playmakers to want the ball, especially during those critical make/break moments. Also, it's not out of character for Elliot to want the ball. More likely, Coach Meyer's message was a reminder to his team to remain selfless, and focus on what each can do to help the team achieve their team goals.
Thanks for the follow up, and the link, Johnny Ginter. The stats from that site begin with the year 1904, and the "Output only includes games where both schools were classified as major schools, and thus will not necessarily match "official" all-time results.". That explains the disparity. And using the "both classified as major schools" criteria, tOSU is 47-47-4 vs. TTUN. I'll buy THAT for a dollar! Keep up the good work! Thanks again.
Here's something that you may not know about the Ohio State/Illinois rivalry: they've played the Illini more than any other team in college football. More than Wisconsin, more than Indiana, more than the Michigan freaking Wolverines, the Fighting Illini is in fact our oldest and most constant rival, with a rich history built up through decades of turtle-related animosity.
.... Ohio State is 17-4 in their last 21 games against Illinois.... and historically holds a 68-30 win advantage in the matchup.
With a reported 46-58-6 record against TTUN, mathematically, Ohio State has played more games against their Rival, than for possession of the Illibuck...
They should promote Cardale Jones to 3rd string QB on the depth chart. Jones is a much better 3rd string quarterback.
The hope is that this is the type of adversity that will galvanize the team for November and the post season.
D'OH! Thanks Buckeyeguy0615. It WAS a Minnesota coach, though, wasn't it??
In his honor, tonight's dessert will be Dilly Bars.
is in New York as apart of a media blitz
DJ, don't know if you throw these in to see if we catch them, or to drive us crazy: "a part" means to be included, or to be an element of something. "Apart" means to be separated from something. "A part of my day included tearing DJ apart for his misuse of the word 'apart'."
Rutgers' version of Dark Night in Piscataway.
Did Brady Hoke design Jesse Owens' track uniform?
It isn't gray, it's anthracite! Sheesh!
Just watched Big Ten Elite, "2014 Ohio State Football". I think I know what's been missing this season - Ezekiel Elliott's crop top. Break the rules!!
Coach Meyer has answered the second question, stating numerous times that though the two quarterbacks are competitively close in practice, Cardale Jones continues to grade out slightly better. JT hasn't won the starting job, yet.
The system we saw Saturday gives both quarterbacks playing time, rewards each for their hard work and their team contributions to date, and gives the team better opportunities to succeed.
Thanks, Paper.
#2 - Yep.
#4 - Media analysis/hype.
Pleased that the Buckeyes are winning, undefeated, and #1 in the polls. Just wondering:
As #1, the Buckeyes are getting every team's best shot. Why aren't the opponents getting Ohio State's best shot?
During the playoff stretch, if Cardale Jones couldn't find an open receiver, he would often run with purpose to get the first down. It appears that he's waiting longer before he takes off running. Is he being coached to extend the play this year?
Are the coaches trying to reward too many talented and hardworking players with playing time to the detriment of developing an identity on offense?
We heard so much about the wealth of talent, that the expectation of many was that the competition wouldn't be able to keep up with all the offensive looks. Ohio State would be overwhelming other defenses with quick strikes, or long, time-killing scoring drives depending what the situation merited, or what the Buckeyes' coaches wanted to work on. Did anyone else think that in September we would see the Buckeyes scoring early and often, and that the 4th quarter of each game, they could rest their starters and showcase their depth chart without missing a beat?
These Buckeyes are not complacent. They are hardworking, driven competitors. The adversity they've faced so far this season, from the injuries, to the competition, to the media and social media analysis of their performances, will keep them focused and united.