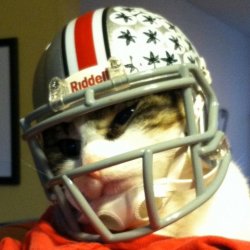 What Would Troy Smith Do
---
Houston, TX (via Houston)
MEMBER SINCE July 03, 2014
Favorites
SPORTS MOMENT: Attending the 2002 OSU - Mich game.
COLLEGE FOOTBALL PLAYER: Troy Smith
NFL TEAM: Buffalo Bills
NBA TEAM: Houston Rockets
MLB TEAM: Cleveland Indians
Recent Activity
Would have been '69
I guessed 4 of 5. Kind of figured the Malik Hooker pick 6 from 2017 would be on here and nothing from 2015.
yes he is. Then proceeded to get hired by Boeing and worked there for 6 months basically attending layoff luncheons as he put it before his time came.
He went into sales and never used his degree for anything. Did alright for himself anyway.
Texas native. Born in Houston and currently lives 50 miles north of Houston.
My dad was born and raised in Cleveland and he goes back to the days of listening to OSU games on the radio when Cassady won the Heisman in '55.
He did not attend OSU and went to Rose-Hulman in Indiana instead.
I just started liking them around 95 or so when I was 15 because he mentioned he rooted for them and I didn't know he cared about college football. I'm now a huge fan and I don't know why but I never even though of OSU as a college option. My senior year would have been the 02 NC year. Though my first game in Ohio Stadium was The Game that year.
I don't remember him being a big sports watcher as a kid and we never had cable. Where as now he doesn't miss a game though that maybe that is due to my increased interest and we share it.
Both my kids are huge fans now too.
"All these Buccaneer's........"
yes. I rarely come to this site after beating Michigan but the game thread on mgoblog has become my annual schadenfreude reading tradition while watching the Iron Bowl.
I have to say my favorite thing I've seen on there, and it is definitely a hindsight 20/20 thing, was the post on the after game thread on mgoblog from 2011, where they guy went on to say Brady Hoke was the best and he was a true Michigan Man and would be there for years to come. Hilarious to read now.
Didn't need to read this to know that. Obvious to everyone except the replay official and that clown ESPN had on as an "expert"
Took my dad to the '02 OSU/TTUN game. It was both of our first times in the Shoe. Quite a memory.
Agreed. Great recruiter, good DB coach but is he a DC? I've never heard of him doing that and I would be concerned
I'd like to announce that my plan is to win the lottery and spend the rest of my days with Emily Ratajkowski and Bar Rafaeli.
Not so sure he's not deserving to go over TL.
Lawrence - 68.8% 3172 yds 9.4 y/a 34/8 TD/INT 407 rush yds 5.3 ypc 7 TDs
Fields - 67.5% 2953 yds 9.6 y/a 40/1 TD/INT 471 rush yds 3.8 ypc 10 TDs
So really close but the turnover's clearly tilt the odds towards Fields. Also, he faced much, much better competition and defenses which should put the nail in the coffin.
This is not a slight towards Lawrence at all. Just that Fields was really good this year and better, albeit close, than Lawrence.
This game will be a banger.
2006. The only time I've felt like world beaters with a team I root for.
Not that others weren't good. But to feel like you are the class of whatever league?? This is it.
It did not turn out like I hoped.
This team is even better.
I suppose a nod goes out to 98. The other time I felt we were the best and it wasn't close.
This is actually one of my favorite annual traditions. The Annual Schadenfreude Reading of Mgoblog. I do it while watching the Iron Bowl
true, but in fairness he has been very complimentary of this years OSU squad.
Definitely wasn't expecting a result from the Rutger game to make me feel worse.
This is all contingent on his family's wealth because if he comes from a Boss like family this doesn't work. But, if he took money from an agent last year I hope he holds a press conference apologizing for letting his team down, that he knew it was against the rules, but that his family needed the money for bills, rent,car repairs for work, etc. and he knew no other way to help his family out. I hope he shames the entire motherfucking NCAA for their "we are amateur sports". I get he's still out and you have to play by the rules at the time but I hope he burns the fucker to the ground. Nothing happened to Auburn over Newton, the College Basketball scandal has guys on tape and in court saying Clemson is paying players and even high and mighty Michigan was caught up in it. Or Bama and their guy who ran the menswear store clothing also the players and paying for appearances. Not one damn thing done about it. I'm not pissed he has to sit out for breaking rules. I get it. I'm pissed because it doesn't seem to affect other schools and we get hammered. Remember when Johnny Football, got caught taking pay for autographs. Most pundits were on his side. They acknowledged it may have been against the rules but we're sympathetic to him. A night and day difference with how tatgate was reported on. Again, do the crime do the time and it really sucks he's gone but shit......
Just take the L.
He's currently Klatting you on a thread about Klatt doing just this same thing.
Dude, this was for fun. No my co-worker really did read that and showed me and it may have played what we consider a larger than it should influence if true, but I posted this to have a little fun with it. Unclench.
*inserts Dollar, Dollar Bills, Ya'll.gif*
I get it but this site is a mix of straight journalism and non. So I can understand mentioning things like this.
As long as they do not give him legitimacy in doing so.
I call B.S. Bert isn't cancelling a dinner date.
Yeah, the current staff is mostly shielded from a ZS meltdown but not completely.
And even if they were all shielded its not the kind of thing I'd want floating out there. That comes with it's own set of problems. Of course, the blueprint on how to deal with it has been established. Just don't cooperate with the NCAA and there's not much they can do.
This is gonna end up biting us in the ass at some point.
Can't bring myself to listen, because I think the guy is an assclown, but he seems to be dropping all kinds of interesting nuggets that are likely true to mostly true regarding the program/recruiting etc...This story is pretty funny actually. He probably isn't as forthcoming on his family situation or it's a much more biased take.
But if you think we are squeaky clean I have some beachfront property to sell you in Arizona. I could definitely see a situation occurring because he opened his damn mouth. I don't think the school is directly or even indirectly is really paying players (the infamous bagmen) but there is no way those guys aren't on the outside with the hundred dollar handshakes and such. I'm 100% positive this occurs at every school. And I bet a coach or two at each program knows about it so there goes the plausible deniability and how long before the shit hits the fan.
Anyways, if DJ goes on with him I'll probably catch that episode. DJ can be a bit sanctimonious and we don't agree politically but I do believe he lives what he believes to the best of his ability and I do think the guy is pretty intelligent. I would expect him to come on with all the stuff he knows and wipe the floor with Zach.