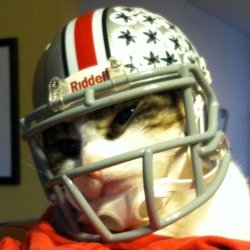 What Would Troy Smith Do
---
Houston, TX (via Houston)
Member since 03 July 2014 | Blog
Favorites
SPORTS MOMENT: Attending the 2002 OSU - Mich game.
COLLEGE FOOTBALL PLAYER: Troy Smith
NFL TEAM: Buffalo Bills
NBA TEAM: Houston Rockets
MLB TEAM: Cleveland Indians
Recent Activity
Was OSU in one? Then, no.
Ha. You recognized it from my description huh? Feel free to share it if you know it. That way I have plausible deniability......haha.
Assuming your synopsis is correct I won't even read the article.
No need to waste my time on stupid. Someone is butthurt/ran up on a deadline.
Maybe he and Draymond could have a ding-a-ling kicking contest. Maybe get them both kicked out.
Completely correct. Per Tilman Fertita, see my comment at top, expect that to be a part of any contract UH offers any coach. Or at least they will try.
Put the brakes on this one.
Tilman Fertita (owner of Landry's Restaurant Group, The Golden Nugget Casinos etc.) , possibly the biggest UH booster said this morning after this rumor got started that Kiffin has NOT been offered the job.
He said they expect an announcement sometime tomorrow but that Kiffin has NOT been offered the job as of now.
He would know. e said they have 4 good candidates, Todd Orlando (DC), Major (OC), Kiffin, and Les Miles.
I would tend to believe Tilman.
Now it is totally possible that UH has decided they want him, but hasn't offered yet.
He might as well have been on the Olympic Standing There team. DJ, you need to put acting in quotes.
Ugh.....lets hope they don't pull out "MSU Gameplan 3.0".
I didn't like it the second go round last week either.
Perhaps if I hadn't forgot to do it the last 3 weeks we'd be in first.
Came here to say this.
Also, NOOOOOOOOOOOOOOOOOOOOOOOOOOOOOOOOOOOOOOOOOOOOOOOOO!!!!!!!!!!!!!!!!!
Not to mention this will kill UH's bid for the Big 12. Pretty sure they werent' getting in because of their geography and the the fact that doing so would encourage Herman to stay leaving them a very serious threat to the Elite's in the conference (at least short term, and lets face it, most people don't look too far in advance).
(I was born in 1994. So…)
*Sigh......
Ahh you make me look sane.
WE have 4 dogs all rescues. And a cat (who you can see in my AVI that is a rescue. We might possibly add a purebred German Shepherd from a rescue group in the future. We'll see.
We also have 2 rats, 3 goats (we will keep 1, and the other hopefully goes to auction after county fair), and a horse.
We have 4 acres so that helps.
I'd agree, but if they fire Strong and hire Hermann all bets are off. That would probably hurt us the most.
should be 17-19, but too early to tell. Need more games to play out. Hell if craziness happens they could actually move UP.
Hope that chair doesn't open up. You know some entitled a-hole will try to use it.
Maybe you should. I already saw this on MGo.
I went there first when I heard to read the reactions.
Someone here really hates Ryan Lochte.
Or you peed in someones cheerios BEATTTUN.
I just think about baseball. It's cheaper.
WHAT? I know I've only lurked the for most of this year but Oyster was banned???
I knew about Bass but then they let him back. What the hell happened with Oyster?
Now that is an awesome story. Considering the ref, totally believable too?
That dude is like the Eric Gregg (biggest strike zone ever, see video earlier in thread) of basketball
In fairness I think Michael Thomas was 2 time recipient of that award and he worked out.