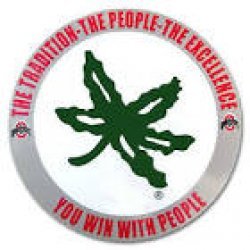 WezBuck28
---
MEMBER SINCE July 20, 2012
Favorites
SPORTS MOMENT: My favorite sports moment has to be when the #1 ranked Ohio State Buckeyes defeted the #2 ranked team up north at home and the entire field was littered with fans...I have a poster hanging above my desk at work so that I can relive this moment everyday..what a game..
COLLEGE FOOTBALL PLAYER: If your attire consists of scarlet and gray, then I am a fan
NFL TEAM: Bengals
MLB TEAM: Redlegs all the way
Recent Activity
Pu$$y..../s
I saw his height, and thought to myself, surely we aren't going after him as a QB...then later read "athlete"..
I'm sure I will get some grief here, but here's how I feel about it all..CJ Jackson sucks, keyshon woods sucks, kaleb Wesson is extremely inconsistent and fouls too much..noone can box out or rebound except for Kyle young, this team is just a disaster right now..we need a dominant big man, that can finish..here's to turning things around next year!!
I'm all for young offensive minds, and Ryan Day has that..
So all those discussions of "Urban to the NFL" were indeed false...that's because he's going to the AAF....makes sense now.../s
limit the turnovers Uhh.. someone might wanna have a talk with CJ Jackson about limiting turnovers..
Beat me by 10 seconds lol
I like it a lot
Is it me, or does CJ Jackson turn the ball over too much?!? And why in the hell did we play the trap to their advantage? We would dribble 1/4 of the way up the court, before getting to the "trap", and then just stopping and looking to pass the ball off...if it were me, dribble that bitch up to half court as fast as you can and don't allow them to establish a trap..
Something that I think is absolutely crazy is that saunders has Velcro for hands, but doesn't hardly see the field..
Let's see how coach Holtmann handles revenge games..
That's one big MOFO!! Welcome aboard young man!
Regardless of what happens, or doesn't happen, today..this is an outstanding class for coach Day!
I'll be waking up at 2 am for work, I'll have my entire pot of coffee gone, and I'll be primed for some nsd action.. here's to a few more signings!
Outside of the top 5, maybe 10 picks, it never ends up like everyone predicts..
Hell yes!!
I'm glad we have someone in office with some sac that ain't afraid to make some changes..
Ok look...we need someone taller than 6'9" tall to play the post, we need people that can shoot and not turn it over..also, box out and rebound the damn ball..
As a reds fan, I'm tired of watching terrible season after terrible season..just do what you gotta do to make this team relevant please!
Can someone light a fire under their asses please?!?
What the hell is a transfer portal!?!?!? /S
I have to disagree to a certain extent here because they played again UF, and who knows, he could have had a monster game? I'm sure that would certainly add to his resume..chances are he probably wouldn't of had a monster game, just saying..
McLaurin is gonna be a sleeper...I knew this kid was going to be special once I saw his tape after he committed..I just didn't anticipate it taking so long for him to make an impact, I was hoping that he would lead the group after Devin Smith ran out if eligibility..
Holtmann already knew this year wouldn't be like last, so, with that said, just play everyone.. rotate the young guys in and get them some experience, it will only make them better..just my 2 cents..