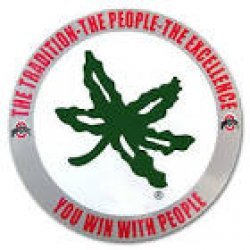 WezBuck28
---
Member since 20 July 2012 | Blog
Favorites
SPORTS MOMENT: My favorite sports moment has to be when the #1 ranked Ohio State Buckeyes defeted the #2 ranked team up north at home and the entire field was littered with fans...I have a poster hanging above my desk at work so that I can relive this moment everyday..what a game..
COLLEGE FOOTBALL PLAYER: If your attire consists of scarlet and gray, then I am a fan
NFL TEAM: Bengals
MLB TEAM: Redlegs all the way
Recent Activity
Desperate times call for desperate measures..good luck with that one, James!
Ha..never even caught that! +1
Trader...
Let's get it, fellas!!
I would absolutely shit my pants if the browns took him with the first overall pick..
Haskins and Holtman for Heisman finalists!! I'm super excited to see out down field approach next season..well, at least I'm assuming that's what is coming..unless somehow Martell gets the nod for his running ability..
I'll just say they did anyhow..for about 8 months straight..haven't looked for a while..
Walter football has had Jamarco Jones going to the Bengals in round 2..fwiw
They were making some poor passes early, forcing passes that weren't there..Jallow forced 2 turnovers on back to back possessions..he didn't come off the bench the rest if the night..
The final score of the men's bball game last night is a result of the "trap game" that Northwestern fronted them with late in the 4th quarter..it might have been the first time all season they have faced that much pressure in the back quart..we were able to pull out the win though, and they way our guys handled it is the difference between a good team, and a great team..
Coach Holtman is using the underdog as motivation this season..I suspect he will have them ready to play
I like this teams swagger right now..I'm going 84-62..
Why will the men's basketball game against Minnesota be in Madison square garden again? Asking for a friend..
What sold you Ohio State?
There definitely was no beating around the bush with that commitment..
Urban needs to close that fence that Tressel put around the state of Ohio..we can't let guys come in here and pick and choose who they want..
I can see Sean Peyton going after this kid, reuniting him with some former buckeyes in the big easy..
+1
Please add the Saturday night live finger sniffing lady gif here..
I think that adding some experience to this young team would be the route that I would go in adding to this class..plus that ass won't take such a hit once they are all old enough/able to leave the program..get some graduate transfers for the experience
McCall needs to get on the field this season, it seemed that dude makes a big play just about every time he touches the ball.. Holtman will have himself a dangerous team in a year or 2..I mean look what he has done thus far..it's good to be a buckeye right now!
Wait...didn't I say you on live PD!?!? /s In all seriousness though, Alaska is beautiful and I'm kinda jealous actually!
The thought of Barrett in Cleveland almost pains me..I like the kid too much, he doesn't deserve that..
If Washington chooses tOSU, I don't see him staying as a rb..maybe consider him more of an "athlete".. would most likely work out well returning kicks or in the slot..
I don't care who coaches what position, as long as they know they have a standard that needs met, and that they must get it done..I have a Feeling that our defense will not skip a beat when Schiano leaves for his next job..Grinch was a great hire!