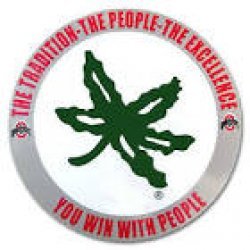 WezBuck28
---
MEMBER SINCE July 20, 2012
Favorites
SPORTS MOMENT: My favorite sports moment has to be when the #1 ranked Ohio State Buckeyes defeted the #2 ranked team up north at home and the entire field was littered with fans...I have a poster hanging above my desk at work so that I can relive this moment everyday..what a game..
COLLEGE FOOTBALL PLAYER: If your attire consists of scarlet and gray, then I am a fan
NFL TEAM: Bengals
MLB TEAM: Redlegs all the way
Recent Activity
Unfortunately, this guy doesn't do social media.. lol not my cup of tea..
Was expecting to see a highlight video in there somewhere..meh..oh well.. welcome aboard!
This is my biggest concern about getting the young guys some PT so that when it's their turn to take over, we are not in a situation where we have inexperienced guys blocking for a new QB, to me, it sounds like it could have the recipe for disaster, but I'm confident that the staff will have them where they need to be...I'm hoping they figure it out before the fighting Fick's come to town, that one already has me kinda worried.. inexperienced offensive line against an instate squad looking to make a statement, and it just so happens that the Bearcats will have a pretty stout Defense..
Give me an Ohio kid with the hunger to compete any day of the week..I feel Gunnar will be a better QB here than he was at UK..just because, which I'm gonna steal one from Urban here, "a QB is a product of those around him".. surrounding himself with a better situation imo..
Larry Johnson just keeps Proving his worth by pumping out defensive linemen like it's nobody's buisness! Should speak volumes to recruits considering their NFL future!
Starting to become"QB U" with day running the show!
Couldn't help but laugh at this lol +1 from me!
Classic!! "The league done messed up"
Poor bastard..I even guaranteed he would get drafted.../s
Part of me wonders if coach K even knows how to coach basketball, the dude is probably just an excellent recruiter that gets kids in his program that don't need coached up.../s
Coffee
Dude should have been drafted..
Will most likely move back to guard along side of Price, just my guess, but hell yes, excited about this pick!
Good Chance he will be there next round for them
Great news!! Welcome aboard!!
Hahaha... Dwayne, please thank the Giants organization for passing on you, blessing in disguise! Damn...please Cincy, please!
Congratulations Nick!!
There was a trio of vets from the "wounded warrior project" on stage as well..so it's possible..
Since when has the national anthem NOT been sang?? This is 'Murica bro..come on..
My brother lives/makes a living right in downtown Nashville, and he is right in the thick of things as I am typing this..he said it's absolutely nuts..he has sent me videos, face timed, etc..not gonna lie, I'm actually pretty damn jealous..lol..he said earlier in the week, Ed Oliver was up on stage with his band as they were performing..
We have what, 11 total picks? We can almost draft an entire new offense or defense..but, I suggywe use them wisely..if we don't take Haskins with the first pick, then I think we need to wait unti next year to draft a QB..we really need some solid LBS, and solid offensive linemen..
All these trips to Athens as a "buckeye"...come on main..
Yeah, but can the throw??/s
He ain't no pitcher, but that boy fast a$$ Fu*k!!!