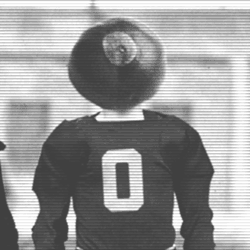 WestSideTower'79
---
Florida (via Hubbard)
MEMBER SINCE January 08, 2018
Favorites
SPORTS MOMENT: 2003 Fiesta Bowl, upper deck on the goal line, scoreboard end. My eyes were glued to Gamble from the moment they broke the huddle and he split wide right in iso.
COLLEGE FOOTBALL PLAYER: Arch on offense, Spielman on defense
COLLEGE BASKETBALL PLAYER: Carter Scott
NHL TEAM: Tampa Bay Lightning
MLB TEAM: Cleveland Indians
Recent Activity
Can we be sure it wasn't a female that dropped that deuce?
Archie is also the one and only member of the 31 consecutive 100+ yard games club, for all of DI football. I think # 2 on that list is Hershel Walker - - at a measley 24 or 25.
His sophomore MSU game is a performance burned into my memory. Kaleb got 2 quick ones early and a third only a minute or so after he was put back in late in the 1st half. Andre ended up playing his career high minutes facing, and controlling, MSU's 5-star postmen on the defensive end. KDB and Tate stuffed the stat sheets for the upset, but Andre's David-and-Goliath act is what won that game, no question.
That 97 flashed quite a bit in the Spring Game, though that probably doesn't mean a great deal given the general conditions of play added to the loss of 4 starters from the '18 O-line. But it's a helluva lot better than disappearing.
Correst on Hooker's 4th, a block in the back at the 7 yard line, 4 yards behind the play. He also had another returned inside the 15-20 yard line when he had a clear path to the goal line but got shoe-stringed. Or strung, for all you would-be copy editors lurking out there.
Arch always played 11 game regular seasons and they played in the Rose Bowl all 4 of his years. That's a 48-game career total, and the streak was only broken with the *ichigan game his senior year.
The booth never even mentioned Harrison being on the field in the first half. He had a couple of impressive snaps where he just overpowered the LT, but looked less impressive on technique, change of direction and hustle. Potter, OTOH, showed a lot of burst, good feet, hand combat and effort. He really stood out, wearing #97 wasn't even part of it but pretty cool icing.
I believe the 9 player days had four each offensive and defensive players that could not cross mid-court. Only one player from each team could play both ends. When I lived there for awhile in the early eighties, girls HS basketball was played that way in both Iowa and Oklahoma. I'm sure it's changed now in the pursuit of college scholarships, although you should never bet on what thoughts might prevail in those states.
OBJ may make the highlight reel catches, but his catch/target ratio is pretty mundane at right around 66%, which is flat-out league average. Granted he lines up mostly in the slot in doesn't run deep and/or sideline routes, but Can't Guard Mike is an other-worldy 84%. There are a hand full of RBs and TEs who nudge 80, but few WRs over 75. I'm not a big believer in analytics as a rule, but the gap he's got on true comparables is huge. Having Drew Brees tossing the rock is an advantage but, at least last season, his fellow WRs were a bunch off UFAs and cast-offs, making him the sole focus of oppo schemes.
62-39 was inevitable after his pre-game towel-wave tweet.
The receivers rarely sought separation with JT. If the ball wasn't in the air four seconds after the snap, they started blocking. ICYMI, blocking is the antithesis of getting separation. With DH, after 4 seconds there were directional changes, coming back to the QB and looking for open spaces. Now, if this was the psychological difference in their heads between JT and Simba or if that's the instructions they had from staff, I don't know. But there are plenty of YouTube game replays available for you to see for yourself.
Having made those observations, Haskins was always much more confident in and decisive with his throws. He also had advanced abilities to both look DBs off and throw his receivers open. Those qualities enhanced the WRs separation skills and padded Hartline's rookie coaching resume.
The part of Haskins I think I'll miss most is his confidence. I don't remember how many interviews he's given where he says, "We watched some film, saw a few things we think we can attack and now it's time to go out and put on a show." And then he backs it up. Wish we'd all had a chance to see him put 'Bama, the Sooners or Clemson into a spin cycle. I wouldn't have been betting against him.
C'mon, man! Would tearing down the M banner at 11 p.m. on a late August Thursday night in Jerry's Playpen make any sense? Sure it may set an all-time Neilson ratings record for the time slot, but The Game is The Game precisely because of The Shoe, the Big House, late November weather possibilities and long windows for post-game activities. And I am perfectly fine with any east or midwestern rivalries having to suffer in insignificance or wait for the 3:30 time slot, because The Game is the only show in the country at noon, period.
Conley was a wretch as a freshman. First snap of every game he played was a deep route thrown right at him and he got torched every time.
Every.
Time.
Just watched Baldwin's senior highlights tape on HUDL. After the normal precautionary disclaimer about highlight tapes, his arm is strong and accurate. After the snap reads are impressive and release is pretty quick, too, though not Simba-like (as if many are). His legs, however, needn't take a back seat. He can buy time in the pocket, has decent though not eye-popping speed, actually reads a read-option (Haskins biggest shortcoming), throw it on the run, has a stutter step and sees the field well after crossing the line of scrimmage.
Fields shouldn't relax. If it's Game 2 and we're a 27 pt favorite in the Shoe against an OOC patsy and only up a FG at half because Fields has 2 INTs to go with a couple TDs and then throws another one to the bad guys to open the 3rd qtr, Baldwin has to see the field next possession. And Fields has to earn the position back if Baldwin moves the chains, secures the ball and puts points on the board with his opportunity.
That's just the way it is at this level.
"Brink" being the key word there, and you could just as easily put "just the" in front of it. No doubt, Fromm is the stereotypical coach's kid - - literally built on the workshop countertop in the basement. Diet, weights, workouts, film study, the whole shooting match from an early age. Fields is the other end of the curve - - a tremendous natural physical talent that needs to catch up with all the rest of the "stuff" that gets you to the brink - - and hopefully over it.
Really?? The highest HS rating of anybody who has ever agreed to play for tOSU and you'd shrug him off? without knowing what in-state alternatives are/were/will be available???
"Walnut Ridge High School's Qian Magwood took a big step forward this summer with an impressive showing at a Cincinnati football camp this past summer. "
When did you say that camp was? Maybe last summer?
Or maybe the out-of-state Day noticed during his 2 years on staff that literally every team we played got a standout performance by a 3 star Ohio native that never got so much as a look-see from the Meyer staff. And in each season we got bush-whacked by a far less talented team as our out-of-state All-American candidates walked around in a daze, confounded by the idea that the other guys wanted it more.
Under Meyer, the only games our players left the field bleeding Scarlet and Gray were the 7 against scUM and Bama, maybe the ND bowl game but then everyone's motivated to beat the Irish. Everything else was pretty much viewed as practice, even PSU and MSU.
My best friend from late 70s tOSU days married an FSU girl. She used to toss the Chip Ferguson game (at the Shoe!!) in our faces pretty regularly but started on souring on Bowden in the 90's. When they played VT and Michael Vick in the Y2K Sugar Bowl for the Natty and threw twice into the end zone in the last minute of the game with a 17 pt lead, she'd had enough. Been a diehard Buckeye fan ever since.
They should just name that thing what it is - Least Expected Successful Coach of the Year.
Where does it all end? The logic of allowing replay on any non-call opens the door to review of all ticky-tacky calls actually made. The Chiefs don't tie up the AFC game if a Pats' CB doesn't get flagged for some hand-fighting on a ball that landed 5 yards downfield. Should the booth be allowed to review and reverse a non-called hold on an interior lineman? Or review blocks in the back, called or uncalled, on kicks?. Maybe the booth should blow a horn when they feel forward progress has been stopped, and stop the game to correct all the ball marks since they are currently all off by 4-6 inches? If all decisions are given to the booth for accuracy, what does that leave for the field crew to do? Make sure they keep their earpiece in and on?
Please recall, Papa Bear John Bosa AND his Uncle Eric Kumerow each had 3-year NFL careers due to tissue issues.
I missed this game, but what stood out on his highlights, even from junior year, was his ability to see where the ball was going and move toward it. Of course, it was the highlight tape, so maybe those were the only plays he made in two seasons where he actually looked for the ball. At least he showed he could do it.
Odd; I haven't heard anybody refer to him as "Keyshawn Johnson's nephew" for a couple-three years.
And though it's been awhile since Keyshawn's been in the news (last time was something about chasing Justin Beiber's Lamborghini out of his neighborhood, IIRC), they may call him Michael Thomas' uncle, who made a few Pro Bowls a couple decades ago.