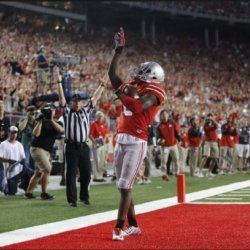 WesPatterson23
Member since 09 February 2014 | Blog
Favorites
SPORTS MOMENT: When Kenny Guiton led the comeback against Purdue in 2012
COLLEGE FOOTBALL PLAYER: Dontre Wilson
COLLEGE BASKETBALL PLAYER: D Russ
NFL TEAM: Browns
NBA TEAM: Cavs
Recent Activity
I've heard that Joker Phillips will most likely replace any leaving position coach.
Now that signing day is over, and the coaches are no longer recruiting you, what are your conversations like with them?
Do you expect any members of the 2016 class to start this fall?
He has entered. He played some in the Va Tech game, and played some throughout the season in certain packages with Jeff Greene.
Any reason McLaurin isn't on the list?

Percy got all those touches because he was constantly the best player on the field. None of our WRs or H-Backs are considered the biggest playmaker on the team. At this point, it's Zeke, so he's going to, and has gotten more touches than anybody.
He will not switch back to QB. According to Zach Smith he is a full time WR now, and is pretty fascinated with the new position.
I will keep it simple. I think this more experienced team will come out ready to play. They're going to slug Va Tech right in the mouth for four quarters and see if they will do anything back.

What does Urban tell you about how you will fit into the H-Back position, and what makes it so attractive?
Yeah, I agree. I just want to see if he can be an every down TE. I know he is very athletic and can catch, but I'm anxious to see his blocking, which is obviously vital for any TE in our system.
Yep, officially we have 5 with: Wilson, Miller, Marshall, Samuel, and Campbell. I see Clark (if he can finally get healthy), McLaurin, Dixon, and maybe even Hill play more like a Philly Brown. They get moved around, but are really good slot recievers that can potentially go on a sweep, but don't ever really line up in the backfield.
Exciting times to be a tOSU fan...
AJ is a Tight End, so I wouldn't be surprised if he did get some PT this year, just because Marcus Baugh isn't fully proven.
http://menofthescarletandgray.com/2015/07/08/fall-camp-position-battles/
Read my story on Fall Camp position battles.
Parris Campbell and Marshon Lattimore.
What made Ohio State the school for you?
He definitely wants the offer, but we have way too may slots coming in who are higher on the board than him.
Who do you model your game after?
I've been saying this for a while, but if Torrance comes to fall camp, and is electric like his tape shows, he will get on the field somehow.
He probably will redshirt, but if Torrance is an immediate playmaker, he will get on the field.
IMO, he looks way too skinny to be running the ball. He just doesn't seem like an H-Back to me.
I'm not sold on him being faster than Parris (if you consider him a full WR). Braxton can obviously fly, but IMO Parris might be the fastest on the team.
I wouldn't be surprised if Torrance had some unique packages due to his elite athletic ability, so I bet he will go to away games.
Well, Cam Burrows will likely be Nickel, so there is still Vonn and Malik Hooker (whenever they play Nickel and Darron is out, obviously) at FS, then Tyvis, Erick, and probably Damon Arnette (true frosh, though) at SS. Also, I'm confident that Marshon will be healthy, and that one of the three incoming freshman will contribute.
I'm not too worried.
Yes, the H-Backs are in the WR room. Occasionally, they will work with the RB's (like Dontre did in Fall Camp last year to learn to run inside), but they are WR's.
I can only remember 5 db's from the 2015 class. Was there a 6th?