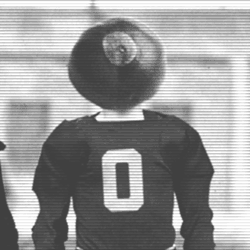 Wesleyburgess1
from Greenfield Ohio
MEMBER SINCE August 21, 2013
BIG Buckeye fan. I am from Southern Ohio but travel for work (Generally working in Sec country). I love to argue with ignorant sec fans. I truly believe that OSU football is on the fast track to greatness.
Favorites
SPORTS MOMENT: The 2002 National Championship game.
COLLEGE FOOTBALL PLAYER: Braxton Miller/JT Barrett and Reakwon McMillan
COLLEGE BASKETBALL PLAYER: Aaron Craft
NFL TEAM: Browns
NHL TEAM: Blue Jackets
NBA TEAM: Cleveland Cavaliers
MLB TEAM: Cincinnati Reds
SOCCER TEAM: NO!
Recent Activity
Why don't we just claim ourselves National Champions like UCF?
Id rather him sack Hurts with Joe watching on TV while he polishes his trophy.
Yea these awards are a fucking joke these days. Thats what they get for letting morons vote on them. Burrow deserves it but Jalen Hurts shouldn't have even been there
That pisses me off every time i watch Clemson. Our Tackles aren't playing very good this season either. Such a shame we lost a 5 star in our own back yard.
This just directly hurt our chances of winning the title big time. I know everyone wants to be all confident right now but Clemson is a fucking juggernaut of a football team. LSU KNOWS they got so so lucky missing this team.
That never happened...
What's up with all these morons asking NFL questions?! Who cares about the Redskins.
Personally i feel like being ranked #1 is a burdon our team doesnt need. We want to have a chip on our shoulder and not feel like we've made it 5 weeks into the season. I hope Bama stays there. Clemson needs to fall NOW because they play no one and if they dont lose they're gonna be in. They need to set them up to have to win big every game or get treated like UCF
Well if Schiano stayed on staff as a strictly safeties coach after Day was hired it would kind of seem to people like he was demoted. Thats all i was saying. Im no expert on what it takes to run a successful defense so maybe this works for us but it just seems like an odd move to me. I am excited for Washington and Hafley though. I'm hoping Mattison is just here to groom the younger coaches and provide stability to the staff.
Im not too optimistic myself. I think it could work but poaching a coach that was demoted to Dline coach from ttun to be our DC doesn't excite me. I guess im just in the wait and see mode now but i have a feeling recruiting will fall off a little on defense. Hoping these guys can prove their worth in year one to jump start those pipelines back up
This just seems very odd to me how Day is obviously trying to emulate what ttun has done on defense. I dont get it seeing how we have pretty much dominated their defense lately. Im assuming this means Taver Johnson is staying?
What about bring in Jon Gruden to be Director of Player Personnel? The Vols would be so pissed too
Yea and im so jealous. Why is it that every GREAT coach we get leaves after a few years. I feel like that is Clemson's biggest advantage over teams like us and Bama. They somehow can be elite AND hold onto their talented coaches for years. I used to feel the same way about Bama holding on to Kirby Smart for so long. Hopefully Venables gets a power 5 HC job this offseason and takes it.
I believe Urban mentioned that Bosa is getting more tests done today related to an Abdominal/Groin issue. Said he will definitely miss Tulane. Haven't heard anything other than that
If he goes back to Coordinating again id bet the rent he will be Urbans OC at some point. Identical to what Shiano did.
Im confused. Is any of this something we didnt already know? I wonder if OSU can prove they didnt send anyone to talk to her?
I guarantee there isnt going to be any complacency with these coaches or players after Meyer comes back. They're gonna be doing a lot of catching up in a short amount of time. Still pisses me off this has taken so long. I guess they're just worried they might miss something and have it blow up on them after they make the decision.
What? Who tf works??
No way im clicking on an ESPN article. I refuse to give them clicks or views from now on unless i have no choice.
Never heard of her.
And get lucky like Auburn when we play them in football.
If you compare his Jr. Highlights against Clownys Jr Highlights they don't look entirely different. Clowny had amazing burst off the line which Zach needs to work on and Clowny showed a lot more power. Urban himself has talked about Ohio players being a bit behind southern kids because of no spring practices. I'm seeing a kid that has a monster frame with SHIT TONS of potential just waiting for coach Mick and Larry Johnson to develop. Step into LJ's Dojo and get violent hands and nasty get off mixed with power from coach Mick =....5×5 star generational type talent/#1 overall draft pick! Now we just have to build a fence around his house to keep the Saban and Dabo types out
Didn't that very thing happen to Jashon Cornell?
Like you I agree with the statement for the most part. It is extremely hard for any ole school to just break through and win a Playoff. The ONLY way to do that is to be "9 units strong" and be stacked with talant. I think the only way around the statement is if a school has a young coach like Urban Meyer that just so happens to be from their region and catches lightening in a bottle. When that happens he could change the entire outlook of your recruiting and in turn your program. Imagine if Urban had been from Nebraska and believed in that brand/school like he does OSU. No doubt the future would be much brighter for Nebraska and he would win Championships there. Luckily he's from Ohio and were a juggernaut of college football anyway.
I was wondering the reason for moving around so often and having coached one year with the Browns but I'm very happy with the hire. He's shown he has the ability to do this specific job before. He's a great fit being his specialty was Corners and Special teams.