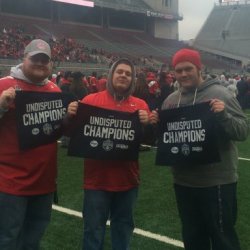 WesBranscum
from Sidney
MEMBER SINCE October 03, 2014
Favorites
NFL TEAM: Titans
NHL TEAM: Blue Jackets
NBA TEAM: Cavs
MLB TEAM: Cubs
SOCCER TEAM: USA, Crew
Recent Activity
Bama by 28
Haskins has been fighting an intense uphill battle since day 1. Only 1 year as a starter in college is just the tip. Neither staffs he has had in the NFL wanted him. Rivera made that clear from day one, which IMO was bush league. I questions if Rivera isnt trying to sabotage Haskins to get what he wants. But no one will question Rivera because of his cancer, yup I said it. The organization has set Haskins up for failure since day 1. That O-Line is hot garbage, defense isnt much better, and if Terry is your number 1 that's an issue. Not a bash on Terry, but it speaks volumes about the organization. Hopefully Terry bounces as well. Haskins struggles are also on him as well. He stares down his WRs and is bot very pocket savy. Haskins needs a year or two to set behind and learn from a competent QB. That was never going to happen in Washington
Rivera is looking for a reason to bench Haskins. After this first score Dwayne was in a flow and Rivera looked he couldnt care less. He is being set up for failure in Washington. He needed a year or two behind a competent QB. He did not get that. Haskins is in same boat has back, shit coaching and franchises get a pass while they suffer the brunt of the criticism. Haskins and Washington need to part ways and Haskins need to find a home, something like Indy. Sit behind a competent QB andearn
I wish THE GAME was earlier. I'm not confident we make it to late October
Injury rate of 100%....you're high. I would guarantee that if you look at the overall number of football players, a very small percentage have injuries that still impact them 6 years later...
When I went to OSU vs Maryland game this year I was shocked with Maryland as a team. Straight from tunnel players went to benches and sat down, players were not engaged in the game and supporting teammates, and Locksely always seemed to be on his own 20 yards from everyone else. Tua's brother wont fix that. He is working with a bare tool.box considering what Tua got to work with. In the end, I'm not sure it makes much of a difference. Hell we dont even know how good the kid is. The quarterback Bama finished the season was just a game manager, and Tua's brother couldnt beat that
I'm hoping that someone brings a class action against all these companies (StubHub, orbitz,and more). I had to cancel my flight to Arizona for my graduation because the university cancelled and quarantine guidelines. Orbitz at told me best they could do is a credit that expires on 12/31/20. What kind of BS idls that.
I'm sorry but in my 32 years of watching football, there has never been a freshman that could make the transition to pros
I cut Oregon. It's a cross country trip, and committee has shown that OOC is not as important as we want it to be. For conference, I'm getting ride of Maryland and Iowa
This is so wrong. Sex trafficking is more than prostitutes addicted to drugs
I've said for years that any player projected top 10 has zero incentive to do combine, only negatives can come from it. I personally feel the combine if for late 1st rounders and later to make moves. Players like Burrow and Young have nothing to gain. If you havent been able to put it on film in three years, what does a drill in underwear do to make up for it. The answer, NOTHING
I will forever stand on the soap box that is we beat Sparty in 2015, we lose to Michigan a week later. That team was sleep walking all the way through the season. Say what you want about play calling, let's not act like the players played with a sense of urgency. Maybe best squad in OSU history and they were hard to watch at times.
I'm not saying that the dad and QB are lying about Hernandez and the gay relationship. I just find them hard to believe.
BUCKEYES WOULD HAVE HOUSED LSU
So many kids go pro before they are ready or need to. Tiua is injury prone and coming off of major surgery. Strike now, let an NFL team take charge of the rehab and make some money. Coming back only hurts his stock. Tia has absolutely nothing to gain by coming back
Here is why I believe JK is better than JT...plain and simple, in Wisky's biggest drives in both OSU games and even in the Rose Bowl, Taylor was on the sideline. Not in the game, not being used on screens, to block, or even as a decay..JK was. That is the biggest difference IMO
Somehow ttun and Jimmie win big and it fuels the hype train for another 5 years
To day Young disappeared that game is absolutely stupid. He may not of put up the stats, but he had a direct impact on that game. I question the football IQ of about 80% of posters on here
It was.by no means perfect, but overall not too bad. My biggest issue was the ending. I was not a fan of Rey taking the Skywalker name. Luke didnt take Kenobi, I feel like Rey should have embraced being a Palpotine. I also did not like that they teased force powers for Finn
Three years should be the minimum, I'm sorry but there has never and will never be a high school senior ready for the NFL
I'm a Marine Veteran, and I realize we are a department of the Navy, but they are really just our transport. Go Army
If you believe this report, please send me an email, I have some ocean fron property in Idaho to sell ya
We played the same team, ranked in top 10 TWICE. They have one of the best defenses in the nation and we had to rally down 2 scores, and we won by two score. No way we should drop from 1.
Frank's is not as good as McCaferry (sp)
If you thought for a second that ttun was going to fire him, you're not even special enough for tha class of kids that still wear velcro shoes. He is only leave ttun when he wants. He will be there for years.