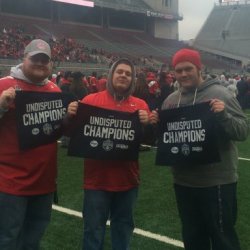 WesBranscum
from Sidney
MEMBER SINCE October 03, 2014
Favorites
NFL TEAM: Titans
NHL TEAM: Blue Jackets
NBA TEAM: Cavs
MLB TEAM: Cubs
SOCCER TEAM: USA, Crew
Recent Activity
This is so wrong. Sex trafficking is more than prostitutes addicted to drugs
I've said for years that any player projected top 10 has zero incentive to do combine, only negatives can come from it. I personally feel the combine if for late 1st rounders and later to make moves. Players like Burrow and Young have nothing to gain. If you havent been able to put it on film in three years, what does a drill in underwear do to make up for it. The answer, NOTHING
I will forever stand on the soap box that is we beat Sparty in 2015, we lose to Michigan a week later. That team was sleep walking all the way through the season. Say what you want about play calling, let's not act like the players played with a sense of urgency. Maybe best squad in OSU history and they were hard to watch at times.
I'm not saying that the dad and QB are lying about Hernandez and the gay relationship. I just find them hard to believe.
BUCKEYES WOULD HAVE HOUSED LSU
So many kids go pro before they are ready or need to. Tiua is injury prone and coming off of major surgery. Strike now, let an NFL team take charge of the rehab and make some money. Coming back only hurts his stock. Tia has absolutely nothing to gain by coming back
Here is why I believe JK is better than JT...plain and simple, in Wisky's biggest drives in both OSU games and even in the Rose Bowl, Taylor was on the sideline. Not in the game, not being used on screens, to block, or even as a decay..JK was. That is the biggest difference IMO
Somehow ttun and Jimmie win big and it fuels the hype train for another 5 years
To day Young disappeared that game is absolutely stupid. He may not of put up the stats, but he had a direct impact on that game. I question the football IQ of about 80% of posters on here
It was.by no means perfect, but overall not too bad. My biggest issue was the ending. I was not a fan of Rey taking the Skywalker name. Luke didnt take Kenobi, I feel like Rey should have embraced being a Palpotine. I also did not like that they teased force powers for Finn
Three years should be the minimum, I'm sorry but there has never and will never be a high school senior ready for the NFL
I'm a Marine Veteran, and I realize we are a department of the Navy, but they are really just our transport. Go Army
If you believe this report, please send me an email, I have some ocean fron property in Idaho to sell ya
We played the same team, ranked in top 10 TWICE. They have one of the best defenses in the nation and we had to rally down 2 scores, and we won by two score. No way we should drop from 1.
Frank's is not as good as McCaferry (sp)
If you thought for a second that ttun was going to fire him, you're not even special enough for tha class of kids that still wear velcro shoes. He is only leave ttun when he wants. He will be there for years.
LSU wont be shit next year
I don't know why anyone thought Gophers could be Wisky. Posers at best
I would want the Buckeyes to play Minny. Personally I feel like win or lose they should be in Indy. It should be a stipulation that if you've already lost to the other division winner and you do not win outright, the other team goes. Beating any team twice is hard, that also scares me away from playing Wisky. I realistically think Wisky beats Minnesota and badly. Wisky 42- minnysoda-7
Being blown out of proportion, the clocks in stadium read 0:00 after int. Some sports writers have too much free time and too much too space to fill in their article
OSU got a steal with Landers, but it sucks because in the future OSU may miss out on players like him. With the new signing period kids are pressured to sign or risk.not having a spot. Landers was one of the last classes.where late offers played such a large role
Offensively, get the ball out quick take advantage of openings in OSU zone coverage. Defensively, make Fields beat you throwing the ball. Focus on shutting down the run and make fields throw the ball to win the game
Alot of victim blamers in the Browns fan base, did Rudolph instigate, sure, but for the reaction that followed is completely unnecessary. Garrett deserves to sit rest of the season I would also hand out 1 game suspensions to every player that was involved in the scrum, and a 3 game to #65 on Cleveland who runs in late and blindsided Mason. That may be the biggest bitch move out of this entire incident. I cannot believe people are defending Garrett, wouldn't be surprised if these are the same people that blame rape victims for wearing perfume or skirts
Why not fight harder for a single game. Gene is so incompetent sometimes. First off, there was no need for this presser. Any competent AD and compliance office si ple states "The matter was handled internally and through the NCAAs guidence" THATS ALL.
Nice Letterkenny reference