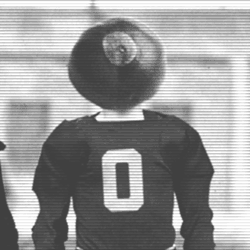 weirdscience
---
Boston
Member since 15 November 2012 | Blog
Favorites
SPORTS MOMENT: 1-3-2003
COLLEGE BASKETBALL PLAYER: Scoonie Penn
NFL TEAM: Got no time for that!
MLB TEAM: Boston Red Sox
SOCCER TEAM: Club America
Recent Activity
What a douche. Fuck *ichigan.
Medium already sold out? Please, PLEASE make more before I go back east to visit family in Tennessee. I really need this one...
The world is out to get us.
OSU backed into the 07 game. As for 06, sure, they were favored, but so was Oregon this year.
I can't speak for everyone, but I certainly don't aim to diminish the Oregon program. The point of this thread is to discuss whether there is excessive anti-OSU media bias (which there is), not whether Oregon was overrated (aside from being favored over OSU, they weren't).
Hmm, I haven't heard anything from the SEC network but I can totally imagine them showing zero respect towards Oregon. The SEC mentality is to either bash/delegitimize teams that lose on the field, or just ignore teams that beat the SEC on the field (and make endless streams of excuses). It's an immature approach to competition: arrogant in victory, sore in defeat.
Urban to the SEC: THE LASHINGS WILL CONTINUE
I thought Oregon was the best team in the country for most of the second half of the regular season. They just seemed to be hitting on all cylinders at the right time, especially in the PAC championship game and the Rose Bowl. Of course, this fact only makes the Buckeyes' win over them that much more impressive. I agree that there were very few teams capable of even hanging with Oregon this year, let alone beating them. Alabama might have had a decent shot, but I wouldn't have counted on it.
Braxton can do better (and probably does)!
It doesn't really bother me because it's consistent with the manner in which the media has always behaved regarding OSU. I would be interested to know if Urban has ever considered using this to the team's psychological advantage.
"Bosa's late hit?" Hmm, at what point in the game was Joey flagged for a personal foul? I don't seem to remember that. I do remember a clean hit on Mariota by Bosa after which the quarterback was visibly shaken up. It's quite possible I'm forgetting something, though. Maybe memory loss is a side effect of the unadulterated joy I'm experiencing due to the Buckeyes winning a NATIONAL TITLE.
Totally agree, they were head and shoulders above everyone else by the end of the season.
It certainly felt like a long season to me, but in the best way imaginable. So many twists and turns along the way made it an amazing journey. Remember the initial stages of The Run following VT? Kent State, Cincy...I was just taking it week by week at that point. I recall how the defense looked at times against Cincy and I remember thinking that it was only a marginally improved squad from last year's and that maybe Fickell's days on staff should be numbered...The Maryland game was the first time following VT that I really started to get excited about the improvement I was seeing on TV, but more in the context of "this team could be dangerous next year"...Dodging that bullet at PSU didn't exactly give me a ton of confidence about the Buckeyes' chances in EL, but at least they rallied as a team to get the win...Then came the surprises: a win against the Spartans that could have been a blowout (surely a sign of things to come, as this team finished its season dominating in spite of being mistake-prone at times), running the table on the rest of the regular season schedule (none of those wins were surprises in and of themselves, but given how young this team a let-down game was bound to happen at some point...right?), finishing off scUM with 8 minutes of 12 Gauge, 59-0 (Mel-Gor No More), We're In (!), Down Goes Bama (and the SEC), Bucks>Ducks. WHAT A RUN!!!!!
Watching this video reminds me of how many individual Buckeyes stepped up in big-time situations over the course of this season. So many huge plays when everything was on the line, delivered by guys that at one point or another in their careers at OSU had experienced significant adversity. This team was greater than the sum of its parts, but the parts will be remembered: JT after VT, long ball Devin, Bosa shrugging, Spencer to Thomas, 12-Gauge, Zone 6, EzE, The Slobs, MFing Darron Lee...I could go on, but you get my drift. Amazing run, gentlemen. Way to elevate your game to the next level. It was a privilege to behold!
Good to see Lane Kiffin is still moonlighting as a standup comedian.
Even bigger picture: since 2001, the Buckeyes have posted an overall record of 140-24 (including record from vacated 2011 season, because screw the NCAA). That's a winning % of 0.85, folks. Go Bucks!
My girlfriend is from Mexico and she is all about some Micheladas. I prefer my "blood" as a chaser to tequila or mezcal.
Maximus is a great beer too. I just like how smooth the IPA is, though. Gotta keep it as smooth as possible before The Game.
I'm on West Coast time, so my drinking schedule will be as follows:
7-8a: Coffee (black)
8-9a: Lagunitas IPA with bacon and eggs
9a-noon: Bud Light (nervously/profusely)
noon-?: Bulleit bourbon on the rocks