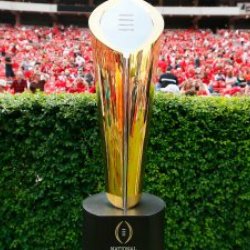 We want number 9
---
Lima (via Steubenville )
MEMBER SINCE September 04, 2018
Recent Activity
Because, SCREW Dabo! That's why! Lol
Welcome back Mr Wade! You've made this buckeye very happy with this!
Go Bucks!!
Welcome back Mr Wade! You've made this buckeye very happy with this!
Go Bucks!!
Thanks for the input fellas. I guess my eyes weren't deceiving me. I am truly disappointed in that officiating..next time let's have some neutral refs. PAC 10 would have been best..get the southern bias out of it!
Thanks buddy..because live i felt we got screwed. So thanks SEC refs for keeping the southern teams in the championship. College football is all I watch anymore and they are making that hard with this crap!
I just worry that the dirty Dabo's will be taking cheap shots at Justin's knee! It's hard to believe that they won't after we have seen the fondling and ass grabbing they have done in the past!
Go Bucks!
Kick Clemsons ass!!!!
Yes, I went back and looked comparing tickets. I did notice the Buckeye side was considerably higher. I do hope you're right..I want my fellow buckeyes around me for this game.
Go Bucks!
I'll be there in section 113 row 4 (clemson side unfortunately, bought the tickets before we knew who's side was who's). Flying in early the 27th from Lima Ohio.
Excellent write up, NoVa! It was very interesting to read the comparisons.
Go Bucks, beat Clemson's ass!
I was over on Tigernet reading some of their fans comments, and my are they full of themselves. It's actually quite comical! I get they've been winning so they have big heads now..but good lord lol. Talking about how bad and slow the B1G is, yet not acknowledging how crappy the whole ACC is. Please Buckeyes..smack the shit out of them!
Go Buckeyes!
see you in AZ
Ticket/plane/hotel booked!!!! Let's get to Arizona and get loud!! Beat Clemson!
Go Buckeyes!
Brutus865, I am sorry but your "opinion" is just that..an opinion. Navy schooled you with facts and you disregard them for your opinion? Lol
I was in section A near the 30 on the away side (Cinci game). Once people started to leave we just walked right down to the first row..nobody said a word. Enjoy the game!
Boy, this team is playing some great football! I initially was a bit concerned about this game (due to the weather). The defense looked GREAT, the offense started slow and made the adjustments and started clicking on all cylinders. Stay focused and this team will go as far as they want..it's a great time to be a Buckeye!
Yes that's exactly what I am saying. Do they truly believe Bama is #1 without Tua? And I don't know where Cinci comes up with I make things up in my head and get mad about it? I'm not mad at all..I just find it comical that no matter the outcome Bama stays where they are.
Dropped to 8 after the Navy game..so why does bama not drop from a poorly played game against a Tennessee team that is absolutely terrible? That score did not resemble how the game was played. In all honesty, I just want some consistency from these voters. Not the leave Bama at one because well they are Bama. That's all lol
And no I did not down vote you. I don't downvote people for their opinions. Unless it's something crazy over the top lol
2014 Braxton went down and we dropped immediately in pre season rankings. So yes it HAS happened.
Had we been ranked #1 and Fields got hurt..they would have definitely dropped us from one. It would have been "Ohio State lost their starting QB, they cant be ranked number 1 now". Not Bama though.
Master Teague III reminds me a lot of Beanie Wells with his style of running. Maybe not quite as big, but man does he run hard and have speed to compliment it! Go Bucks!
This made me laugh, so I had to log in and upvote.