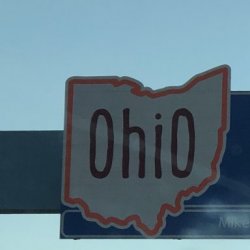 WC Buckeye
Idstein, Hessen, Germany (via Louisville, OH)
MEMBER SINCE January 12, 2011
Favorites
SPORTS MOMENT: Being present in Tempe to see my Buckeyes win their first national championship since I was a child.
COLLEGE FOOTBALL PLAYER: Ever: Chris Spielman; Current: Chris Olave
COLLEGE BASKETBALL PLAYER: John Havlicek
MLB TEAM: Padres. World Series champs someday. Bank on it.
SOCCER TEAM: Nope
Recent Activity
And yet... PSU won, but the Iowa magic almost happened again.
All oddly reminiscent of what we were saying about our team two years ago. Iowa by 2.
How about "Who's Your Uncle?"
Hence the need in our language for goofy (but illuminating) things like umlauts, tilde, and schwas. We seem to get by OK without them, but they'd be helpful in some instances.
Exactly, Navy - ex-Mrs. WC and I did the same thing in our moves while we were together, and we told the kids two things: "friends are where you find them", and "traveling light is traveling right". Two of them listened, and the one who didn't has become kind of a pack rat, maybe as an outcome of a fear of losing "stuff". Kind of like ex-Mrs. WC.
Absolutely. And we all know that coaches can be moved almost as much as (if not more than) the members of our armed forces. Thank you for your service.
I say this from overseas, having just moved here on an assignment where - guess what? - of course, I have to fill up my flat with essentials. Someday, something has to happen with all of that stuff...
Having just moved back to Ohio not all that long ago, Mrs. WC said of our move: "You don't realize how much shit you've got until you have to touch EVERY. SINGLE. PIECE. of it when you are boxing up to move." She is so wise - we're never moving again, and when I empathize/commiserate with anyone who is going through it, I use those exact words. I hope he, and perhaps more importantly Mrs. Day, feels exactly the same way.
Unless they start losing, of course...
"But he quit on his college team" - Every butt-hurt non-OSU fan
Stubbornly acknowledging the profound truth here. A la Elway, his Wunderlich score was very high coming in, and he became a supreme student of the game. Smart craftsman are gonna win.
Lewerke will werke some voodoo magic with his TE's and keep it maddeningly close for most of the first half, Bucks to the locker room up 21-13. Then Lenonwerke pulls his normal Jekyll and Hyde act and derps it up after Ohio State makes halftime adjustments, and OSU runs away big in the second half. Good guys 42-16 at the end.
It's a great day to be a Buckeye. Lots of time today to get revved up for the game with a few (okay, maybe several) adult libations and some yard work.
Nice story about the HS sweethearts. I have one like this myself, but it was 30 years, not 63.
GO BUCKS
Buckeyes in a runaway, like 56 or 63 to 7. Martinez is going to get broken in half early trying to get more yardage out of a busted play, and he won't return; the offense will sputter hopelessly without him. All phases of Ohio State's team will put up points, including two defensive scores and one special team score.
Politely and respectfully disagree, Navy. The subject of legislation of any kind IS political in nature, so if commenting on this is against the policy, either the policy needs to loosen up a little to allow some latitude for rational debate or the topic shouldn't be allowed on this site. Can't have it both ways here.
We share both a contempt for corrupt associations as well as a fondness of individual freedoms, MB12, but where we diverge is on the approach for how to balance these two notions. One state legislature making a move like this could be a start, but it also might not be; the member institutions, in my opinion, are the ones who have to collectively say "enough" and then come up with a better solution to this problem, and I believe (like you) that there is one to be had. Being the head of one of the top 5 revenue generating member institutions, Gene Smith has not only the influence but also the obligation to drive that. Let's see what he does with them.
Comment removed for violating the site's commenting policy.
...the heart of the schedule really kicks off later this month and into the winter."
Oh, how I wish it were so that the heart of the football schedule would go into the winter. Alas, winter isn't until December 21...
Roughly same size here, but I don't have any issues with most cars, either. I don't know if an additional 3" in height would make much of a difference, but 130# definitely would - that's several more inches in girth that I just can't imagine toting around.
He doesn't have the balls.
And he's laughing all the way to the ATM every time he needs to withdraw a little cheddar.
They did it. I hope the Chargers lose every single game this season, but that Joey makes the pro bowl. They kept the kid from ND State because Philip Rivers likes him. Stupid.
Preparing himself to write for the Wall Street Journal, perhaps?
After watching Cardale last night, I can't see how the Chargers don't keep him. Oh wait - they're the Chargers; they'll find a way to do something stupid every single time there's an opportunity.
GO BUCKS