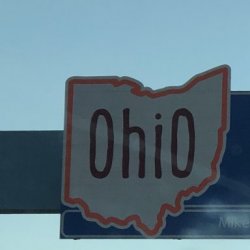 WC Buckeye
Idstein, Hessen, Germany (via Louisville, OH)
MEMBER SINCE January 12, 2011
Favorites
SPORTS MOMENT: Being present in Tempe to see my Buckeyes win their first national championship since I was a child.
COLLEGE FOOTBALL PLAYER: Ever: Chris Spielman; Current: Chris Olave
COLLEGE BASKETBALL PLAYER: John Havlicek
MLB TEAM: Padres. World Series champs someday. Bank on it.
SOCCER TEAM: Nope
Recent Activity
...except that both the OU/LSU and OSU/Clemson games are on the 28th...
It is a golden time to be a Buckeye. I am just aching to cash that ticket with the 11:1 odds I bet on in January for the football team to win the Natty, then I can relax and enjoy watching the basketball team do the same thing in March. That would have been a much higher payout if I had been smart enough to bet on it in October.
OHIO AGAINST THE WORLD
It's a good question, but probably for the same unknown reason that outside of the telecast not much was said about TTUN's players trying to untie shoe laces.
Cover up your groins in the pileups, guys.
GO BUCKS. BEAT THE JUICERS.
Ram that golly gee bullshit right up his pooper.
It's going to be really interesting to hear Mullens' bullshit twisted logic to explain this choice.
Unfuckingbelievable.
If Clemson is as good as everyone wants us to think they are, we'll end up playing them anyway, so what does it matter? I like our chances against OU, Clemson, and LSU. Bring it.
Thanks for making me shoot Coca-cola out my nose. That's funny shit.
Ich kann ein bisschen Deutsch sprechen, aber ich verstehe mehr als ich spreche - keeps the local on their toes! Sie?
Herzlich wilkommen, fellow Buckeye, and safe travels! I hope your wifi doesn't let you down.
Herzliche Glückwunsch to you and the future Mrs. Harrish! Way to marry up!
GO BUCKS
Possible. I am no expert on Twitter.
Let's hope Chugs is ready to go and that the game is out of reach early enough to use him substantially. Can't have Fields get banged up prior to the playoffs.
Good guys 45-24
I think you've got this backward. DPJ called out C. Brown and Brown responded.
Mine is Criminal Sammich.
GO BUCKS
This is glorious. That is a tough venue, and I love that we didn't just beat them, we throttled them! Proud Buckeye moment, right there!!
So glad this prediction was wrong!!!
It probably will be fine, but as mentioned, even with that it can be spotty. The happy news is that at that time of day, lots of passengers are sleeping/not consuming bandwidth. Good luck!
As of that date, it will have been 3,291 days since TTUN's last victory over the Buckeyes. That is a magical number, right there.
I was just on a Lufthansa flight recently from FRA-EWR, and the wi-fi was "nicht so gut". Maybe you'll have better luck than I did. Safe travels.
Kind of what I thought, although I still don't think it's right to shut out another conference champion in favor of a one-loss team that just looked good all season. I know there's more to it than that, but it just doesn't feel right.
Your dad is obviously a gentlemen of good taste and refinement. Good on him.