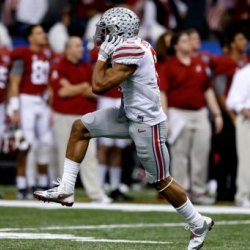 Washmore24
---
MEMBER SINCE February 20, 2018
Favorites
SPORTS MOMENT: comeback victory over Penn State in 2017.
COLLEGE FOOTBALL PLAYER: Terry McLaurin
COLLEGE BASKETBALL PLAYER: Luther Muhammed
NFL TEAM: America's Team
NBA TEAM: Dallas Mavs
MLB TEAM: Texas Rangers
Recent Activity
31-17-ish would be satisfying to me.
Also pretty sure Jalen Mayfield isn't coming back either. That dude was a dog on the O-line, I will say. OSU by 3+ TD's. Also super happy we won't have to deal with Nico Collins this year. He always seemed to be a thorn in our side even when we were annihilating them the last couple years.
Still haven't seen anything about it for sure being October 17th tho. Still nervous
Just curious... you realize they hired Yurcich as O-coordinator right?
I think with BV, he was a really, really good receiver for us, especially last year. Only thing is, we just had such a great receiver room last season. Victor was fighting for targets with Olave, Hill, Wilson, and Austin Mack. Anybody who considers BV's career at OSU a disappointment should rethink that
Guys. He's in Georgia visiting his sister... who believe it or not, still attends and plays softball at Georgia. Check his Instagram story.
Except he doesn't know the system. They hired Todd Monken this offseason to overhaul their offensive scheme
Everybody may be right about southern schools just telling him what he wants to hear about baseball but let's not act like Jameis Winston wasn't able to play baseball at FSU, Kyler at A&M and OU, and Jerrion Ealy currently at Ole Miss
Feel kinda bad. We've decimated any hope of them having a solid class by taking Henderson and Williams. Eh, who am I kidding. I don't feel bad. They deserve it for beating us in '14
Drew Donley just committed to Ole Miss. Son of Doug
Yeah, if we're listening to "sir yacht" for any bits of hope, we're in denial
Yeah, we're on the same page. "Very good" to me is fairly above average, but not elite.
Connor Shaw was very good at SCAR.
In this proposed format, each team would play the other five Big Ten teams who are participating twice -- once at home and once on the road,
did you read the post...?
I mean, I really, totally shouldn't be complaining at all but playing each school twice? yuck.
Angeli's a 3 star according to 247
I like Day's plan a lot better - probably because it leaves the door open a little wider for potentially one more year of JF
His offers tell me he won't be an unranked 3 star for much longer
honestly, the part that stings and hurts the most is missing out on year 2 of Justin and 4th year of Shaun Wade. Love those two guys
Really, really hoping we get a good, full career out of Kyle McCord.
We had:
1 year of Justin Fields
1 year of Dwayne Haskins
0 years of Joe Burrow
4 years of JT Barrett running read options on 3rd and long
Losing Adeleye stinks but I'm not gonna sulk over it. This class is better right now with Hancock than it was at the start of summer with Adeleye.
Big Ten getting cold feet. Saw all the backlash and now they're trying to go back on it. Bunch of cowards. Not complaining though
my word. Every day that passes, the more this University misses Gordon Gee
I hope we never ever let her live this down. Decisions like this should define you as president of Ohio State