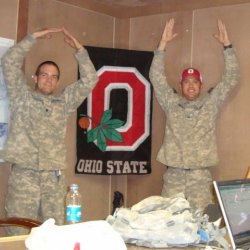 WarriorBuckeye
Sunbury, OH (via Gahanna, OH)
Member since 06 August 2014 | Blog
Favorites
SPORTS MOMENT: Live: The Game 2006
TV: 2002 NCG
NFL TEAM: Browns
NHL TEAM: Blue Jackets
NBA TEAM: Cavs
MLB TEAM: Indians
SOCCER TEAM: You mean football.
Recent Activity
I'm blocked too. That's a first.
Well said. I have certainly been waiting! GO BUCKS!!
But when they do expand the playoff to eight teams... first round better be on the campus of the higher seed. Twenty degrees in Minnesota is as much a part of college football as Jerry Jones' shitheap in Arlington.
Shitheap. Love this.
Boooom! As a proud alumnus of Lincoln High School I am excited to see this kid play in a couple of years! Go Lions and Go Bucks!!!
A shout out to all my veteran brothers and sisters past, present and here at 11W. Thank you for YOUR service.
Go Bucks!!
Just Twitter, that I know of.
This was amazing! Thanks for the laughs. I too was reading each line in their respective voices. I lost my mind every time I read a comment from Desmond - especially the cotton candy line.
I wish I could be there, but duty calls this weekend. Next year for sure (hopefully)!
I'm a fan. Being a member of the military I think it's cool that they have the subtleties such as rank on the jersey and pants. If both teams could win that would be great....but since they can't...GO BUCKS!!
Happy Birthday! Love this place (except when it goes down due to too much traffic as a result of news that Braxton Miller is hurt). Thanks for making it!!
As a Veteran of Afghanistan and an Active member of the Ohio Army National Guard, I love to see people paying it forward to Soldiers, Sailors, Airmen and Marines whenever possible. I had an opportunity to attend an Ohio State Football practice 3 years ago as a member of the Guard. It was a great experience. I am not going to vote for myself because I would feel selfish. That is not how I live my life as a Solider, Husband or Father. Thank you to the anonymous donor and I hope whoever gets these tickets has a great time at the game! Go Bucks!
It's a lot over the top, but I have no problem dreaming for a few minutes on a Friday while sitting in my cube. I read the worst case and it didn't put me down as much as I thought it would. What the hell do those guys over at the SEC errrr ESPN know anyway.
That's me too. I get the evil eye from the wife a lot. I just pretend not to notice.
I jumped on Amazon.com to check these out and I found this....
I'm stumped.