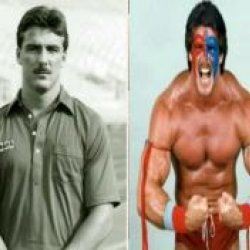 W-burgbuck
---
Member since 06 February 2013 | Blog
Played me some football, ran me some track, blew out a knee, had 3 kids, figured out what was causing the kids, got that fixed. Now I run trains for a horrible company, but it pays the bills and feeds the kids. Happily married, huge buckeye fan, number 1 dad. (At least that's what my mug says)
Favorites
SPORTS MOMENT: Cardale takes on nose guard, nuff said

COLLEGE FOOTBALL PLAYER: joey bosa
COLLEGE BASKETBALL PLAYER: toss up.
NFL TEAM: bengals
NHL TEAM: US Olympic team is only hockey I watch
NBA TEAM: cavs
MLB TEAM: reds
SOCCER TEAM: What's this soccer you speak of?
Recent Activity
469
1st I don't understand the down votes. You make a valid point. I agree there were rough patches with JT, I realize that the slobs didn't come together until after the Penn st game, but look at Minnesota and indiana, i realize we put up a lot of points (I believe 31 and 42) there were times in both those games that the offense definitely wasn't clicking, or running efficiently, we scored when we needed to and often in spurts or from distance. No disrespect to the gophers, but neither of those teams were anything like what cardale faced..... however. I think many are looking at this the wrong way. This isn't JT vs CJ this is 2014 vs 2015. Meyer runs his particular offense to gain a numbers advantage with the qb. Nowhere have I read that a numbers advantage can only be gained by a running threat. Cardales arm actually works the same way, by spreading the defense vertically. This doesn't come down to Cardale vs. JT it comes down to the weapons stepping up around them. We find a replacement for Devin to go along with the threat of all of the other weapons then you spread the field vertically with CJ, (no knock on JTs arm but CJ has a rare cannon). Without that vertical threat, I don't see how you pick against JT, his accuracy and ability to throw guys open gives him the nod let alone his ability to run the offense. Neither one of these guys had valuable game experience before being thrust into the lime light. They both performed well above what was expected, we are in good hands regardless of who gets the job.
THE GUY IN THE GLASSES GAZING OFF INTO THE STADIUM LIGHTS..... PONDERS HOW CAN THIS GET ANY WORSE, THAN HE REALIZES THE REAL ISSUE AT HAND, HE'S TAKING THE THING BESIDE HIM HOME UNSURE IF IT BE AN OOMPA LOOMPA OR A MIME..... SLOWLY HE REALIZES THE CHOCOLATE FACTORY CLOSED YEARS AGO AND THIS CREATURE HASN'T SHUT IT'S MOUTH FOR HOURS, LEAVING ONLY ONE ANSWER. HE'LL BE SPENDING HIS FORESEEABLE FUTURE WITH SOMETHING MUCH WORSE, A BUTTON HURT PENN STATE FAN, AND YES HE'LL PROBABLY BE HIT WITH A BEER CAN OR TWO. I don't know why all caps seemed necessary and in my head I bounced between crocodile hunter and 1960s detective narration.
I wouldn't say he is underrated or overlooked, also I think overrated may be a tad unfair. Coming into his freshman year we all knew he was undersized and was going to have to be elusive. Problem being his first year he wasn't a complete player (blocking, being a major deficiency) so when he was on the field opposing defenses knew to key on him. Plus in all fairness defenses crowded the line, or kept a spy for Braxton which made the sweeps easier to defend. Then last year comes the Braxton injury and to be honest the 1st couple of games the slobs looked subpar. Even then though he had some highlights, on the other hand I always held my breath when he had the ball it always seemed like he was going to cough it up. The other thing to look at is his production this year will depend on who's chucking the rock. The way I see it, Marshall, Campbell and McLaurin will greatly benefit from Cardale slinging bombs. Dontre, Samuel and Thomas will be better off with J.T and Braxton is kind of a wild card, not knowing the strength of his repaired arm, nor how he ll utilize the weapons around him.... though I believe his run threat will hurt dontre/Samuel because of defensive adjustments making the sweep less potent.
How about when they lose the Internet and Randy gets covered in "ectoplasm"
Heres the problem, my grandparents took alot of heat when they were married, she was white he was black, they blessed the world with my beautiful mother. I however look just like my dad. My question becomes would it be less or more offensive if the term came from me, and if your first question is the race of my father than your arguing colors not content. The fact is its an offensive term, but in today's society we are all just people and the color of your skin shouldn't determine what is acceptable.
2nd row back 4 from right, is that Obama rocking #5.
You guys got it right I believe.... get our running game going, keep mm off the field and out of rhythm, fix Marshalls helmet. Off topic any word on D wilson
Slightly off topic, but looking at Fergusons helmet/face mask, makes you wonder how those guys survived. Could you imagine a fullback wearing that "punter" face mask today.
....... oh god did they hear that fart.....please don't stink.
Short of maybe putting a 97 on the jersey(which would kick ars), We don't have that 1 stand out player. (Healthy atleast) That's what makes us so dangerous, play as a team, someone steps up when needed. Depending on which game you watch our star athlete changes. JT, Bosa, Smith, Bennet, Marshall, 12 guage..... the list goes on. Great time to be a buckeye future looks bright.
I think we're gonna need a bigger mountain.
Agreed
Brock sampson.
I'm up in the air on moving Wariner to OC, on one hand if you don't he may take it as a snub on the other hand if you do you're likely in the same place next year because I see him becoming a head coach shortly. That said if you promote him to play caller I think you have to hire a great recruiter that can coach qb and be ready to step into OC role if necessary. I see them hiring an under the radar guy. Billy Napier from alabama is a good recruiter, makes 300k and used to be Clemson OC I believe. Shannon Dawson from WVU while not as good of a recruiter, has done a good job with lesser talent. Studrawa would be a great fit to replace Warinner but may be a year early.
UFM has to make what may be the toughest choice of his career. SHANE FALCO OR JOHNNY UTAH, both home runs but how to choose.
If the defense sucks again then yes Fickell will face the wrath. Think about it, it's either going to be him or urban and I don't see the or happening. Now if the defense is back to par or better then I don't see anyone catching flack and yes Ash will be highly touted. That said Fickell has had a few years now to prove himself and has been given the benefit of the doubt by TOSU and Urban each time, if Fickell wants to be seen as that guy then he is going to have to roll with these punches, bite his tongue while Ash gets the praise and put together more than 1 year of improvement before he is touted as the best D - coordinator in the land. That said I'm talking more so about fans than bosses, Urban and the higher ups will reward improvement and give credit where credit is due. Fickell will be fine or he won't, but fans are gonna go overboard one way or the other. Either he is gonna be great or he'll suck.The only thing Fickell shouldn't do is use the answer DID WE WIN because if our offense can put up more than 20 than we should win if the bullets are on point.
You beat me to it. Barret or Jones need to step up to the plate cause Collier won't sit back and watch he's underrated and will be in the discussion, they slip up he'll be there to take the spot.
Shhhhhhh they'll hear you
New year, fresh start, great new bunch of kids. I'm done harping on last year's defense and pointing fingers. New Year is gonna be Special our coaches are the best in the country, we have special talent, and we have already learned from past mistakes. Here's to braxton hitting thomas in 2014 and Spence hitting everyone else. Go bucks.
Beat Iowa, Jamarco Jones confirms his commitment, other than this ice storm this evening rocks.
I really like dontre and believe he is a special talent but was i the only one that kinda held their breath when he had the ball, just seemed like he was always going to lose the ball. In his defense I only think he fumbled once but always seemed on the edge to me.
I would actually love to get thomas and McLaurin or Clark wide, Samuel and Wilson in a tight slot and eze or Smith in the backfield with braxton.
Man if only there were some formation where we could use them both at the same time so that the defense would crap themselves as their D - coordinators head exploded while trying to figure out who would ruin their night Braxton, Curtis or Wilson....maybe looks like this ◆ and also involves eze.
I'm confident in Warriners ability, I'm not sure he is the best O-line coach in the country (Def top 3) though I am sure that Warriners with coach mick are the best thing to happen to our online since Orlando pace enrolled. That duo is the best combination for an O-line in the country.