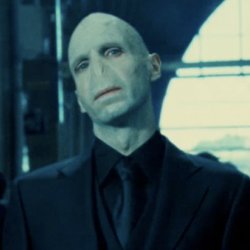 Voldemort
---
Loveland, OH
MEMBER SINCE August 06, 2015
I am he who must not be named. No, not Jim Harbaugh. He is way creepier than I am.
Favorites
SPORTS MOMENT: Being in The Horseshoe to watch The Ohio State Buckeyes beat TTUN 42-39 in 2006.
COLLEGE FOOTBALL PLAYER: A.J. Hawk
COLLEGE BASKETBALL PLAYER: Michael Redd
NFL TEAM: Green Bay Packers
NHL TEAM: Columbus Blue Jackets
MLB TEAM: Cincinnati Reds
Recent Activity
Ohio State played Maryland. TTUN played Indiana.
Officially *ichigan Week! LET'S GO!!!!
I hate myself for continuing to watch this clown show.
If you're still watching this game - Why? Why do you hate yourself?
LBs cannot even recover a fumble. Can they do anything correctly?
You can't make adjustments with players who have been mismanaged by poor coaching. All we can do now is buckle up and see just how many more yards this defense gives up in a loss to a woeful team.
McFarland is going to have 300 yards rushing by the half. This is a clown show. I take back what I said about wanting to gut this coaching staff in the off season. Please do it now.
Let's run vertically for two yards every time. Surely our o-line will figure it out. Nevermind they haven't been able to all season. Let's run laterally, that has worked all season, too. Haskins has a good arm? Yeah, let's make him run the ball. That's exactly what we need down 17-3.
This football team does not even care. Look at both sides of the ball and pick out one person that cares - I can guarantee you cannot on this Saturday. That falls on this coaching staff. Please GUT this damn staff in the off season.
Zach Smith is using Social Media like he's one of the Mean Girls.
Zach Smith is sinking the boat he is on, just to kill the captain.
Turnovers
Donated when it was mentioned in the Skull Session!
Answering the OP -

There has been nothing Ohio State has shown me that they do better than TTUN this season. Their defensive line will out-muscle and push around Ohio State's o-line. Their offensive line is now showing a cohesion under Warinner that was not evident before this season. TTUN also has the special teams advantage in the FG game. OSU has the better punter. Haskins has the better arm; however, Patterson will certainly give the OSU defense fits. This defense has struggled against EVERYONE, especially against mobile quarterbacks. They have big receivers with good hands - another mismatch that does not favor the back seven of OSU.

TTUN at this point in the year, would beat OSU by two touchdowns.
Will someone please hire Davis? Anyone? Any D-7 Ohio high schools looking for a coach? Please?
CANCER SUCKS! Donating now! If any of you should find your way to enemy territory, known as South Bend, IN - my door is open and my fridge is stocked!
Sounds like both Robinson and Battle will be calling places not named Columbus home for their collegiate careers. Best of luck to both. Do not see many good stories when it comes to recruiting lately, nor do I expect to see many more for the time being - given Meyer's health issues and a lot of assistant coaches who should also be gone after this season.
Just beat the damn Steelers.
Bring in Stone Cold Steve Austin, and talk about stomping a mudhole and walking it dry. Bring in Stipe Miocic so he can talk about losing the UFC Heavyweight title, and how everyone counted him out EVERY fight - even after winning a title. After losing, he isn't even being considered for a rematch - and it's upsetting him. Imagine losing, then never getting a chance to avenge that loss. Bring in Paul Levesque (Triple H). Have him talk about tradition, fighting, etc. Okay. Yeah. Shazier should be the dude.
That's a great question as Ohio State appears to have put alot of their eggs in the Harrison basket. In the 2019 class, there isn't a ton of depth, which is why they are fortunate to have Noah Potter committed. Also going after Tommy Eichenberg, and could possibly get Cavon Butler to flip from Kentucky. Despite being a DT, there were minor rumblings of him moving to end. Again, more of a project at end, though. I think the more likely scenario is that if the staff feels like they're out of it with Harrison they move to 2020 where they are already strongly pursuing Bryan Bresee, among others. The depth at the position in house, and the depth of the 2020 class certainly helps if he is not an OSU commit; however, it would still sting (big time) to lose a guy like Harrison.
Still not completely sold on Zach Harrison wanting to be a Buckeye. Hopefully the staff continues growing relationships with options 1A and 1B.
I'm on vacation in Jamaica, fell asleep after dinner and just now woke back up (12:51 AM E.S.T. currently). Happy to have missed this! Geesh! Everyone get some rest and pray that a miracle happens this bye week!
This is why everyone should have the right to due process.
Onto Purdue. This defense needs serious improvement before hitting the road next week. Don't really see that happening, given everything we have seen through seven games.