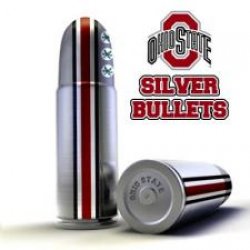 VintonCountyBuck
Chillicothe (via Hamden)
Member since 19 November 2012 | Blog
I've been a Buckeye fan since birth. I remember quite fondly my dad and I would climb onto the roof of the house every Saturday and early Sunday morning in order to adjust the antenna so that we could watch THE Ohio State Buckeyes' games. The ones that were not live, we always listened to religiously on the radio, and then stayed up late (it was the weekend) in order to receive our edition of the Dispatch so we could read the game recap as Hot-off-the-press as was possible at 3am. Watching the Buckeyes Replays on WOSU Sunday mornings at 9am were always the highlights of the fall in my opinion. And we NEVER missed them. Sometimes even being late for Church on occasion. Well..the Pastor at our church made the mistake of asking my Dad to try and be a little earlier next time on this one particular Sunday.This happened to be the Sunday before Thanksgiving and as it turns out was the same Sunday of WOSU's replay of the '87 TSUN game, Erle Bruce's last as Head Coach..My father quite emphatically explained to the entire congregation that his God..Our God is indeed a Buckeye!! And the very mere request of such a preacher could only be the work of those Devilish wolverine fans..Needless to say, we never stepped foot back inside his church. So for me, Buckeye Football is as close to religion as there is.
Favorites
SPORTS MOMENT: 1990 Cincinnati Reds World Champs
2002 Ohio State Buckeyes National Champs
2012 Ohio State finishing the season undefeated!!
Anytime that state up north loses a game.
COLLEGE FOOTBALL PLAYER: Orlando Pace, Chris Spielman, Mike Vrable, Eddie George
COLLEGE BASKETBALL PLAYER: Jimmy Jackson, Gary Trent
NFL TEAM: Cincinnati Bengals, Cleveland Browns
NHL TEAM: Blue Jackets, Penguins
NBA TEAM: Lebron..not the team
MLB TEAM: Cincinnati Reds, any team playing the Cardinals
SOCCER TEAM: soccer is not a sport..This is football country.
Recent Activity
Lol it might be funny to some but us down here in the hills grew up with only 3 channels, all from West Virginia, and they signed off at midnight each night. I can still remember to this day when we got the fourth channel (Fox station out of Hurricane, Wva). Once I moved to Chillicothe and was able to get EVERY Buckeyes game on broadcast T.V. it was like Heaven on Earth.. I absolutely abhor the B1G Ten network for taking that away.
I've always thought it was silly to be honest.. I'm sure way back in the days before radio and tv were predominant it was great to have something everyone could rally behind but just never been my thing..
However, I can still remember us in high-school using an old Chuck Berry classic before every game just because of the words Alma Mater in the very beginning..lol
They voted on it.. It passed 9-3.. Kinda wierd. That was the third time in a row with the exact same result..
We are reducing the number of parking spots available on Cannon drive by about 2,100 and going to proceed with construction plans in time for the Oklahoma game/Home opener so that it creats a giant clusterfuck on game days this season- tOSU Regent in Charge of Mindnumbingly Needless Unecessities
Goodell would be the perfect commissioner for the NCAA.. You know where punishment borders on the ridiculously absurd, and have already lost all their shock-value. The NFL, sadly, is approaching their territory in my eyes. I still hate the guy for suspending Terell Pryor for something that he did in college. Utter nonsense...
Hopefully Weber is fully healed and ready. If that's the case then he should definitely get the start, and by virtue of being the better blocker, get the majority of the snaps. Frankly, we'll need the extra protection against Oklahoma. J.K. played great last week, but is still only a freshman. Just needs to work on a few things first before supplanting Weber.
I've always been a J.T supporter. I do understand he has some limitations though. But for this offense he's been very good throughout his career. My issue, for the most part, has always been with the protection breakdown of the offensive lines and the lack of creativity in our passing tree. We saw a bit of improvement in both of those areas during Kevin Wilson's first game as O.C. against Indiana. His crossing routes were definitely better at getting recievers open then the standard "run down to the marker and turn around" type we've seen the last few years. Sure J.T missed a few reads that we could see on T.V. with a bird's eye view but that's only part of the issue that needs improvement. I'd like to see him being allowed to roll out more and improve his line-of-sight angles which get can get hindered behind a massive offensive line that has trouble opening up lanes to throw the ball. Yes I do realize that arm strength can limit the field when rolling to one side, but scheme can also open up a lot more. Bootlegs, waggles, and throw-back screens have been a staple in west-coast style offenses for years because they work. In my lifetime the best qbs at executing those types of plays have always been the ones that had great mobility which J.T has in spades. Sure he's not perfect, but no one is and those are just my thoughts on a few simple tweeks I really believe could help him. To borrow a phrase from work: "If we aren't continuously working to improve, then we are only working to fail."
Yes, exactly. I was lucky enough to be at the Fiesta Bowl at the end of last season and got to meet lots of Clemson fans, coaches, players and even their band members. Each one was as nice as could be. I took this as just a little ribbing and nothing more. They're Champions right now. They can brag a little. Until we beat them in a game that matters, I'll continue to raise my glass and tip my cap in their favor. Then afterwards, I'll probably return every thing in kind..lol
Lol I love College Football. +1 Dabo. You guys deserve earned it.
Indiana will blitz their weakside lb/nickleback and JT will check down and swing a pass out to Paris behind it after the play fake to Weber. They'll try to stretch the field out wide early and often in this game. It's always been Wilson's M.O.
Not questioning your loyalty or faith buddy.. Only the word 'positive' aspect of your username. It simply stuck me as a bit odd.
I believe the 2002 National Championship team that beat Miami had all 22 + their kicker and punter drafted in the NFL. Not necessarily play for an entire season though ( The Maurice Clarett situation comes to mind). The 2015 team's stat is definitely quite impressive.
Seems to me that if you are thinking a bunch of talking heads having faith in your team makes you feel as if they're setting us up for failure, then you might want to change your username...
Write in vote: Mark May getting fired from ESPN
For the record, I actually somewhat agree with you.. We won a national title with a QB that threw up 50/50 balls that gave our receivers a chance to make a play. Same thing McSorley does. I don't think this necessarily makes him agreat quarterback by any means, but it does make him a gamer, and a winner. And just judging by the rest of the conference, he's definitely the top passing-threat QB returning this season. I'd rather have JT for our offense, so I would rank him ahead of Trace, but McSorley definitely compliments the PSU attack quite nicely.
Heck yeah they are.. Lol. Even on road trips it's fun next to the students.. I like Wisconsin's a lot.. But that's just another one of the many things that makes college football so special in my opinion.
I personally like sitting near the students as well.. They're still young enough to actually get excited on game days and not sit on their hands like some of the blue-hairs. Many of us diehard fans can really appreciate that. Plus just the overall goofiness that comes out of them sometimes can even be entertaining during a blowout. Overall good experience.
I believe we had something like 15-16 captains during my senior year of high school.. 3 that were voted on by the team and remained in that capacity the entire season and the rest would simply rotate in and out for each game until basically until every senior on the team had made an appearance for the coin toss. We all had a position group that we led during stretching and workouts before team practice began.. We went undefeated that year so it seemed to work out pretty well.
Ohio State felt better about moving Brandon Bowen to tackle because of how Thayer Munford
Yeah.. They felt so good about it they decided to start him at right guard instead.. Lol
Fishy indeed.. Dude's 20. A starting member of one of the most media-scrutized teams in College Football and is standing outside an establishment that sells alcohol.. Probably not for bible study I'm guessing.. Nothing to see here.Move along.gif
Just enroll her into a different school man.. One that doesn't schedule needless shit during Buckeye games. Teach her the correct way to prioritize early in life