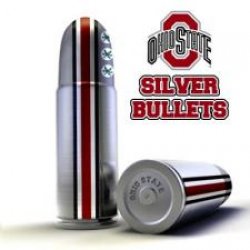 VintonCountyBuck
Chillicothe (via Hamden)
MEMBER SINCE November 19, 2012
I've been a Buckeye fan since birth. I remember quite fondly my dad and I would climb onto the roof of the house every Saturday and early Sunday morning in order to adjust the antenna so that we could watch THE Ohio State Buckeyes' games. The ones that were not live, we always listened to religiously on the radio, and then stayed up late (it was the weekend) in order to receive our edition of the Dispatch so we could read the game recap as Hot-off-the-press as was possible at 3am. Watching the Buckeyes Replays on WOSU Sunday mornings at 9am were always the highlights of the fall in my opinion. And we NEVER missed them. Sometimes even being late for Church on occasion. Well..the Pastor at our church made the mistake of asking my Dad to try and be a little earlier next time on this one particular Sunday.This happened to be the Sunday before Thanksgiving and as it turns out was the same Sunday of WOSU's replay of the '87 TSUN game, Erle Bruce's last as Head Coach..My father quite emphatically explained to the entire congregation that his God..Our God is indeed a Buckeye!! And the very mere request of such a preacher could only be the work of those Devilish wolverine fans..Needless to say, we never stepped foot back inside his church. So for me, Buckeye Football is as close to religion as there is.
Favorites
SPORTS MOMENT: 1990 Cincinnati Reds World Champs
2002 Ohio State Buckeyes National Champs
2012 Ohio State finishing the season undefeated!!
Anytime that state up north loses a game.
COLLEGE FOOTBALL PLAYER: Orlando Pace, Chris Spielman, Mike Vrable, Eddie George
COLLEGE BASKETBALL PLAYER: Jimmy Jackson, Gary Trent
NFL TEAM: Cincinnati Bengals, Cleveland Browns
NHL TEAM: Blue Jackets, Penguins
NBA TEAM: Lebron..not the team
MLB TEAM: Cincinnati Reds, any team playing the Cardinals
SOCCER TEAM: soccer is not a sport..This is football country.
Recent Activity
Cool. Thanks for clarifying LB.
Are they saying that OSU is favored by 5 over PSU then in Happy Valley? Even without any fans that's a long-ass haul over to that stadium from just about anything resembling civilization.. Lol. It's anything but neutral and I believe most teams get +3 points by playing at home. I guess I just don't feel completely comfortable with anything that favors the Buckeyes by less than a full touchdown and extra point. I've seen them come away far too often from that place on the opposite end.
Haha. She definitely made Rod Jones famous for sure.. Lol
Agreed.. I believe the coaching staff should definitely know way more than the elitist academics. I'm not entirely sure if you're seriously asking me that question or it is just rhetorical because I totally agree. But Borchers is the team physician at and a former player for OSU. He actually helped to create the rule. No matter how much we like it or not, even though I seriously doubt they actually need the extra 7.
Have they announced our tv schedule yet? Do we know the kickoff times yet? And do have any games on BTN? I did see the dates just not the times
Just saw your reply on this after posting my link above.. Lol. +1 to you, Sir. I have been looking up trying to find a better explanation of it myself
During the BTN telecast, Borchers outlined some of the protocols, not the least of which was a cardiac testing component and requiring players to sit out 21 days after testing positive for COVID-19. That entails a two-week quarantine from their team plus a seven-day transition back to football.
https://uwbadgers.com/news/2020/9/18/lucas-safety-at-forefront-of-footballs-return-for-alvarez.aspx
I actually initially thought the 21 day quarantine was more then what was needed also after reading about it. But after seeing how Borchers explained it, that time-frame makes a bit more sense, even though I might not like it. Basically it's a 14-day quarantine away from the team and everyone else. Then they're allowing the players to have a full 7 days to ramp back up their football activities before playing in any games. Take that for whatever it's worth, though.

Just blame it on Kevin Warren.. They'll probably believe it. Lol
Yes.. But thank you for your reply AZ. Happy Football Saturday! 5 more weeks!!!
Lol. That's an underrated comment. I was going to reply saying they were actually from Van Nuys, before reading your reference to Rosanna. Great Band.
Yeah.. I probably read the same thing you did..I work second shift during the week and absolutely hate missing the games.. Lol
Weekday games are for the lesser programs and high schools. Saturdays are when college football was meant to be played.
No weeknight games for the Buckeyes.. Ok guys? Fuck those games. Saturdays are fine. Let's pretend like your fans actually mean something to you and play all games on Saturdays.
P.S..To the rest of the conference: Please forgive us for the ass kicking you are about to receive. At least your fans won't be there to watch it in person..
Hey Harley! Hope you are well!

Maybe we should get them a brick outside Ohio Stadium.. Or place one of those poster board, atta-boy things in side their stadium, just to thank them.. Lol. Anything short of getting Kevin Warren fired is going to seem trivial, though.
Haha.. It's always your closest friends that bust your chops the most...
Yes Sir! I'm definitely glad to be down here while there's a supposed pandemic going on, rather than someplace like Columbus.. Those folks pass more people on their daily commute then I'll probably see all week.
He wasn't ready. He even said as much any many of the interviews when asked why he decided to come back. Believe me I honestly thought he should have went pro, after winning that championship and because he had a son to worry about. But, I'm not a scout either.. Lol. Nice reference, though.
Hopefully good news. Not sure why anyone would need to make an announcement if they are staying with the decision they already made.. Lol. But I'm down here in the hills and fairly shielded from all modern day stuff. C'mon back, man. You'll never regret your time at OSU. #ChampionshipOrBust
I thought he rushed for plenty of yards last year, but do think he could be a little more elusive, for sure. And what I mean by that, is to work on his scrambling abilities and avoiding the rush more often. Not taking the big hits that he did last year, and picking those extra yards when he has an open lane to run downfield instead of trying to force a throw into tight window (he actually didn't force very many last season, with only 3 int's).
I always want to draw the comparison to a Steve Young or John Elway type of QB that can pick you apart with his passing game, but kill you with his legs if necessary. But maybe Lamar Jackson is a more current reference?
It's funny.. 'Cause every time I pictured her in my head when I slept, her hair always ended up exactly like that... Lol
Plus the fact that Ohio State already has one of the best 2-3 DB coaches in football, college or pros.
Honest question here: Do you guys think that it's possible with the whole NIL thing eventually coming to the NCAA, that perhaps they decide to go with someone from the professional sports or sports agency ranks? Maybe they deem that particular background will be beneficial while trying to deal with whatever is coming.
I hope the game with TTUN is on Thanksgiving weekend as usual. It doesn't have to be the last game.
+1 for your opinion.. But actually the whole thing is that tradition dictates that The Game is always played last, and not on Thanksgiving weekend.. Lol. That's actually a fairly recent development. I'm of the belief that this year it's not going to matter anyway, as long as they get through the season. But just wanted to clarify that. Heck, playing them first would be more befitting of 2020...