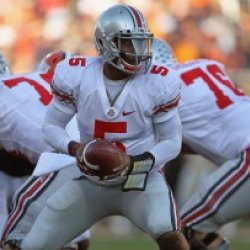 Vinginia_Buckeye
---
Virginia Beach, Virginia (via Toledo, Ohio)
Member since 20 April 2014 | Blog
Favorites
SPORTS MOMENT: Ohio State winning 2002 National Championship
COLLEGE FOOTBALL PLAYER: Braxton Miller
NFL TEAM: Cleveland Browns
NHL TEAM: Detroit Redwings
NBA TEAM: Cleveland Cavaliers
MLB TEAM: Cleveland Indians
Recent Activity
Oh and excited about Corey Smith.
Outside of our new secondary. I'm most excited to see some new life and play making ability pumped into the receiving core this year. I would be completely OK with Smith and Spencer both in backup roles this year. We could still use their experience and leadership, but as far as play making and being complete receivers I think they are both extremely limited. Just my opinion. Excited about Dontre, Marshall, Thomas and Dixon the most.
YES. I think people are taking their hope that Michigan is going to blow next year and trying to project it as fact. They have a lot of talent waiting in the wings just as we do. Not as much as we do, but still a significant amount. Don't get me wrong, I do hope they absolutely blow ass next year, but I definitely see them as a formidable opponent next year. I'm glad someone finally had the nads to post this.
Troy Smith was just as good if not better than Manziel in a lot if wats. But he was not faster then Manziel.
I think the BIG is going to get to having about 4 very good teams every year. Ohio state should stay, FOR NOW. If things do keep going south for the conference say 5 years from now? Then we leave this conference behind us but keep the games against MIchigan and Penn State on the slate.
Well said. Why are these guys getting all butt hurt just because a few fans get worried about lack of commits? It's ok to worry sometimes.
You're special. Damn near every comment of yours is bashing someone or arguing. Get a life clown. If we were face to face I'd make you shit yourself and then I'd rub your nose in it like a bad puppy.
I'm in the military now, and I assure you, we all still get drunk almost every night. These guys posting this are ridiculous.
Punk? Have you never chugged alcohol?? You're a clown and obviously jealous.
Ross Homan big time underrated. Dude was a stud and always consistent. One of my favorite Buckeyes during his time.
Active duty Navy here. I'm actually deployed over to the middle east as we speak. Today is one of the days where I actually realize the significance of what were doing out here. It also opens my eyes to the sacrifice those who have laid their lives down for this country have made. It truly is the ultimate. With that said, no matter where I am in the world it's always a good time to hop on here when I can and get the scoop on our beloved Buckeyes! Thank you to everyone on the 11W staff and all the members of this great site!
Couldn't have said it better myself Dayton. I think it's fitting that college football's biggest star come to the state where football was born and bring back one of the most storied football teams to prominence. Rooting for the kid 100%. Go Browns!
The ability to escape pressure from SEC defensive lineman?? I still get nightmares at the image of Troy being sacked and chased down over and over against Florida.
Yes exactly. You don't draft a receiver when you a need a QB and a line.
Really hope Philly excels at the next level with Newton tossing him the rock. He's been one of my favorite Buckeyes the past few years and IMO our best receiver since Posey left. Good luck Philly!
Rosenberg is a chode banger. That is all.
I agree 703. I think the Browns are making dome great picks right now. They have addressed areas of need while also adding depth to positions of strength. That Desir guy they just drafted was an absolute steal. I'm extremely excited about whats going on in Cleveland right now.
I also wouldn't mind seeing Cleveland go O-line with 35 or D-line and pick up Nix. Defense would be sick next year. But O-line IMO is a need for sure wow it's great to have this kind of buzz in Cleveland again.... GO BROWNS!!
That would be awesome too. Those two are both great pickups at 35 as far as WRs go. There's a kid who played his college ball in Columbus I wouldn't mind seeing in the Cleveland backfield...I think he wore #34...idk maybe you've heard if him...can't think of his name
No need for Cleveland to draft a receiver so high. I love the picks, and there are still so e really good receivers available. We don't need a #1 receiver. Already have Gordon. A guy like Robinson would be the perfect #2.
Elijah Elliott of Toledo Whitmer is one to watch. Older brother is at Kent State as a safety. Getting a lot if attention from TTUN and Mich State along with Cincinatti.
Defensive Strategy: Michael Bennet and Adolphis Washington HULK SMASH center and guards, defensive ends uuhh.....wait, on second thought just HULK SMASH their entire undersized offensive line with our Man-Child D-Lineman.
The '10 team most definitely. They were poised for a National Title run until that stinkin game up in Madison. Still chaps my ass. Thought they were the best team in the country that year and showed it when they smacked Arkansasss around til Tressel ball kicked in and almost doomed us.