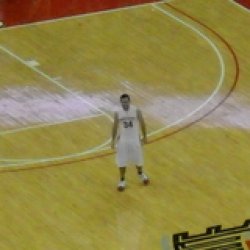 vidstudent
Grove City, OH
Member since 13 October 2010 | Blog
Favorites
SPORTS MOMENT: Front-and-center camera position after a touchdown at a Toledo Rockets night game on ESPN the year they made the top 25 and got nothing for it.
COLLEGE BASKETBALL PLAYER: Mark Titus
NFL TEAM: Detroit Lions
NHL TEAM: Detroit Red Wings
NBA TEAM: Detroit Pistons
MLB TEAM: Detroit Tigers
SOCCER TEAM: Columbus Crew
Recent Activity
Notre Dame, Villanova, Gonzaga, Xavier, Butler, St. Marys, Florida, Iowa State
Nothing on the Columbus Blue Jackets at the top of the National Hockey League this morning, DJ? FOR SHAME
Thoughts:
1. #beatblue
2. I still won't feel comfortable without a Penn State loss. I have no way of knowing whether they are factoring in conference championships yet. Just ask TCU.
3. So there's another team up in ******** that must feel they're being set up for an AAC screwjob. They need to hope winning out against 9-2 Toledo and whomever ends up MAC East champion is enough to avoid being jumped by Navy, not to mention hope surprise losses don't put Houston or Boise State in conference title games.
4. Assuming that the loser of The Game is out, we are left with Washington as likely #4. Wisconsin or Penn State gets in if Washington slips up and they win the B1G Championship. Oklahoma/Oklahoma State winner needs Washington to slip up and the winner of The Game to take the B1G Championship. I don't go farther down than that because too many teams need to lose and Oklahoma/Oklahoma State bookending Colorado appears to me as the PAC-12 getting screwed unless USC magically wins (which itself requires a few too many teams to lose).
Usually, yes. It means that you cannot tape secretly as a third party (wiretap) without consent of one of the parties, however.
The fair market value being ignored is more Kessler's suit than O'Bannon's, but...well, it was said a year ago that the tensions between the big and small Division I schools were going to tear the NCAA apart in about five years. That timeline looks kinda long right now.
Breaking out the Kill la Kill gifs...nice.
52-0 Buckeyes
WHEW
notthinkingabouttherematchawaynotthinkingabouttherematchaway
Good work by Craft to fell the last of the unbeatens and give us a quality win (finally).
And this is why I was happy to be up by double digits at the half. ._.
Hey, check your brakes earlier, there - two defenders back meant stop earlier before you reach point of no return. Still, nice block and we're just shy of a 3-1 beatdown at the moment. I'm happy!
I love buried open threes. :-)
Good start so far - a bit of nerves (and refs unafraid to call travelling) for both teams. I will gladly take 9-3 against a Beilein squad to start the game.
Looks like glorious chaos out there. Would prefer a touch more organization. Still ahead, though.
Was concerned I might need to download a CoverItLive app my phone has no space for (home with family == no wifi). Pleasantly surprised otherwise.
I treated this largely like I treat my SEIs. Not like most of *you* treated your SEIs, mind; I fill mine out. I then take my sweet time on the free-form, though most of this didn't actually call for that; saying "East and West" is only three words unless you start adding expletives right around that time. I think I avoided expletives. (Note: with SEIs this year, I did not; ECE's answer to transitioning from a four-course sequence to a two-course sequence was that two courses did *not* equal one semester, but required redoing labs in two one-credit add-ons and tacking on a three-week sequence where 40% of the grade was two quizzes and the lectures online.)
The last free-form question, though? I may have come off as a well-written hippie to them. I do not care. Their priorites are money and not the students, the athletes, the teaching, or anyone not them. It had gone over the line long, long ago, and I hope a lot of people in suits are reading carefully.
Ohio State 21
Unspeakable Horror 7
There is only one winner here:
#rememberthe5
Fan: "That...that gruesome eating style...."
Oden: "Titus gets hungry, yo."
Heads up, off-topic (unless you're counting The Dark Knight Rises as on-topic):
http://www.9news.com/news/article/278707/71/Shooting-in-Aurora-
NOT A GOOD THING :-(
"Seriously, stop with the Discount Doublecheck. I'm tired of that commerical."
In the same way Davy Jones is a bitter, yet invulnerable being because his heart is locked in a small box and the key thrown to the winds, Mike Slive is a crooked genius because his heart is locked inside a simply-marked white van and told to drive as far north, and, consequentially, as far away from Mike Slive as possible.
It is a good proposal, and it's not like OSU doesn't know who these brewers are, either: At the Ohio Union, both Woody's and Sloopy's sell Ohio-brewed beers from around the state.