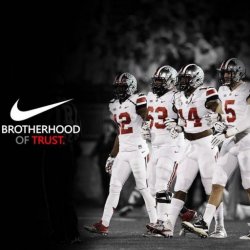 VFA83Buckeye
---
Powell, Ohio (via Urbana, Ohio)
MEMBER SINCE July 01, 2018
Lifelong Buckeye since the early 90's
Favorites
SPORTS MOMENT: Holy Buckeye!!
COLLEGE FOOTBALL PLAYER: Nick Bosa
COLLEGE BASKETBALL PLAYER: Aaron Craft
NFL TEAM: Dallas Cowboys
NHL TEAM: Columbus Blue Jackets
NBA TEAM: Cleveland Cavaliers
MLB TEAM: Cleveland Indians
SOCCER TEAM: Manchester United
Recent Activity
Zak sucks please replace him, he is this site's weak link.
Lost all respect for the college football world this year. I will be looking for a new hobby. I pledged today to never watch any Disney related entertainment the rest of my life. Luckily I have gave up the NBA years ago and the NFL 2 years ago. This will also be my last post on this site and I will be removing the bookmark from my phone. No reason to be involved with any sports. I will now focus my time on travel. If anyone is looking for cheap Buckeye gear size Large email a.lansing8383@gmail.com
No way we get in. Too much hate for tOSU nationwide that will swing the bias. Do we deserve to be in after the performance tonight and last week, definitely. The CFB needs to expand to 8 teams, always should be all 5 conference champs and then 3 highest ranked. Proud of this team! Go Bucks!!
I don't see how tOSU would get left out considering the strength of the B1G overall against the Big12. I mean Maryland beat Texas the team that is playing Oklahoma, Oklahoma's best win is against wvu? Idk it seems obvious that the Buckeyes are in with a convincing win against Northwestern. This Buckeye D has made me eat crow and if they do it again Saturday how can you not put that Offense with an improved Defense in when Oklahoma has not played anywhere near a complete game like the Bucks did against the #4 team in the nation. This playoff stuff just seems upside down sometimes. If you are going by eye test we are the hottest team outside Bama right now.
To me with the ZH situation the kid just seems to be looking for reasons to not stay home. I can understand that to an extent, but he has to understand as well the consequences for himself and his family. I would not want to be his family if he chooses ttun for obvious reasons. I also would not want to be him 3 years from now realizing his potential of being a #1 pick was lost playing for a staff that has proven to lack the coaching to develop elite D-line NFL prospects while another kid of less God given talent receives excellent coaching under LJ on his way to an unexpected leap in position for the draft. Why not go play for tOSU a university with a long history of having amazing coaches and success. Honestly Harbaugh may be looking for a way out sooner than later and their track record for hiring head coaches is really really bad. At least with tOSU you can look forward to a strong staff whether Urban stays or goes, which it looks as though he has a few years left in him at the very least. If his condition does improve I could see him handing all the keys over to assume a Joe Pa type role. LJ is looking super young and ready to coach well past ZH's years in the program if he was to make the logical best decision presented to him. Go Bucks!!
I think Haskins running tough last week and what JK has had to say is a good sign of toughness growing in this teax, which is the only way I can see a win. This teax has to play tough. Werner & the rest of the LB Unit now have the opportunity to take that next step and leave the past behind them. Go Bucks!!
If we beat ttun we jump UCF, I think with ease. Then from there it will be an eye test. If we look really good against Nothwestern we are in, if not then it gets interesting and I think a 1 loss OU gets in or possibly a 2nd SEC school. At the end of the year UCF will most likely be left out do to lack of respect for their schedule and conference. Go Bucks!!
An easy way to improve the staff and please the fan base, as well as clean up our image would be to replace Shiano & Bill Davis. Image is an easy upgrade with whoever replaces Schiano and Davis is a huge liability so a guy like Marcus Freeman would even be worth a reach. Whatever the case next year I really hope Urban realizes that loyalty has a cost and in business sometimes it is just that, business. #FIREBILLDAVIS ASAP
42-37 Bucks take control xid second half and plays out close with our D xaking just enough plays on the final drive to close it out or I could even see the offense run the clock out. D xay have looked rough at xaryland, but they have their best gaxes ahead. Go Bucks!!
I don't see there being a lot of great players in the 2019 class. I think we may have 2 players that can start day 1 and a lot of other good ones who will get their shot as sophomores/juniors. 2019 is just a less talented crop, acknowledged by many with much more knowledge than myself. I do love the class so far as there are some diamonds and some 4th/5th year types which most successful teams have that depth during dynasty years. Wilson I would think will get PT as a freshman, as well as Battle if he sticks. I really like Mathis too!! I see him as a QB1 eventually with the staff we have in place. I like Potter & Stover at DE, I think Stover has the frame to grow into a real problem off the edge. Not as high on Harrison, seems like a weird kid that is more athlete than a day 1 ready to go DE. Athletes are fine, but an athlete that has also been fine tuned at his position by a solid HS staff is really nice to have on the roster for immediate depth improvement. Plus to be honest I think there are better prospects that may think twice just do to him being a hometown boy with such a high ranking. If he goes elsewhere we may land that position coached DE and athlete ran than some weird kid that clicks with Harbaugh, played a lot out of position in HS, and obviously has bad decision making skils. Hope to see the Buckeyes win big the 24th and then hear this kid went elsewhere leaving room for a Nolan Smith or Bryan Bresee type eventually. Go Bucks!!
Hopefully Grinch takes over or Schiano stays. One of the worst hires would be Bill Davis, but I mean Urban's loyalist type attitude has shown to keep around worse characters so I would not be surprised if he promoted him only to find out he is a drunk & has a private life of turmoil & really never could coach to the level needed.
Always been a fan of Klatt, best commentator out there right now in my opinion. A lot of people on here are not Herbstreit fans and I am not at all endorsing his employer, but he himself has his thumb on the pulse of college football like few do. If Herbstreit worked for BTN or FOX I think he would be much more beloved in Cbus.
Color me impressed with Weber at MSU. He seems to be a very likeable guy with leadership skills, has toughness that most of the team lacks, with a bag full of tricks, but his problems holding onto the ball and some of the blocking I see from him has caused frustration. I was high on him coming out of Cass Tech!! I have been disappointed overall, but a few more games like this past and I will have to eat that crow! Go Bucks!!
Hoping Haskins leaves the keys for Tate, having a statue at Qb in Cfb is hard to watch. With that said I love Haskins arm and I'm happy to have him. He will be a good one in the NFL eventually. Love Tate for this coaching staff and level of play. Go Bucks!!
If they're not with us they are against us, especially those that choose ttun. Like other fan bases we need to come down hard as an entire state on recruits in state that choose rivals. Make them think twice. Why wish someone well that is your rival? Fan is short for fanatic, we need to stay passionate with our love & hate. The kid is a beast and LJ could develop him into a #1 pick, he would be a fan favorite from the day he commits, and more than likely go on to be an outstanding pro. Some may find this irrational, well I hate to tell you but there are a lot of other fans that feel this same way, they probably would say it more if not for pc police. Go Bucks!!
No this team is so soft, Haskins is Charmin. Weber did not look good, neither does Chase Young, both were way overhyped. Pete Werner still can't tackle and Borland is not fast or tough. White looks great but I mean he will probably be on the sidelines watching Pryor take horrible angles next week after #20 can't get off a block or make a tackle on the ball carrier. Dobbins does give a slight hope, he is playing with some fire!! We may get past MSU & Maryland but ttun is about to get balls deep in Brutus if the play of today is any indication of Nov. 24th. Go Bucks!! #FIREBILLDAVISASAP
Dobbins should get all the touches unless he wants out, he is better than Weber in every area. I was a huge fan of Weber but he has been pretty average this year, between him and Chase Young I would say those two are the most overhyped players on the team. We are very blessed to have Dobbins because behind him is pretty average.
Coach looked fired up today rather than defeated & nervous, I like it!! Go Bucks!! #FIREBILLDAVISASAP
Brendon White played harder than any player in a Buckeye uniform today, lots of talent that should have already been starting smh Hopefully his talent is not wasted by the coaching staff in the coming weeks, but I would not be surprised if they did waste hist talents. In other news #20 truly is the least talented starter I have ever seen play Buckeye football & I started watching in 1994, #32 is comparably bad. #FIREBILLDAVISASAP
Well by now I think we can say Bill Davis is a disastrous LB Coach and #20 & #32 have no business starting at Ohio State. Basically the whole LB Unit at Ohio State is a laughing stock. Get it fixed Urban, fire your friend and recruit kids with toughness, athleticism, and a high football iq. I don't really care how nice their family is either, many football players don't come from nice. #FIREBILLDAVISASAP
I have no clue why you wouldn't use Tate in Red Zone situations. Watch tape on Tate at Bishop Gorman and tell me he doesn't have a nose for the end zone. Some QBs have it and some don't. I love Haskins, but he is a statue, little to no athleticism tucking the ball. I don't like the new offense as much I hoped to. With Haskins I feel like we are forcing passing plays & our backs cannot get a rhythm & our line is uncomfortable run blocking. Not even looking at the fact Urban seems so uncomfortable with him and his style of play. Hoping for the best. Go Bucks!!
We need Marcus Freeman #FIREBILLDAVISASAP
Jack Tatum Harden the Charmin Ultra Soft Defense.
Reading this has completely killed my confidence in this staff. Coming out making statements like these for units that look, well not good to say the least, against Purdue. Wow...yeah I expect more of the same for sure now. About to jump off this train for the season, need to sell some tickets asap. What a disaster! Gene Smith needs to force Urban to change out staff or take an early retirement. If Schiano thinks there has been progress made after that Purdue game, I hate to see the results if we sneak into the playoffs. #silverpellets
#12 / #32 / #20 I don't know the stats on these players but on game day they all look to be below average in many skill sets including tackling. These players are not the only ones struggling & there are so many holes in the defense we can't put blame on 3 players, but especially #32 how is he a captain? His play is not speaking captain language at all. This team is lacking leadership with players & coaches on the defensive side of the ball especially.