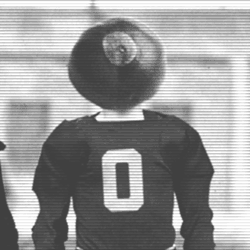 vball10set
---
MEMBER SINCE December 28, 2012
Recent Activity
Both deserving. I'm thinking Okudah will be a post season selection.
This
lol--well played...and imo, this was the ONLY thing that Urbs did during his tenure here that bugged me..a lot
Yuman, get your history correct, or GTFO (preferably the second option)..good lord >:(
I love the fact that Georgia is ranked #3, as if Fields needs any more fire...I sure as hell would love to meet them in the CFP, but no way they get there
We have mutual friends who were his neighbors in Picktown who are still close with his parents, and they told me not only is Jack the real deal (obviously), but he's a great kid as well. Hope he maintains that character and humbleness, and hope he stands true to his OSU commitment as well--he's being tugged at from all sides, especially from SEC schools, but his love of everything OSU is strong--VERY strong.
the poll needed pics of the two options side-by-side...bet it would've been a lot more lop sided towards gray if readers could see the blatant difference...jmo
c'est la vie
Que Sera, Sera
è quello che è
meh
okay, students, now you have no more excuses not to go to games-LOL...seriously, though, this was much needed and waaaay overdue....BOOM!!!
https://lawandcrime.com/crazy/florida-judge-allegedly-choked-clerk-over-late-paperwork/

Fort Lauderdale Judge Vegina "Gina" T. Hawkins was charged Thursday with "inappropriate conduct" under the Florida Code of Judicial Conduct and her behavior was deemed to have shown an "unfitness to serve," and recommended her immediate suspension, according to a recommendation released by the investigative body of Florida's Judicial Qualifications Commission, which oversees investigations of judges.
lol...Vegina?!? good lord
these are weird, and this has already jumped the shark
I wonder what this app is doing with the pictures that are being downloaded? hmmmm
The other thing my brain just to is that Ezekiel Elliott couldn't even do it his final year, but he was also playing on a team with Braxton Miller, Michael Thomas, Curtis Samuel (good lord how did this team not win a natty), Curtis Samuel and J.T. Barrett who all needed touches, and he also only played 13 games when 14 or 15 should have been in play. And he still got 1,821.
my brain hurts trying to read this...don't know what the first sentence means, and seeing a double 'Curtis Samuel'-LOL
good for Urban--he deserves every second he can spend with his family...priceless
https://www.youtube.com/watch?v=rfaa0Sjczik
I'm not personally here to get irrationally upset about an irrelevant preseason list (that's what y'all are for), but 11 feels too low, even if he's never started a game. I get that he's unproven, but I'd have a hard time convincing myself to take any of the quarterbacks higher than No. 5 before riding with Fields.

I've been an unabashed Fields lover since before he even transferred to Ohio State so my biased opinion ain't worth much, but I'd take Fields over Adrian Martinez, Cole McDonald, Shea Patterson and Ian Book at least. Probably Texas J.T. Barrett and Jalen Hurts as well.
please explain the last sentence "probably Texas J.T. Barrett..."--what does he have to do with Fields or any of the other QB's mentioned that are all still playing in college?
Time for McGuff to prove he is as good a coach as he is recruiter
I got on here to post the exact same thing---time to put up or shut up, Coach, lack of talent will not be (or, IMO, never has been) an excuse
indeed it does, Dave, indeed it does
wow--didn't see that one coming...that means you know what time it is in Ann Arbor? it's crying time-lol...I love it!
this is awesome, and as mentioned above, ttun not being on the radar makes it even better (I'm here in Toledo as well)...way to go, Buckeyes!!!
cool story, bro, and definitely 11W worthy...lol
Don't really care if Gant can throw a strike or not, as long as he can de-cleat a member of the opposing team (especially someone with an ugly ass winged helmet)...and btw, the guy who tweeted that (Jordan Strack) is a ttun nut hugging clown, so I'm sure he took a certain amount of pleasure in that clip...just sayin'
Well played--I'm going to use this...thank you!
Hell yes it's a BOOM...come on, now!!!