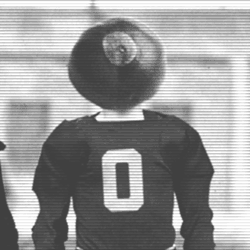 vball10set
---
MEMBER SINCE December 28, 2012
Recent Activity
good for Urban--he deserves every second he can spend with his family...priceless
https://www.youtube.com/watch?v=rfaa0Sjczik
I'm not personally here to get irrationally upset about an irrelevant preseason list (that's what y'all are for), but 11 feels too low, even if he's never started a game. I get that he's unproven, but I'd have a hard time convincing myself to take any of the quarterbacks higher than No. 5 before riding with Fields.

I've been an unabashed Fields lover since before he even transferred to Ohio State so my biased opinion ain't worth much, but I'd take Fields over Adrian Martinez, Cole McDonald, Shea Patterson and Ian Book at least. Probably Texas J.T. Barrett and Jalen Hurts as well.
please explain the last sentence "probably Texas J.T. Barrett..."--what does he have to do with Fields or any of the other QB's mentioned that are all still playing in college?
Time for McGuff to prove he is as good a coach as he is recruiter
I got on here to post the exact same thing---time to put up or shut up, Coach, lack of talent will not be (or, IMO, never has been) an excuse
indeed it does, Dave, indeed it does
wow--didn't see that one coming...that means you know what time it is in Ann Arbor? it's crying time-lol...I love it!
this is awesome, and as mentioned above, ttun not being on the radar makes it even better (I'm here in Toledo as well)...way to go, Buckeyes!!!
cool story, bro, and definitely 11W worthy...lol
Don't really care if Gant can throw a strike or not, as long as he can de-cleat a member of the opposing team (especially someone with an ugly ass winged helmet)...and btw, the guy who tweeted that (Jordan Strack) is a ttun nut hugging clown, so I'm sure he took a certain amount of pleasure in that clip...just sayin'
Well played--I'm going to use this...thank you!
Hell yes it's a BOOM...come on, now!!!
Dakich is a clown, pure and simple. He's over the top as a CBB announcer, but tolerable--regarding anything else he's a joke....and for the record, I HATE Percy Harvin comparisons. They're overused and not fair to the person he's being compared to. Period.
This kid's gonna be a stud...book it
yup...you need a vacation
Entered as well...will you be posting daily standings then?
OSU Baseball
Overall 9 - 10
PCT 0.474
Streak W1
Conf. 0 - 0
PCT 0.000

we can forgive the tardiness, but this? uh-uh....you never, and I mean never, capitalize anything to do with ttun...period
...a Michigan Man
this is my son and I's "thing", so we'll be there yet again...I know people sometimes scoff at a Spring Game, but I really enjoy it...I mean, Buckeye football and winter over? come on, man, it's awesome!!!
"Fans are encouraged to purchase their tickets early as construction on the north end of C Deck will reduce seating capacity in the stadium"
FYI
https://www.toledoblade.com/sports/ohio-state/2019/02/13/once-an-unheralded-recruit-Andre-Wesson-rises-up-for-Ohio-State/stories/20190213011
gave you an UV to counter the DV because you're absolutely correct--and fwiw, I'm a big Terry Wymer fan, but he had a tough night last--real tough
We know you are a Michigan fan
which clown is the ttun fan? I notice an over-abundance of DV's going on lately, and it'd be nice to 'out' the perp--especially since he's a skunkbear fan