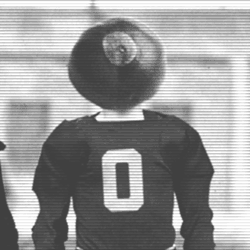 vb buck
---
MEMBER SINCE December 13, 2014
Recent Activity
Can never have too many great Linebackers. Go get him Urban.
If you live in West Park and your son is any type of football prospect, you are most likely to end of at St. Eds. Just minutes away and both the admission standards and tuition are definitely flexible for great athletes.
Dorian Thompson - Robinson would be a solid replacement if Emery Jones decides to decommitt. With that said, I would rather keep Jones in the fold.
In the past, we have stayed in Columbus Indiana as there are a few hotels there that are reasonably priced and it is not a long drive from Bloomington.
I would suggest Stub Hub for tickets. Getting 3 together in a good location might be a challenge but I love Stub Hub as it allows me to pick location.
Because it is a Thursday evening game, I am somewhat doubtful that Buckeye Nation will be out in the same level as most will have to take a couple of days of work to make the trek. Much different than a normal Saturday contest.
Shelton Gibson played HS football in Ohio and would likely bring some maturity into the WR room. Don't know if he has earned his degree for WVU but IF he has and IF he is interest in a grad transfer to OSU and IF there is a scholarship open, then this would be an interesting option.
Not sure of the benefit of a one year player vs the development of younger WRs on the current roster but there is no doubt we need more production from the WRs this coming season.
Not that it means anything, but I believe both DJ Durkin and Studrawa are both BGSU alumni.
A few additional facts: Studrawa and Urban go back to Meyer's days at BGSU. Studrawa is a possibility to stay at OSU as long as Urban is around. This creates solid stability on the OSU coaching staff (turnover of assistant coaches was Urban's downfall at Florida).
Studrawa is a respected O-line coach and is respected by long time Ohio HS football coaches. Studrawa's father was a long time assistant football coach and is well known in NW Ohio. This can only help with recruiting, not only in Florida but also in Louisiana and the DC area.
Hinton was not a strong recruiter but was a solid organizer. Moving to an admin position will hopefully lengthen Urban's stay in Columbus as Urban is surrounding himself with a core group of very loyal persons.
Finally, while it had been rumored for a couple of months that Hinton was planning to step down, I thought Urban would mack a play for Kentucky TE coach Vince Marrow, who is a tireless recruiter. Hairball tried to lure Marrow to UM last winter. I also thought Urban might go after Mike Locksley (who coaches with Studrawa last year at Maryland) and this might still be a possibility if Tim Beck moves on to another position (which is still a possibility).
Correct, Studrawa was Urban's #1 choice for O-line coach but Studrawa decided to stay at LSU. I believe Matt Campbell, (New Iowa State coach) was Urban's #2 choice for O-line coach but Campbell was hired as the head coach at Toledo when Tim Beckman moved from UT to Illinois. Warriner was then hired and has done a great job while at OSU.
I love the way Larry Johnson rotated DL all season long. Great player development by LJ and it proved itself to be a difference maker today. We just convincingly beat a top 10 team with 3/4 of our D-LIne out the majority of the game.
One of the best Buckeyes ever (and that is a statement). Also represented the Buckeyes, both on the field and off the field with class.
Thank you Braxton Miller!!!
What position does Fuller project? I know he is listed as an athlete and he certainly is that.
His highlight tape shows great versatility and displays his skills playing QB, RB and WR, and also DB. With his size, I would love to see him on defense lining up as a Safety.
Agreed and I am surprised he has not received more mention on this thread.
Ash was not only Co-DC, but he also coached safeties. We need someone with strong experience coaching the back end of the defense. Anyone without this experience, need not apply.
EGW has definitely played tonight and I believe he has played on special teams for a few other games this year.
Much better efforts by both the D and the O. D seems to be breaking out some new blitz packages and Darren Lee has been much more visible.
JTB is a difference maker for the Offense. His running effectiveness may prevent Zek from getting his 100 but his leadership and running ability make this offense much more than respectable.
Not sure Fickell has interest right now in being a head coach. He is extremely settled into living in Central Ohio, has a great well paying job, and his wife has family near their home in Dublin. I could easily see Fickell at Ohio State a decade from now continuing as DC.
I think the OSU offensive struggles are going to effect the type of jobs Warinner is considered for as it is evident Tom Herman was the key to last years OSU offensive success.
I think Hill will likely go back an forth on his decision all season. Watching the success of LJ Scott last night I am sure made MSU look favorable. However, it is a long season and Urban will show how he can (and will) use his multiple offensive weapons, while MSU will stay very traditional.
The Key will be getting Hill on OSU campus for a game sometime soon. If that occurs, I think he will be a Buck.
I think Dontre is poised for a solid season. Since he was injured last year, people have forgotten how effective he can be as another offensive threat for the Buckeyes. He was a warrior last year against Michigan State and that was a hard fought win for the Buckeyes.
I think Dontre will see quite a bit of time tomorrow against Hawaii and I expect to see him both as a WR and working in the slot.
The reporter, Dave Hanneman does a great job covering the small town High Schools in North West Ohio. Great article and makes me ever more excited to see Gavin Cupp playing for OSU.
Larry Johnson will end his coaching career at Ohio State. His window of opportunity as a Head Coach has closed. He is in his early 60's no D1 program is going to offer him the top job.
Agreed. Luke is well paid and has a great situation. He and his family are well settled in Dublin and unless a top tier program simply offers him the HC job, I think he will likely be on the Buckeye sideline a decade from now.
Hall is 17 or 18 and while he has made some poor decisions, I would still love to see him in the class. He is an elite DL and you can never have too many elite DL on your team. In the end, if Urban wants him back, so do I.
I think many are overlooking Nick Connor. Justin Hilliard and Jerome Baker both have great athleticism and have received a lot of well deserved press. Connor has been a bit overlooked but has great size and is a smart kid.
I would not be surprised to see Connor redshirt and then really make his presence felt in the program in year 2.
Agree 100%. OSU rotated D-linemen beginning the first series of the game and with the way the offense controlled the ball, we were still fresh on the D-line in the 4th quarter.
Kudos to all of the D-coaches for a great gameplan!!!
Nick Connor, LB from Dublin Scioto will also be enrolling early.