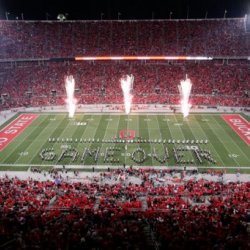 VABuckeyeInsanity
---
Member since 11 October 2012 | Blog
Favorites
NFL TEAM: Steelers
NHL TEAM: Penguins
MLB TEAM: Pirates
SOCCER TEAM: Crew
Recent Activity
I'm sure it's out there somewhere, but Tomlin just signed an extension till 2020 I think.
I've watched a bunch of "the game" and the way it ended, Meyer's reaction, the entire scene, even the celebration that took place after makes it one of the greatest wins ever. IMO
Too bad, but Browning yesterday takes the sting away.
If we don't get Baron Browning now, I will be bitterly disappointed!
Hate week during Thanksgiving such a strange thing so...... I'm Thankful I'm not from ichigan, I'm thankful I don't have to cheer for ichigan, I'm thankful I get to hate everything about that state and that team. Happy Thanksgiving and a very happy Hate Week! Go BUCKS
And if he did leads us in tackles in a season as a safety, then it would have been an extremely long season for the defense.
How many Wisconsin players played in the 59-0 thrashing of the B1G Title game a couple years ago?
I'm not disagreeing with any of you, I would add that I'm pretty sure this song was written for the movie suicide squad. I'm not condoning it, I just think a lot it was meant to go along with a movie.
Wish I could go, but work won't let me make the trip
Posted twice on accident could one of the mods delete one? Thx
They trash him because he is great at what he does. If he wasn't they wouldn't trash him. Numbers, recruits, etc; are all good and necessary and prove a lot, but when other people in your profession feel threatened by what you are doing, that's usually a tell-tale sign you are pretty dang good at what you do.
As a Stillers fan I would gladly take Apple, I'm just hope he is still there at 25. For his sake and the money, I hope he gets drafted higher.
Ok, but it's Burfict, it's like James Harrison. Guys get reputations and then get called for some of things that sometimes maybe shouldn't be called. The fact of all of this is, every team in the NFL has players that are dirty. Some hide it better than others, but they are there. A guy who push coaches, push trainers, and who clearly as Boomer Esiason, the great Bengal said, need to be psychologically evaluated, I have no respect for and doesn't need to be in the game.
I know you are referring to the Shazier hit, which by rule is legal. I'm not saying that it should be legal, but by rule it is, what was the other dirty play?
Antonio Brown tried to jump over the punter. Fans on this site, if any should enjoy and know that players try to hurdle people a lot. Brown was penalized for that, but to say he purposely jumped and dropped kicked the punter in the face is crazy.
True, but the longer I live the more I understand just how special Herman was. Those kinds of guys don't walk through the door very often.
No offensive chemistry, it's not been there all year.
I won't debate the wind, but the wind didn't decide why we ran JT more than we ran Elliott.
I was reading those. The person that made that comment is getting ripped pretty good, which is also hilarious.
I have a cousin on this ship. They have been on tour throughout the world for the past 9 months. They have been docked in different locations and even though they are on deployment they still have some down time. I'm guessing it happened during that down time.
Even if it is effective at noon, it still just isn't the same as a white out at night. I see the noon start hindering the concept, but I understand why they are doing it.

I know there are time tables for healing, but we all know everyone heals differently. In 2000 I tore everything, ACL, MCL, and cartilage damage. I was running on the treadmill at 3 months, on the elliptical at 4 months, and was running hard and cutting at 6. I had a friend who had a partial tear and it took him 6 months as well. I've had players I coached half complete tears and it take them 9-10 months, others it has been much quicker. My point in all of this is, Bosa could very well, could be ready, and probably will be ready to compete at fall camp. I tore mine in January, and played my senior year of football, and began practice in July. I wasn't a division 1 athlete with football as my future, so I'm sure Bosa will have all the best training and work extremely hard.
ESPN just said he was cooperative, but tried to name drop. They treated it like no big deal, so if they aren't pushing it hard, most other media outlets won't either. Nothing to see here is how I feel about it.