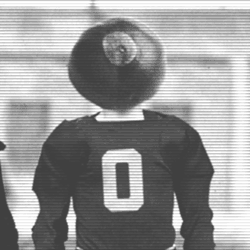 VaBuck1
---
MEMBER SINCE February 03, 2015
Recent Activity
Reading between the lines, sounds like someone is expecting TE Jake Haussmann to transfer. Interesting.
Please get this to Ohio State's graphics and recruiting departments ASAP. Lots of great recruiting material in there. WR/LB/DB U!
Well done! Thanks for sharing.
Guys on O-Zone forum are saying Pletcher is in the FInal as his opponent (#1 seed Micic from scUM) with a medical forfeit.
Who are these four? Thanks.
Agreed. I think Barnes was brought in for the same reason - to recruit!
Yes, he has enrolled already. Go Bucks!
We rotate CB's and we need to play with three of them on the field a lot of the time. I am glad Arnette is coming back so we have three experienced CB's to use in these situations (Okudah, Arnette and Wade). We can then sprinkle in others to get experience based on their play and capabilities. Win/win for the Bucks as far as I am concerned.
Welcome back, Damon. Lead the CB's to greatness!
Go Bucks!
Keep stirring the pot, Kyle! Keep going!
A long time ago indeed ... in the beginning that insider board started by Kirk was magical. All good things must come to an end ...
Kyle used to be a part of the Eleven Warriors staff, if I recall correctly. Go Kyle Go!
ESPN reported that scUM offered Mattison a two year extension and a raise, but he left anyway for OSU. Believe me, they didn't want Mattison leaving.
Nothing has been said about Stud yet. Day is obviously focused on the defensive side of the ball first (after he replaced himself with Yurcich). Day has not come out and said Stud is staying. This may be a case of sequentially dealing with one issue at a time. Once the "D" is set, then decide on options for the OL, including possibly Stud staying. Stay tuned.
If they don't think highly of someone then they don't say anything at all ........................
No one was on here singing magical praises for Tom Herman when he was hired. Or Ryan Day for that matter. Not many for Chris Ash either. They didn't come from "Clemson or Alabama." We trusted Urban Meyer because he was an established, successful coach, but he made mistakes as well (putting Warriner at OC, Beck, Withers, Davis, maybe Grinch). Day has Urban Meyer and many others helping him.
I personally love the pairing of Mattison and Hafley.
You have NFL professional DB's (even one possible Hall of Famer) singing Hafley's praises but you don't like him because .... ????
Did Day make sense to you when he was hired? How about Herman or Ash? Young coaching talent comes from everywhere Trust that Day knows how good these guys are (and I personally love the experienced/teacher/mentor/tutor role for Mattison with a hot young defensive coach).
If Mattison is coming in to help mentor/tutor a "co-DC" or "future" DC then this moves makes a ton of sense. Mattison was a highly regarded DC. Day is going after talent all over the place ...
Remember Urban Meyer thought very highly of Mattison. Let's let all this play out ...
Chambers, Johnson Jr, Harrison, Hickman, Wilson, Nester, Miller (left to right).
Yes, Nester is #74
Paris Johnson, Jr. 2020 #1 OT
Jameson Williams did not play in this game
Is that Chambers, Johnson Jr, Harrison, Hickman, Wilson, Nester and then Miller (left to right)?
Sure hope Miller, Wilson, and others were able to get in Nester's ears while they were in San Antonio this week. We need Nester to stay with us.
I didn't hear Harrison's or Chambers' names much today. Of course, it's as all about throwing the ball today at the game.
Good take. I have been to 11 of Ohio State's 14 games this year in person. Browning often seems lost out there. When they put him in and tell him to go rush the QB on an obvious passing down, he can do that. But, if you ask him to read the play and play the LB position and everything it entails, he struggles mightily. I know he is a great athlete, but he is a liability out there when he is out there. I am sure the coaches want him to succeed, but I just have not seen it yet.
Thanks. Did not see that update. Barrett was released twice prior and then re-signed to the practice squad. Would not surprise me if he were still around the area and will be back with the team in some way this summer.