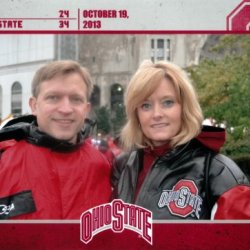 v65animal
MEMBER SINCE June 08, 2014
Favorites
SPORTS MOMENT: When scUM lost to Appalachian State or Toledo, either! :-)
NBA TEAM: Cleveland Cavaliers
SOCCER TEAM: USA
Recent Activity
I think we will know a lot more after the Wisconsin game.
I hope so, but I also recall one year we kept expecting Braxton Miller to throw a pass at some point, which never came. Has anyone ever seen an interview where he addressed why he didn't throw that year? Was it Urban's choice, Braxton's?
If I recall correctly, the last full season Joe Burrow was here, he was hurt in the summer. He didn't get to practice as much. Before that point he seemed to be #2 behind JT. He never gained the ground back, then apparently it was a very close decision between Burrow and Haskins that spring. If Joe had stayed, maybe he would've beaten Haskins out during the summer.
If fairness, last year Joe was good, but not fantastic. So, realize you are looking through Rose Colored glasses, and you weren't there at every practice, etc.
I'm seeing gossip of Harbaugh to the Redskins. Poor Dwayne Haskins
Per the rotation depth, we now have to consider who to Redshirt as well.
"the Redskins job involves working for the worst owner in football right now."
Worse than the Bengals?
"Hartline is an OSU lifer, I think he will be happy being the wr coach at Ohio St for years to come."
I hope you are right, Mike Vrabel left us for the NFL.
Searching for Laughs at the MGoBlog and found these funny comments in a thread about their Women's volleyball team winning 7 straight vs Ohio State.
Michigan 3 of 13 on 3rd down....
Indiana is due, they've had so many close games vs OSU and Michigan, they deserve one sometime. I'm glad you are offering up the W to them! :-)
So, any chance I can go to the Michigan vs Ohio State game with your Dad in your place this year? I've never been to the Big House! :-)
Hopefully, MSU is better than we thought, they were very close to being an Undefeated team coming into tonight's game, which would have helped our "style points".
1st Quarter, MSU Penalty, 5 in the backfield. We declined, I thought they were losing 1st down, but it seemed to me they still showed it being 1st down for MSU? If the play didn't count, why didn't we take the 5 yards?
Speaking of TP, the selling/trading of the Gold Pants that were given to him/them.
POINT> They were given the items, so they owned them, who is the NCAA to say they can't sell them?
COUNTERPOINT> So, if it's ok to give gifts/awards to players, what stops teams from giving an award each game, instead of Buckeye Leaves on the helmet, a small token. What then stops the player from selling them? What if the team doesn't win that week, well this is the age of Participation Trophies, so you get an award anyway.
What is to stop schools from saying if you sign with us, you will get an "award" for each game. We know people that will pay you $5,000 for each award. So, it would really be pay to play, but not directly.
This is a slippery slope, I would be ok with some limit to the amount of money they receive while they are still in school, they could get more after school. Of course the argument will be this is a capitalist country, they should get as much as they are worth.
I'm starting to see this in the same respect as the NFL going to free agency, I slowly lost interest. My "team" was no longer my team, the players moved around too much.
I may soon have an extra 4 hours of free time on Saturdays in the fall.
Someone other than a QB or RB would be nice.
"we could see lines shifting in the Buckeyes' favor once again."
Yes, the Baseball was before I was born, and I've never heard it referenced before. Still one with Pete Rose as the coach would have been great. Thanks,
I was somewhat disappointed we weren't challenged more on Saturday night. As Ryan Day has said, I wanted to see a 4 quarters game. I especially wanted to see the crowd get into it more to "Test" Justin Fields, before we go to the Toilet Bowl in November. In some ways, I hope we blow them out, but it's also fun when they think they can win, then we crush them in the final minutes.
We are doing better on the O-Line without the Prince!
1. Okudah's back INT - Yes, some Luck, however a lot of skill to basically catch it one handed. Later in the game I saw a pass we could have had another INT, but it was a 2nd or 3rd string guy that wasn't quite paying attention.
2. Almost 2 months until the game. For our team, don't get cocky, see John Cooper teams for a history lesson. The more problems TTUN has, the more desperate and motivated they will be to beat Ohio State. Two months gives time for both teams to improve, we also need to be healthy at that point, and hope no one steals crab legs, gets a DUI, etc. Yes, things look good this year, however last year at this time things were looking good for TTUN.
3. Per another article regarding *ichigan being a mess. Not really, if you look at football only, yes, mostly so. However, we haven't had as much luck recently on the hardwoods, hopefully that is changing. All of their former NBA talent, now as coaches, we shall see how that goes. Don't forget, their Swim and Diving teams are great! :-) Ha Ha Ha!
4. Why didn't Ohio State ever get Pete Rose to coach our baseball team? He was banned by the Majors only, correct? It would be awesome to have an NC in Baseball to go with Football and Basketball!
> 2. Martinez ability to run/scramble and us being overly aggressive
Ding, Ding, ding, that is key... If we don't fall into that trap, 52-21 Ohio State
What about 2 year in Miami? All of the LSU fans were calling him Nick "Satan" for years after that. The hardest part for them in that instance, was it was another SEC team. ND, USC, etc might not have been as big of an issue. Or, the months of "No I'm not going to Coach Alabama"
It will be interesting when we face tougher D-Lines, how the short yardage, red zone, etc run game is. Fields should help with that respect. I'd like to see more RB's pushing it through the end zone, instead of our QB.