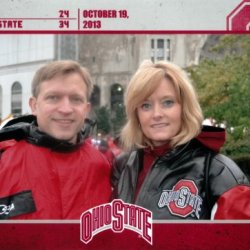 v65animal
MEMBER SINCE June 08, 2014
Favorites
SPORTS MOMENT: When scUM lost to Appalachian State or Toledo, either! :-)
NBA TEAM: Cleveland Cavaliers
SOCCER TEAM: USA
Recent Activity
#FireKevinWarren #SaveTheBig10
So far, we don't even know if there was a vote. We do know the Athletic Directors wanted to play. He makes Big $$$, time to put on the britches or get out of there.
Seriously, he cancels the Big10, but lets his kid play in the SEC. This makes NO sense. Yes, the kid is probably 18+, but still, it's just wrong.
#FireKevinWarren #SaveBig10Football
Regarding Canned answers, yes the whole media circus is a joke. Really, how many new questions can you ask? Pre-game interviews, as though you really expect the coaches or players to give away their game plan? 99% of it is just a waste of time.
What's worse though are the presidential conferences. I don't care who the president is. The media are out of control, yelling questions. Seriously, we can't be civilized and hold up a number like at an auction to be called on to ask the question? And what is the point of having an interview right next to a running helicopter? Seriously, they are so loud.
We did stop travelers from certain other countries from entering this country early on. Now the people that were against that are now saying enough wasn't done Would you really trust a vaccine from China at this point? They can't even make dog food that doesn't kill dogs.
Everything is political now.
Ohio State vs Bengals and Browns! :-)
1. This automatically extends the days since Ohio State has lost to *ichigan (We would have won anyway)
2. If we play in the spring, we could beat them twice in 2021
This stinks, it will only be worse if the SEC and ACC play.
Or if the SEC plays, and they have to cancel a lot of games or the season after they start because of players getting sick, then the Big10 looks good.
The WORST, they basically tried to rip Braxton Miller's arm out of it's socket.
Ohio State's thrilling 42-39 win over Michigan in 2006
I was never worried during that game. I always felt we could score if we wanted to. Tresselball was in effect, they had to beat us, we weren't going to give them easy turnovers, etc. I think the D was playing prevent most of the game, trying to stop big plays, just let them go up and down, burn the clock out.
Gotta save this, I look forward to re-reading this every year after the game while he is there.
So, what if RR lasted one more year when JT and TP were gone? Say they still beat Ohio State. Would that turn the corner for RR and scUM? Would he still be coach? Basically I think this happened with State Penn. We last one year on two fluke special teams plays. State Penn wasn't doing well that year until we lost to them. That saved James Franklin's job.
In the decade, I would bet that we have a better winning percentage in Ann Arbor than any other team, including TTUN!
The Bama of the North. Like the Wicked witch of the east and west.
For that, I'll take on the whole football team myself! Show me the Money! :-) Ha Ha Ha
Woody Hayes would have loved this, he COULD have gone for 3!!!!!!
I'm in Huntsville, you beat me too it.
It's kind of amazing how far apart the three different ratings are between each other.
C.J. Stroud, No. 29 overall player in the country in one ranking and #104 in another.
They are all really close on the others in this article though. Yes, I saw the article on C.J. Stroud dropping in ratings in the article earlier today. Still, not even in the top 100!
Good Luck to all of them. 12 Gauge is making some good coin, even if he doesn't move up to the NFL.