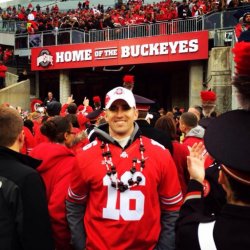 USNbuckeyeBG
---
MEMBER SINCE July 08, 2015
Recent Activity
Anyone have a cliff notes version? In the office and can't listen at the moment
Andrew, any intel on the defensive coaching search?
Just went to their twitter page and watched a few more. Those are awesome and hilarious
Agreed, BG and the rest 247 has to offer is worth it. But yah BK is bad, I don't ever waste any time reading his articles. So much fluff
Saw an article with Francois the other week that made it seem like it was a Miami vs Nebraska battle for him
Appreciate this, most other weather threads turn into people bickering back and forth about how much the weather hurts us or the other team.
They totally are in regards to Pryor. Go over to their board. Talking about their coaches ability "coach him up", like they produce elite DBs on the regular or something. Pretty funny honestly
Guys, back to the 2020 recruiting class
First job I had was caddying. Made stupid money for a kid my age, oh and all cash, can go when u want. Highly recommend that for young people. Did it up at some nice CCs in NE Ohio.
Not surprised honestly, his film doesnt really blow you away.
Not sure how good I feel about our chances here. Would feel better if OU was looking as good as they are at this point
Hmm, maybe things have changed, but was stationed in Va Beach from 2010-2013 and definitely seemed way more rowdy for browns games than Buckeye games. Also remember the place was a bit of a dump in all honesty.
Yah he has to be serious about FSU. South Florida to northwest Florida isn't exactly a quick trip. About a 7 hr drive I believe.
That was also like 4-5 years ago, I mean a lot can change in that time.
I feel like most haven't taken ESPN ratings that seriously since they severely underrated Beanie. It was something criminally low.
Rivals Cane site has an article up saying that we are pushing hard for south Florida CB Jaiden Francois. Seems it's been really quiet since he visited. Anyone see anything about this?
Also maybe there is some late developing guy somewhere that doesn't have a great offer list/committed to a lesser program that just blows up his senior year.
And to think that guy still has a job at michigan state. Equally mind boggling.
Honestly if you read Kourt's tweet you could easily comprehend it wasn't a commitment tweet.
He filmed a video, guessing he will be dropping it later than earlier being a west coast kid.
Need to couple that with a relative LSU dissapointing season. Seems Coach O has for now calmed the doubters, but if they have a 4 loss season or more, and dont look competitive in some of the bigger games, the heat will be turned back up on him.
Hard to say this, need Texas Tom and his boys to take it to LSU, will only help.
CB from a Clemson insider on J. Knighton to the good guys.
Wasnt he committed there or favoring there at one point? Could see an avalanche of CBs to us on him now.
I mean, we kinda say the same thing about schools in the south east, lol.
As we have heard a million times, if you don't lead after the OV, you never will.
Plus he already used his OV there. So now him going back would require the entire cost of travel to all be on him and his family. Will be surprised if they convince him to slow it down at this point.
Big. Assuming he will prob CB Bijan to OSU here soon then.
I just have a feeling we are gonna end up with one of those higher ranked DEs in the end that we are hardly even mentioning now.