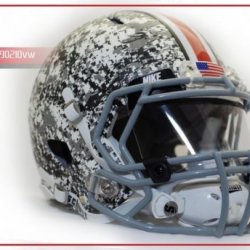 USMCBUCKEYE82
---
Dreaming of Camp Lejeune but living n Indianapolis (via Fort Wayne, IN)
Member since 21 October 2010 | Blog
I was living my dream as a United States Marine. I blew my left knee out and now I'm a salty broken retired pissed off leatherneck! I spend most of my time helping other warriors get acclimated back into the civilian life and watching The Ohio State sports. The rest of my time is with family and my God.
Favorites
SPORTS MOMENT: 2002 College Football National Championship game. 2006 The Game
COLLEGE FOOTBALL PLAYER: Eddie George
NFL TEAM: Colts
NHL TEAM: Blackhawks
NBA TEAM: Pacers and Bulls
MLB TEAM: Reds and Mariners
SOCCER TEAM: Muck this stupid sport
Recent Activity
He had is jacket in his hand.
Dont be a dick.
Go Buckeyes!!!
O-H
Glorious! Simply glorious!!! Makes this broken Marine want to head back into battle. Thanks for the moto art.
Go Buckeyes!!!
Fight like your forefathers did when they took the fight to south!!!
Semper Fidelis Silver Bullets!!!
Dumbest idea to date coming from the B1G offices!!! This tops the legends and leaders idea!
Never leave a man behind! We fight for the men to our left and to our right of us and without those men we are NOT whole or as strong as we can or should be.
God Bless Kosta and his family.
Find Kosta!!!
It is much lower than minimum wage in the beginning of the payscale. Soon it will be much more profitable to flip burgers than to take an oath to protect our great constitution!
The comment that started this whole conversation up top I can somewhat agree with. It's insane that entertainers/sports personnel get paid the amounts that they do when careers that we truly need and sometimes rely on with our lives constantly fight budgets. That is what makes our country so great. Although if you can build it and build it well enough and there is a want for it by many then the amount of money you can make is a serious payday and a golden path to lavish lifestyle.
God Bless the USA
BOOOOOOOOOOOOOOOO!!!!!!!!!
You don't actually mount the fish you catch anymore. Well you can but it is extraordinarily expensive. With fish like Mahi you take several picks and measurements and they recreate it with a mold to be exactly like the one you caught.
The chicks face in the background is great! The first expression of the loss. Or she just looks that dumb.
I appreciate that. But I really only had a great job before my injuries. I only can dream of that job today. Again thank you for your comment.
Can't really add anything to what everyone else has said other than a very grateful thank you. The crew and what you all do is simply amazing. I'll tell you one thing, if it wasn't for 11W the last deployment would have been extremely boring and I would have probably lost it since I visit everyday, several times a day when I can. Again thank you again for creating such another amazing aspect of Buckeye Nation.
It will be an amazing ride in the coming years. I cannot wait to continue to race to my macbook or iphone everyday to find out the truth about Buckeye Nation.
Semper Fidelis 11W
Icing on the cake!!! Flippin outstanding!!!
Welcome to the greatest university this land has to offer Dontre. You have become part of the biggest and best family in the US, the Nation welcomes you!!!
Had to upvote you for the qoute! Mr. Tatum was and is the greatest hitter of the game.
Man what I would give to be able to run like that!!! Dude is dangerous fast. Great Video
Right on all accounts. Hopefully they gain some motivation out of this win.
Hopefully this gives them motivation going into the game against the Loosiers. I am sick and tired of how great they are here in Indy.
Matta loses his mind during halftime. The guy has lost so many games in the second half of ball games
Wow talk about another handout in the craphole state
Gotta show the loser one more time too
No foul are you crapping me!!!!!!!!!!!!
Get the ball to Thomas or Q
If they call this a flagrant, I am gonna lose it