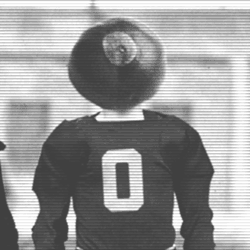 USArmyBuckeye
---
Fort Collins, CO (via Yellow Springs, OH)
Member since 14 August 2014 | Blog
Favorites
SPORTS MOMENT: '04 edition of The Game because I was actually there
COLLEGE FOOTBALL PLAYER: Baker or the GOAT
COLLEGE BASKETBALL PLAYER: Craft
NFL TEAM: NA
NHL TEAM: NA
NBA TEAM: NA
MLB TEAM: NA
SOCCER TEAM: Any team with Alex Morgan
Recent Activity
Is it just me or does Mr. Burrell look like a little bit like shit?
Is it just me or has this week dragged on and on and on and on like no other? I'm jonesing, can we kick off tonight instead?
Yeah, it's a shame too. I'm glad the truth won out, but I'm saddened that the original story was a lie. It was a good story.
Just playing the Devil's advocate here, but I would assume the fact that the D they are rebuilding wasn't atrocious last season has something to do with it as well.
I thought he was describing Brutus himself
EDIT:
And now having read further through the comments, I understand why I'm an idiot. I am one of the ignorant few here when it comes to The Wire, so I totally missed his reference.
Get healed up! We'll see you next year for some good old fashioned shop wrecking!
I can normally understand reasons for doing most things, even if I ultimately disagree with them. This, however, makes literally zero sense at all in my mind. Am I missing something?

anyone who has an issue with Braxton traveling with the team has lost their damn mind
I think he was playing jeopardy with beijing, but just forgot to say "alex" at the end of the post.
I feel like Phil might have ADHD
It needs to be game day already so we can begin the season long journey of proving all of the doubters wrong!
I feel like maybe I should have been more clear :) Six points silly geese, not six yards
It's sad when I actually believe that is a possible reality.
I have to admit, i'm still very surprised that Cam is giving Von Bell such a run for his money for the starting spot. It either speaks very highly of Cam or the injury has set Bell's development back significantly. Fingers crossed for option A!
Fool me once, shame on you. Fool me twice, shame on me. Why oh why do I still find myself expecting a breakout year for Michael Thomas?
You may want to see a doctor about that :)
I would lose it if TSUN actually managed to lose to App State again. Fingers, toes, legs, arms and anything else you can think of crossed!
Interesting.....I honestly wouldn't have guessed those numbers for Braxton. Well, you learn something new every day and I certainly can't wait for him to come back and lead this team in some capacity in 15!!
Wishing the absolute best to Braxton, but i'm also excited as hell to see what J.T. can get done with all the playmakers surrounding him!!
The amount of playmakers surrounding J.T. on offense will ease any early issues he has. Arm strength doesn't seem like a huge deal to me considering every 5 yard pass this year is a threat to go for 6.
That won't last long once J.T. starts lighting up the short and intermediate passing game and our crazy athletic receivers break free for some big YAC.
Since you are coming from AZ, can you stick Kirk in a duffel bag and bring him with you?