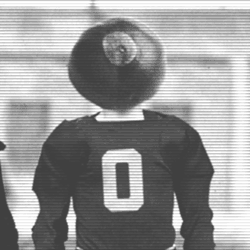 UrbzRenewal
from New Albany, OH
MEMBER SINCE April 20, 2012
Recent Activity
It's quant and eyetest (typical camp circuit stuff).
The lead grew to nine and immediately we had that four foul possession. Every time Ohio State grew the lead, inconsistent fouls and bad turnovers let PSU back into the game.
I'm glad Hummel and his partner started calling it out. "That looks like a travel" > 2 points and the foul. "Reaves barrels his way into the lane out of control" > blocking foul. "Stevens barrels his way into the lane out of control" > blocking foul. "Looks like he had a little armbar there" > reach in foul.
Wymer and Schirotto have historically been a problem. At least TV Teddy was consistent.
The state is also pretty loaded (compared to previous years) which makes that about bit easier
Huh? His official 247 page has him at 6'1", 200. Watch his tape, that's not a 165 lbs dude. Jameson Williams might be, but not Crowley.
You know almost all media publishing relies on views and ad clicks for revenue, right?
Seems like someone Locksley is destined to go out and get.
If he wants to come here, you have to take him. Our OL depth is nearing emergency levels in a year or two.
It's a rational but pessimistic projection. Not all negative prognostication is trolling. They're all coinflips and all could still land tails.
Birm has written a bit about Seibert and it sounds like if Ohio State offers him early enough, they'll get him.
Because he's by far the most talented player on the Ohio State roster and one of the top post players in the Big Ten.
You can say he's undisciplined and foul prone but there's no denying he has the most talent on the team.
Laughable take. Go back under your rock.
Basketbal CBs are much less actively updated. I doubt OSU adds anyone to this class (though it might make sense to if there's more unexpected attrition like Potter).
1. What is the likely-hood of the staff trying to add another player to the 2019 class (Jordan Mitchell or another post player to add some depth come to mind as possible additions)?
Based on what I've read, I don't think they'll be adding anyone more.
2. What is the outlook for the 2020 class? I have heard almost zero news on it, and you have to scroll all the way down to the 130th ranked player (Dominiq Penn, who we should take) to find a single crystal ball submission for the good guys.
It's still early, but I think they'll focus more nationally again. The Ohio class frankly sucks. Dom Penn will probably be a take, but I'm not sure it's a guarentee. Losing Zeb Jackson to Michigan sucks.
3. How are we doing when it comes to recruiting Zach Loveday? He's originally from Ohio, albeit right along the border, he's very talented and has great size, making him a must get for the staff in my mind.
They're still aggressively pursuing Loveday, and he's probably their current top target. With how bad the Ohio class is in 2020, they really need to keep him home.
I think you might see them slowplay an Ohio QB who will stick around as a backup. Someone like Riley Keller from Whitmer might fit.
Reminds me of the old business trope that's become subject of many blog posts: CFO asks CEO: "What happens if we invest in developing our people and they leave?" CEO to CFO: "What happens if we don't and they stay?"
That bridge is most likely burnt.
It's going to be a 4-3 Under base defense. Next.
You want high energy guys, you want more reserved guys.
You want experienced coaches, you want young coaches with new ideas.
You want dudes from Ohio, you want dudes that have expertise in other parts of the country.
You also don't want an entire coaching staff of white guys. There are tons of qualified/experienced black coaches out there, and Ohio State (like many programs) should hire more of them.
Hartline was a volunteer, then a GA, had a run as an interim assistant, and earned it permanently with his unit's performance. Doss was a good player and was a volunteer with the football program a while ago.
He'd be the definition of a flier. He's not coming to an initial staff as a positional coach.
Mike Doss can come coach here...as a GA. Then he can work his way up.
Or whomever went didn't take the same plane back.
Speculation and rumors are highly entertaining.
Fickell & Withers: bad
Fickell & Ash: good
Fickell & Schiano: good
Grinch & Schiano: bad
Herman & Warinner: good
Warinner & Beck: bad
Wilson & Day: good
So 4/7 pairings in the Urban Meyer era turned out pretty well. A little bit higher success rate than "rarely" I'd say.
They tend to not publish articles on rumors. This hasn't been reported by or confirmed by anyone legitimate. It's scuttle.
Coaching ruthlessness in general is something I'd like to see from Day. Love your players, but your decisions on who sees the field should be solely based on who is going to perform the best on gameday.