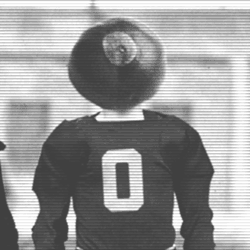 UrbzRenewal
---
MEMBER SINCE April 20, 2012
Recent Activity
Donovan Jackson also won The Opening Finals OL MVP as a junior: https://twitter.com/search?q=donovan%20jackson%20%40theopening&src=typed_query
Barnes called the Maryland defense last year, fwiw.
Okudah says Donovan Peoples-Jones began to shy away from contact as the game progressed due to the physicality of the defense.
*eyeball emoji*
I think he is a flex, like Branden Bowen. He might project a little stronger to the interior than tackle. When I hear scouting reports that describe someone as "burly" I immediately think interior, but his arm length is elite.
FPI and SP+ don't "know" that Tua is out. FPI is trash, but it's still an analytical model. It only knows what's happened in the past, not the nuance/value of individual players.
Game changed defensively when they started using some Cover 2 concepts and inserted Marcus Hooker as the second safety. Michigan solved Ohio State's cover 1/cover 3 stuff without Shaun Wade. Ideally the other safety would be Proctor but he's hurt too. The Amir Riep pick is the perfect example. It was classic Tampa 2.
Bruce Feldman shot down the Chip Kelly stuff this morning iirc.
I think this is a fair assessment. I think the days of inner promotions to coordinator positions at Ohio State are long over.
Yeah that JK Dobbins guy is a freaking slouch and Master Teague is trash. Get rid of their coach!!
4 & 5 star recruits have a far higher hit rate in the NFL than three stars. But sure, go ahead and mention the .001% of Ohio 3*s that become difference makers in the NFL.
Lol @ the mod edit moving this to the College Sports forum. He's out for the Ohio State game. It's Ohio State football news.
More scared of Clemson than anyone. Ohio State would drop 50 on LSU in a full game; I don't think LSU would go over 40 against Ohio State's defense.
You know Okudah was in Wade's class, right?
Not all teams use a compressed kickoff return formation like Maryland. It was a look specific to that team.
There's not room in the current class for projects, except maybe at RB.
They've already got another DaVon Hamilton committed, fwiw.
Perhaps this is something for the staff to keep in mind.
Oh yeah, I'm sure they could use a reminder. It's not like they have like full-time staff members dedicated to recruiting or anything.
He's much better at pass protection than Carman was, though probably not college ready yet. They were both equally adept at burying kids in the run game.
Which is a slot receiver. H = slot. It's not a "back" in the Ryan Day offense.
Wow great info and insight. Definitely worth the sub to Bucknuts to get that insider scoop.
I'm 26 and thought it was in pretty poor taste and contributed nothing to this recruiting thread, but you do you.
Have you ever lived paycheck to paycheck?
Yep, I think you'll see Walker, Carton, Muhammad, Young, Wesson.
Agreed. Right but irresponsible. NCAA has a full menu of potential punishments for all situations. From a single game penalty to the death penalty.
Dodd's analysis isn't necessarily wrong, it's just one of many things the NCAA can go to as punishment.
Ohio State has a ton of mitigating factors in this circumstance. 1-2 games is reasonable and in-line with precedent as long as there isn't anything else detrimental that we haven't heard.
A, B, D definitely apply based on the current set of facts. Assuming Ohio State's compliance department doesn't have their heads up their own asses, C, E, and F would hopefully apply too.