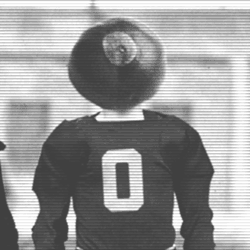 Urbstache
---
Member since 02 December 2011 | Blog
Favorites
SPORTS MOMENT: 02 OSU-UM, 03 Fiesta
COLLEGE FOOTBALL PLAYER: Antoine Winfield, Beanie Wells
NHL TEAM: Jackets
NBA TEAM: Cavs
MLB TEAM: Reds
Recent Activity
Rutgers isn't the crown jewel of anything.
Rode it during OSU day (May 6th)...amazing, one of my favorite rides in the park. The view before the drop is incredible. Interesting trains too, only 3 rows, but they go 8 across.
I haven't seen it yet, but I also heard Walker's senior tape is nothing special.
This has very much the Derrick Green-Zeke Elliott feel to it. :D
Saw it last night, it was pretty good. Might be the role the gets Leo his Oscar.
My mom would often write down funny things we'd say as kids, hilarious to hear them years later. Apparently when I was a toddler, my mom would say, "Urbstache, behave!"...to which I would respond, "Mom, I am have!", said as "hayve" :)
"American blood is the best and we will taste it soon" per an ISIS twitter feed, being reported.
Just fucking die you sacks of shit.
Have a French friend in Paris, she actually studied abroad and we met at OSU in Fisher. Sent her a message, hope she and hers are ok. What a terrible day.
New death total of 158 being reported. Ugh :(
"This fella, who I assume lives the life of a legalized Pablo Escobar"
Hahaha, sometimes DJ just kills me!
My favorite album of all time. I've said it for years. The one album I could point to and say that is what rock is supposed to sound like.
I'm 25, and will listen to Zeppelin until the day I die.
A 2011 Spanish Rioja. We'll be breaking open a Cabernet or Bordeaux around gametime. :)
OP, please go! Bloomington isn't West Lafayette haha.
4 of us sitting behind the Buckeye bench, sic em boys.
I just use last year as an example. Mich was 5-7 and missed a bowl, the black eye at the end of a failed tenure. The national opinion of them had rarely been lower in their history. Didn't matter, won a title.
I've been watching both PSU and Mich....and it is positively appalling. Both teams are having to work SOOOO hard to gain 4 yards. We gain more than that when we fumble the snap lol. PSU just missed a field goal at the end of a 38 yard drive...that lasted over 6 minutes. I understand both of these teams will get up to play us, but they are not good at all. Sparty and Minnesota should give us better games.
Maybe we could've opened with South Carolina instead? Of course, that would've hurt our schedule even more. :)
Week 1 is actually where I feel most confident and make my most money. A couple years back I killed week 1 and ended up about even haha.
Going really heavy on Bama to cover the -10.5 against Wiscy. Badgers have a new coach who was so-so at Pitt, Stave at QB, and no Gordon running into the teeth of that front 7? Bama big.
Mark May was in rare form before that game. Said Miami would win because of their speed. When challenged by the host who said that the Buckeyes had speed, he lost it lol. Saying things like we're a bunch of pretty boys with only straight line speed, that Miami is fast in pads, and we're only fast in shorts. Then I wielded the mute button :-/
Not entirely. It would have to be a moot point :)
Edit: looks like plenty of people have already jumped on the 'moot' error haha
I have a tough time remembering the MJ days, and I'm way older than any of these recruits. Might not be the recruiting tool these dweebs think it will be :)
This is the correct reaction. People don't even realize the freight train that is about to hit cfb.
I was at the game...bama fans in our row were gone before we lined up for the 2 pt attempt. "Don't let the door hit ya" :)
IIRC, Zaire was a member of this site at one time. So yes, we had a legit shot.
We weren't at full strength when they beat us, that didn't stop their fans one bit.
I think Urb has a good handle on that :)