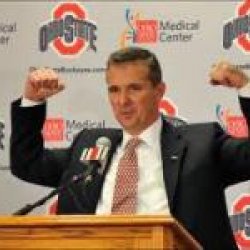 urbanwarfare
---
Member since 15 October 2012 | Blog
Favorites
SPORTS MOMENT: Storming the field after Michigan in 2006
COLLEGE FOOTBALL PLAYER: Mike Doss
COLLEGE BASKETBALL PLAYER: Sconnie Penn
NFL TEAM: Cleveland Browns
NHL TEAM: Columbus Blue Jackets
NBA TEAM: Cleveland Cavs
MLB TEAM: Cleveland Indians
SOCCER TEAM: Is that a sport?
Recent Activity
It totally depends on which rotator cuff muscle or muscles your torn. The rotator cuff is a group of 4. If there was no mechanism of injury I'm assuming possibly the supraspinatus and/or subscapularis. Many people walk around every day with a torn or partially torn cuff muscle. There are ways to get around it. Proper scapular mechanics for one.
What is the rarest bourbon you have consumed
When DJ, and fellow members, helped one of our depressed members through a difficult night.DJ even offered his phone number
Never tried it but I love making home made pizza. Any home recipes ?
Any one else prefer a pretzel bun??
Why does anyone want another 10 year war. I have never understood the rational of wanting Michigan to be good. I would rather see 10 more years of us destroying them like the past 10 years.
I agree the OP (Kansasbuckeye) did a perfect job in the description and I understand the new information is 100 posts down but shouldn't we at least have the thread from 1/19/16 closed so there is not multiple convos about the latest news going on at once
http://www.elevenwarriors.com/forum/ohio-state-recruiting/2016/01/66673/mecole-hardman-jr-changed-his-twitter-header-to-ohio-stadium-and-him-in-buckeye
we need all us older posters to remind the younger crop about the Cooper years. Whats the saying "Those who cannot remember the past are condemned to repeat it."
I'm interested. Trying to message you but not working can you message me?
11:40am and ttun still sucks
Time and change will surely (truly) show
long story short. Nobody talks about the teams that are the best the first 6 games of the season, people talk about who is the best the last 6. We all know cardale has the arm and size but lacks the reps. We are stupid to think our front half of the schedule is weak. We are working in out the kinks. If jones learns to read the defenses and hit the open man we can't be stopped. It took JT some solid reps to learn this. If jones does not figure this out Urban is smart enough to put JT in by then. There is no team in college football that has the talents of jones. He needs these early games to learn. We are talented enough to get through. Again it's about the last 6 not the first
Right on. During the few hours I'm not on this site I work as a physical therapist. You're right when are designed to move. Whether you believe in the man upstairs,aliens,or evolution, we have big butts for a reason they are supposed to be used for movement not as couch cushions. One on the reasons for low back pain is due to "low cross syndrome". I.e. Inactive glutes and core along with hyperactive hip floors and lumbar extensor.
Not too bad but that's a pretty huge jump for the golden domers. I honestly think Alabama is the number 2 ranked team. Looked pretty solid with all that they replaced
Remy/matt love your stuff. First time I thought your scoring system was off. I like how you quantified it but he should easily be number 2 right behind Archie
Any chance DJ fits into this bloodline? That's the biggest question
Mr Mike Doss. Came back to win a championship and boom! It was done
We might be the best team that turns QBs into WRs , WRs back to QBs, QBs into LBs and LBs into Sherman tanks
As much as I and many other fans on this site want to know all the dirty little secrets. I love your professionalism Birm and that's why the best site for recruiting info is here