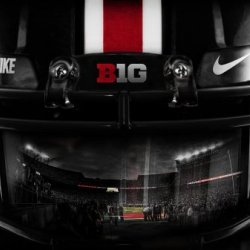 UrbanRenewal
---
Hilliard (via Massillon)
Member since 04 March 2014 | Blog
Favorites
NFL TEAM: Browns
NBA TEAM: Cavs
MLB TEAM: Reds
Recent Activity
A 4.9 weighing 220 lbs really makes me question the Ryan Shazier comparison.
If he does, there won't be any discipline.
Fuck. Can't stand the Florida State Criminoles. Well, still a great class. Might see Marvin down the road in the Playoff.
Isaiah Crowell ran for nearly 1,000 yards behind that line. I'm sure Barry Sanders would have managed to do just fine.
"Beleive" and "actially" lmfao
Tim Beck had twice the amount of time to get his unit to where it should be. The judge shouldn't reach a verdict until Stud's 2017 campaign has no improvement.
5 years into the Urban Meyer era, you wouldn't think we would have these issues since Urban has always said that Ohio State is an offensive-line driven program. Where did it all go wrong? The 2013 team had the best OL in the country, the 2014 team minus the V Tech game was great, then it's just kind of.. went downhill. I remember the days of running all over whoever we wanted and Braxton having all day to find Philly Brown open and JT/Cardale having all day to throw a bullet to Devin Smith or Michael Thomas. That was barely over 2 years ago. Feels like 10.
How dare the Heisman being given out to 1 player. How offensive to every other player in NCAAF who doesn't win it.
That's awesome. Congrats to Nate. That is one hell of an athletic family.
Nothing against you or the article, D.J. Just general venting. Feels like 5% of the year is actual football season and 95% is off-season.
"Ezekiel Elliott's girlfriend is actually jaw-dropping"
23 acres sounds a lot less dramatic so I get why it's described as 1 million square feet.
Janoris Jenkins plays for the New York Giants.
Mike Weber is a grown ass man
You forgot the sarcasm font on the D'antoni Dantonio portion!
Mark Dantonio coaches the Michigan St Spartans. Mike D'antoni coached that Phoenix Suns team.
Why is J.T. talking about the College Football Playoff? We have a game at Michigan St. this week. The same team that has ruined our title chances 2 of the last 4 years.
Mike D'antoni coaches the Houston Rockets. Lol
It was either Keandre Booker or Dante Jones. LOL
Burrow looks like the real deal. I know it was mop up duty and everything but he was very accurate and ran the offense smoothly.
Well, Western Michigan did go 8-5 last year. That wasn't exactly this year's undefeated squad.
Reminder to remember to take your happy medicine when you wake up and on an empty stomach.