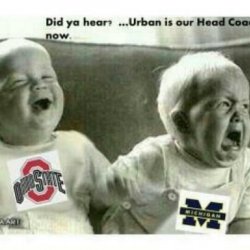 Urbanologist
---
USA (via Louisville)
MEMBER SINCE September 16, 2016
Born and bred buckeye believer.
Favorites
SPORTS MOMENT: 1984 Olympic Hockey USA vs. Soviet Union- the Miracle.
COLLEGE FOOTBALL PLAYER: Orlando Pace
COLLEGE BASKETBALL PLAYER: Evan Turner
NFL TEAM: Browns
NHL TEAM: None
NBA TEAM: Cavs
MLB TEAM: Tribe
SOCCER TEAM: USA national team
Recent Activity
Joey has the highest football IQ of any QB on our roster in the last 30 years....the kid has only started in 14-15 games in the last 3-4 years.
To this day it yanks me that Joey sat the bench while we ask Tim Beck to find more ways to have JT run up the middle. Joey aint lookin like a 5 star recruit that transferred in cause he isnt, he is looking like Tom Brady however.
The fact he never was given the reins at OSU still angers me.
Harbaugh was " great" about Mattison leaving because he knew he had the better DC in Brown...
Sounds like capitalism to me.......
When I see folks make comments like that "But I do think it's much more likely Baldwin wins the job now with Day as head coach than it was with Urban Meyer leading the way." It really validates my thinking that in many cases over the years, Meyer has made emotional decisions on players, rather than talent based. There has been far to many players during Meyers tenure that we have been on the bench for 2-3 years only to get a shot do to injury or something and show they are NFL talented. So we see them for 1 season and then they are gone, when had they been evaluated properly we would have had them on the field years earlier. I just do think Meyer was very good at seeing the talent in anyone who wasnt a 5 star coming in.
Frankly I would have liked to seen Fick get his shot. He has turned UC into a monster in just a few seasons. I also would have been happy to see Dantonio. I Really would like to see OSU replace Meyer with a X&O coach, something Meyer was not. I do worry about the recruiting drop we are certain to take.
scUM will now have a HUGE recruiting advantage over OSU with Meyer gone.
One thing is for sure. This seasons playoff will lay bare the fact the it isnt about who the 4 best teams are. Georgia will be left out almost certainly, but they are clearly the second best team in the country.
We already saw this movie last year, when you get your ass kicked, and I mean kicked, by a conference dog like Purdue, you dont get in the playoff. So its fair to conclude that if you are not good enough with a loss to Iowa, you sure as hell are not with a loss by 30+ to Putdue. The Committee has it right. This team would not beat OKC, Bama, Ga., ND, or Clemson. All we would get is another 30-0 stain on our already filthy reputation.
The only way 2 loss Georgia gets selected in the top 4, is if the committee decides to choose the four best teams. Because the only team that can beat Georgia is Alabama. I can't help but think the committee can plainly see what any other objective viewer can see, that thus far Georgia is head and shoulders better at football then OSU
Top to bottom OSU has better players ?? How can you really believe that ? Granted, OSU players have a higher recruiting ranking, but UM has its players playing at a much higher level than OSU does.
What is certain is top to bottom the UM coaches have gotten far better performance than OSU coaches have, and as the talent gap closes, UM will, and maybe has, become the better team. Its not been proven yet, but its likely we will see this hard truth come Saturday. Sadly, I just dont see Meyer being able to recruit coaches that can keep up with UM's. If guys like Fick and Vrabel dont much like Meyer, nobody with great talent is going to. Its why we dont have great coaches now.
So basically both the UM Defense and the OSU Defense allow 13pts. With UM its per game, with OSU its per quarter. But other than the time it takes the opponents its more or less equal.
The fact thathe Committee has OSU ranked in the top 10 should show everyone they are a fraud, cause OSU is no better than Maryland and worse than Purdue. Just as the evidence shows.
Can anyone name a single game after game 3 in which the opposing teams coaches didn't grossly out coach OSU's ? Sure we won some games because of the talent gap, but this group of coaches have been defeated in every game. That tells you everything about why this team has to play so hard just to beat anyone.
we won today only because of a bad throw on the last play of the game, but we were out played, out coached, and its now our new normal under Urbans leadership. Does anyone think it will be different next year ? There was a reason Meyer stuck with Barrett up the middle football for 4 years, because he doent have a clue on how to coach a team any more dynamic.
Sorry, but we have not been ready to stop a single team this year. Purdue and Maryland have combined for almost 100 pts against this pathetic defense. It is maybe the worst coached in all football from NFL to pee-wee leagues nationwide. We have had the worst LB group I have ever seen at OSU, its like they dont do anything but party all weekand just show up for the games. It is fucking sicking to watch week after week. U M is going to destroy this team, destroy them. Urban has no solutions because he isnt a talented enough X & O coah to even understand the fucking question.
most embarrassing team in the big ten, the W-L record does tell the story of a team playing at a level far far below the talent. And its all on this group of piss poor coaches.
OSU' D has done nothing but get more and more embarrassing every year since fick departure. Futher proving the fraud at HC we have. Fick's 5-7 OSU team would pound todays.
Alabama may be the only team with a higher rated roster. Yet our play is an embarrassment. This is the product of a coaching staff and culture completely built by Meyer. It stinks of fraud.
It is almost certain that Sparty will show just how pathetic this coaching team really is. Its my bet that OSU's talent advantage will not be enough to overcome MSU's coaching advantage. We have seen this before when OSU was even more talented and better coached on both sides of the ball. But now, with the D so bad it cant stop anyone, Dantonio will again expose Meyer as the coaching fraud he is. Hell, Fick has the Bearcats playing more solid football than Meyer has the Buckeyes playing.
It is so disappointing to see teams with the same talent level, think Alabama, play such sound football that they are unbeatable damn near every year, year after year, no excuses. Something Meyer has NEVER demonstrated anywhere he has been. Meyer has never been a difference maker in anything but recruiting, and that , as we areseeing, was built on a house of cards.
Worry is usually something that comes from uncertainty. The beatdown the ttun team & coaches are about to put on OSU's is as certain as the sunrise. No need to worry about that. You need to worry if anything at all will change because of it.
Unfortunately all this has done is reaffirm my belief that we have guys Meyer " likes" playing in front of more talented players sitting the bench.
Lots a games left to see just who is spittin truth....seems some need another 31-0 clemson game, as Iowa and Purdue aren't enough.
Humbled is being ranked #2 and losing a tight game... that is not what has happened....what OSU got was not humbled, they got exposed, exposed as frauds who have nothing in the tool box. It will happen again against UM.
The 5 stars are mostly on the bench, so no worries about that.
One of the things they dont do well is coaching, one of the things they do well is show it.