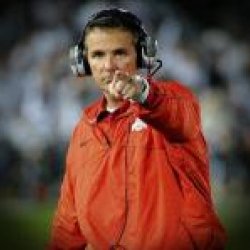 urbanmdg
Clintonville USA (via Dayton Ohio)
Member since 12 December 2012 | Blog
Favorites
COLLEGE FOOTBALL PLAYER: JT Barrett
COLLEGE BASKETBALL PLAYER: LaBron James
NFL TEAM: Cleveland Browns
NHL TEAM: Blue Jackets
NBA TEAM: Cleveland Cavaliers
MLB TEAM: Cincinnati Reds
SOCCER TEAM: Columbus Crew
Recent Activity
Great interview with Zeke, very articulate. His dream came true!
I tried floating this past summer. There is a Float Spa in Powell Ohio. If you are claustrophobic at all, you will freak. I am not claustrophobic and I freaked anyway. Tried it twice, just was not for me.
Felt like crap on Saturday morning when I heard, but everything happens for a reason. I am not sure what that reason is right now. But in the future, we will, I predict, have a "AH HA!" moment. Just hope it is good one!
As with everything, this too, shall pass.
Get ready for the next,
Go Bucks, Beat the Gophers
Born and raised in Dayton, moved to Columbus to go to Ohio State. Never left. I love Ohio. My brothers moved to Northern California, and Arizona, so I have two great vacation spots. And I have a time share in Naples Florida.
When I travel, it seems I always meet people who were from Ohio, and most of them say they miss it. I have thought about moving once I retire to a warmer climate. I live 3 miles from OSU now, it would be so very difficult to wake up on Football Satuday and not be here in Columbus.
Everybodys got to be from somewhere. I am lucky and blessed to be from here.
Once again, the type of players we have on our team are awesome individuals. His mom and dad must be very proud. Way to go Joshua, we are all blessed!!!!
So glad your trip was a good one. I have to remind myself how lucky I am to live exactly 3.0 miles from Ohio Stadium and how fun it is to live Football Saturday in Columbus. I am very blessed! GO BUCKS!!
I think JTB got his job back. He is so diplomatic in the post game interviews, it is all about helping the team win, but he is not about to say himself he should be the one at the helm. Even though EVERYONE knows it now. I trust Urban to do the right thing by keeping Cardlae ready, but for now, JTB has clear command of this offense and of the team. He is their leader.
Zeke is a beast. Congratulations!!!!!!
We got everyone right where we want them. No worries.
Go Buckeyes!!!
This.was.freaking.breathtaking. I can not F€#¥*ing wait for this game.
GO BUCKEYES!
Now, I have to watch this again.
I agree 100%. What I focused on was the fact we did not let them score. We did get our points, but they left the field with 0.0 points. And, even if no one believes it, OSU played with heart, knowing they were going to get blasted with questions about how "horrible" they played. I am glad that Urban makes sure they celebrate these victories, they all count, no matter how uneven. Work on the issues, get better, and come out to entertain us once again. We get to see them play for such a short season, it will be over in a flash, so enjoy, enjoy, enjoy. Nothing like it!!!!
I am a proud graduate of The Ohio State University, and more importantly, born and bred in this great state of Ohio. I am honored when I talk to folks who are neither but are great fans. It is usually because some friend or family member intoduced them to our great Univeristy, and felt the great camaraderie we have. It is hard to resist!!! Go Bucks!!!
Wish it was a 2 hour show...i could watch this all night long!
It was cold, but being on the field in the stadium was a great experience. Walked it in an hour, I placed 8303 of 10,000 runner/walkers. LOL! The winner ran it in under 20 minutes! Medal is awesome. Hope to do it again next year!!!!
Brother from a different mother....
I have tears streaming....sooooo funny!
Looking for a Slam Thompson tonight. LET'S GO BUCKS!!!!