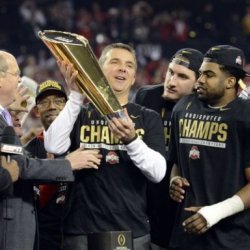 Urbanmania
---
Dayton OH
Member since 22 January 2012 | Blog
Favorites
COLLEGE FOOTBALL PLAYER: Chris Spielman
COLLEGE BASKETBALL PLAYER: Aaron Craft
NFL TEAM: Cleveland Browns
NBA TEAM: Cleveland Cavaliers
MLB TEAM: Cleveland Indians
Recent Activity
Dang you Stanford...just give up
How can that not get you pumped? And why don't we do this before Buckeye home games?
Lived in Cincy my whole life and if I'm looking to get a pizza, LaRosa's is probably the last place I would go to. Most people that go there do so because of Cincy tradition.
How dare people not want their TV show spoiled!
If it takes a while for the vote count to catch up, how do you know it's not just other people voting?
I don't think the different browsers or incognito methods work as the vote count isn't increasing. Just FYI in case some of you want to use the time saved to look up more 11W goodness at work.
In my version of Hell, the TMZ voice is voice acting all the parts of the Full House series for eternity.
After today's performance, I really think we only have one more win in us.
I think they get 4 wins. I think this team will fight a little harder to postpone the end of Craft and Smiths' careers.
Didn't realize not exercising was the only way to define laziness.
Read the Harry Potter series and you'll knock out three more.
Great kid. He should be a great leader in the 2014 class.
His heart is bigger than his belly, it's called congestive heart failure.
Even LaQuinton is acting like he has no idea what is going on
Ohio State has proven that right now they are the best team in the BIG.
Yet again great defense and horrible shots
Not a fan. Should have been one of him pointing and yelling at something.
What does that have to do with leaning forward?
Hahaha exactly!!! Nice find!
Please be joking about trying out for a Chippendales position.
Since finding out and joining eleven warriors I think I am a more complete Ohio State fan. Thanks for everything you guys do.
I think defensive effort and bench points are the keys to this game for the Buckeyes.