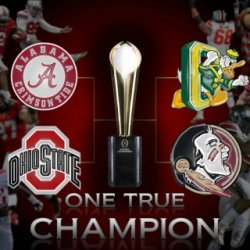 URBANDYNASTY
---
MEMBER SINCE July 28, 2015
Favorites
SPORTS MOMENT: 2002/2015 National Championships
COLLEGE FOOTBALL PLAYER: Tedd Ginn Jr.
COLLEGE BASKETBALL PLAYER: John Diebler
NFL TEAM: Cincinnati "Bungles"
NBA TEAM: Cleveland Cavaliers
MLB TEAM: Cincinnati Reds
Recent Activity
Where does that leave you? A non honorable mention osu fan. Why do people constantly dog on your OWN team?!? The fanbase can feel the energy of a fanbase and our job right now is to pick the team up and support them and cheer our asses off tonight.
Do you feel better about yourself now? Lol its not that hard to notice the people sitting directly in front of you using social media for the entire game. You can see it in the corner of your eye the ENTIRE time. So no, i wasnt continuously looking at the back of two bald heads in front of me. Its also kind of weird when you're not sure if you're in the background of all 850 selfies they took throughout the game. Eat a snickers
Frustrating because we can be so much better. I dont doubt that we are the best damn fans in the land and have the most passion of any fanbase, but when it comes to actually showing our pride during games it's lackluster.
Dont be a prick. You just told everyone what kind of fan you are. A fairweather fan. Congrats buddy. A true fan rallies behind his team win or lose and helps pick his team up when they need you most. But go ahead, shit on your own favorite team. Cool guy
Exactly!!!! Just curious, are you a current student? Ill be transferring to osu next year from community college and ill be doing everything i can to try and change the culture of the "nuthouse"
EXACTLY! There were 2 guys sitting in front of me (row p section 106, right behind the student section) and they didnt look off their phones the entire time. Like dude just get a nosebleed seat if youre gonna be this lame!
Isnt wisconsins stadium very similar to the schott though? Or was the game @ maryland i already forget lol
If this is in fact the answer then we need to make our voices heard
Haha, marching on Sgt.
Andre also can be added to that list I believe
Kaleb luther and kyle young all late to gameday prep and arent starting. This is also my debut for the basketball chat! I have lurked during them for years but figured I will participate. I am a HUGE bball fan love them as much if not more than the football team!! Lets beat Samford.
Neo thank you so much for this amazing info this is exactly the type of response I was looking for. And fingers crossed for Harrison.
As am I!! Thanks LCT!! Go Bucks!
Thanks for the awesome summary blu
Sorry guys, I didn't mean for this to come across as a shit post.
I've been reading the hurry ups again for the past month or so. I'm deployed so it's hard to keep up the way I'd like to. Other's have a lot more insight than me and I was hoping to hear from them. Thanks for your input though I do appreciate it.
There's always ONE. It's usually the first commentator too. Searching for something? Likes maybe?