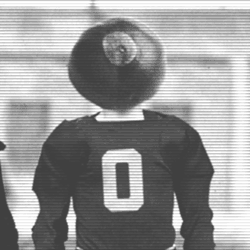 Urban_Can_Recruit
---
Member since 13 April 2012 | Blog
Favorites
COLLEGE FOOTBALL PLAYER: Raekwon McMillan
COLLEGE BASKETBALL PLAYER: DLoading
NFL TEAM: Pittsburgh Steelers
NHL TEAM: Columbus Blue Jackets
NBA TEAM: Cleveland Cavaliers
MLB TEAM: Cincinnati Reds
SOCCER TEAM: Can't tell if trolling, or just stupid
Recent Activity
Extremely dumb comment. I honestly don't think you could have said anything dumber.
The Penn State game was due to lousy luck. It got us last year. I don't know if you're just forgetting about that game or what?
Master Teague to go with Brian Snead was an absolute steal.
66-13
I say this game is put down early. OSU up by 3 TDs after the 1st quarter.
Why what ever percent you aren't sold on him coming to OSU, subtract it from 100 and that's the percent that you're wrong my friend. All Buckeye.
As a former Defensive Lineman, it looks like some of these kids straight flopped in fear once they saw his size.
Hill wasn't even going to be running with the 1s, he's the 3rd DT on the roster behind 5th year Senior Tracy Sprinkle and future top round draft pick Dre'Mont Jones. You don't judge a players performance on how they were ranked in recruiting. I'm going to assume you thought Hooker at Safety and Lee at Linebacker were weak links just because they were 3-stars. Sprinkle, Jones, Hamilton, Landers and Cornell are more than serviceable inside. Once Hill comes that makes 3 deep rotation. It may be a weakness just because every other position group is so strong.
Memo
To: Buckeye Jack
From: URBAN_CAN_RECRUIT
cc: Buckeye Nation
We already tried this two years ago and it didn't work.
I'm offended that you apologized. I'm also offended that I just got offended.
They aren't delivered. You have to go to the Schott and pick them up. Just go around welcome week (maybe a little early if you want to avoid line).
Good for him. I hope he gets in their program and excels. The situation with him and OSU was sad as I believe he didn't academically qualify. This is his chance now and I hope he makes the best of it. Ash needs some players there to make them competitive.
1. Ohio State 11-1
2. Penn State 10-2
3. Michigan 9-3
4. Michigan State 7-5
I would assume this has to do with us getting Zach Harrison and Cade Stover. OSU is looking at Cade as an Outside Linebacker but others are probably painting it as OSU will take 3-4 DEs this year and then those 2 next year or come here and play early. I think Stanford is a team that people really need to watch here too
Nice crystal ball on Devontae Dobbs. Stealing another from Michigan would be nice and give us back to back number 1 ranked tackles
I didn't know you could predict the future with 100% certainty. How cool?
No. They are taking him as a Safety. Still likely that Anthony Cook is the last DB they take in this class.
He's been on campus like 3 times
Yeah I heard Columbus State has been on him pretty hard recently. Big for them to get him on their campus.
Well he's visiting VT on Friday now. So does this mean Cook and Campbell === Buckeye. Done. Finished. Over. in your eyes?
Can I link any of their pages? ESPN, 247, Rivals, Scout, MySpace?
Yes. LeBron for Steph, Klay, KD, Draymond and the '98 Dream Team. Who says no?
Doubt he actually makes it up. Was supposed to come to Spring game too and cancelled last minute. This seems like one of those who says they're coming but never actually shows.