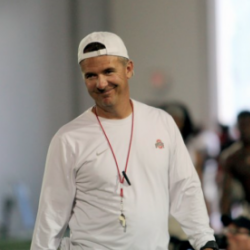 UrbanBuckeye
---
from Columbus
Member since 17 June 2013 | Blog
Born and raised in Columbus!
Favorites
SPORTS MOMENT: Watching Ohio State take down Alabama, and then dominate Oregon. Unreal season!
COLLEGE FOOTBALL PLAYER: JK Dobbins (present), James Laurinaitis or Braxton Miller (past)
COLLEGE BASKETBALL PLAYER: Keita Bates-Diop (present), Mike Conley (past)
NFL TEAM: Cincinnati Bengals
NHL TEAM: Columbus Blue Jackets
NBA TEAM: Cleveland Cavaliers
MLB TEAM: Cincinnati Reds
Recent Activity
About time Urban lands a talented running back.
Kelsey was amazing here. She'll be great in the WNBA too.
Can't say I am overly impressed with McGuff. Our ladies have underachieved in his tenure.
Incredible career, just wish she could go out on a much better note.
Virginia, Xavier and Villanova are solid bets for 1 seeds. Think Duke is likely the 4th.
Mavunga was unbelievable on both ends. Good job, ladies! One more to go.
(-__-)
Met him at The Arnold and my bud took a pic of Moe and I.
Yeah, but they're a Catholic institution with high morals.
I've met Moe Clarett too and agreed that it was a positive encounter. He was surprisingly gentle and polite when I asked for a picture.
How on earth are Cincinnati and Auburn worthy of 2 seeds and MSU is not? So odd. Still lots of ball left though.
Good lord, do I love this man.
It appears Georgia's class is more top heavy while Ohio State's is more balanced across the board.
Teddy and Mike both played a helluva game. Sucks that we won't get to see those boys in Philly next week.
I believe next Monday, the 15th, is the draft declaration deadline.
If he can develop the natural feel/instincts at LB, then he could be a fantastic pro. Athleticism is there for sure. Best of luck!
Pickerington athletes tend to pan out really well (football and basketball both). Happy to see a local kid stay home!
Don't like our chances guarding Joel Berry. Think that's a tough matchup for Jackson/Dakich (especially). UNC's bigs are not as experienced and gifted as year's past though. Luke Maye has developed into a great player, but think KBD may be able to matchup well based on his athleticism and length. I'll say UNC by about 10. Bucks compete for 30 minutes, then UNC's talent and depth wins out.
The weapons Baldwin has in this class alone is a bit silly.
What a political decision.
2 recent Cook CB's to Texas, granted they are Texas writers. Sounds like both sides are confident.
EDIT: SFlaBuckeye13 beat me by a minute.
Kerry Coombs: A wolf's spirit animal
I have heard the same, BUCKAROOTIMESTWO.
Going out on a limb here (lol) and think the final 4, at this point, will be:
1) Clemson
2) Alabama
3) Oklahoma
4) Penn State
Other than our Buckeyes, I think Washington, Georgia and TCU are the other serious contenders. USC and Oklahoma State are still dangerous at 1-loss as well.
Ehhh, Iowa looked pretty meh against Sparty. Hawkeyes' offense is underwhelming to put it lightly. I do agree that PSU is gonna be a tough one. I'm still not confident at this point that we win that one.
Seems like USC has consistently played to the level of their opponent. I'm not sold on Clay Helton still.