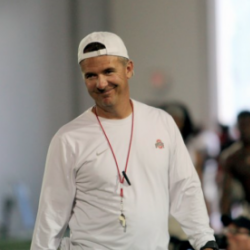 UrbanBuckeye
---
from Columbus
MEMBER SINCE June 17, 2013
Born and raised in Columbus!
Favorites
SPORTS MOMENT: Watching Ohio State take down Alabama, and then dominate Oregon. Unreal season!
COLLEGE FOOTBALL PLAYER: JK Dobbins (present), James Laurinaitis or Braxton Miller (past)
COLLEGE BASKETBALL PLAYER: Keita Bates-Diop (present), Mike Conley (past)
NFL TEAM: Cincinnati Bengals
NHL TEAM: Columbus Blue Jackets
NBA TEAM: Cleveland Cavaliers
MLB TEAM: Cincinnati Reds
Recent Activity
Can Kerry Coombs recruit?
Surprised no one has said "I Ran (So Far Away)" by A Flock of Seagulls. Total jam.
I'll add these rounding up the top 5:
-Spirit in the Sky by Norman Greenbaum
-My Sharona by The Knacks
-Tainted Love by Soft Cell
-Mambo No. 5 by Lou Bega
No particular order:
-Millionaire by Chris Stapleton
-Dream On by Aerosmith
-Learn to Fly by The Foo Fighters
-Simple Man by Lynyrd Skynyrd
-Get Along by Kenny Chesney
Yep. We've, luckily, been able to give guys like Brown, Banks, Williamson and Riep some reps at CB with all of the blowouts we have had.
If Wade is even somewhat healthy, you know he is playing. Michigan's WR core is their best unit.
I have no words in regards to his performance yesterday other than I am not sure how any offense coordinator can attack not just him, but the entire defense. Enjoy this ride, folks! Chase is a generational talent and a great kid on top of that.
Finally, Hartline is able to recruit/develop a player.
Lifelong Bama and Texas fan here.
LOL. You probably think we'll lose to Maryland as well, right?
"Hell, Michigan is not good."
Dude... No. Have you seen their defense play? Arguably the best in the nation.
"bama wins 62-3"
Mmm, yes. Gotta love hyperbole, considering they put up 29 against a very good LSU defense.
"Big ten is easily the worst power 5 conference this year"
Nope. The Pac-12 still exists.
"Hate to say it but I think, the top 7 teams (bama, Georgia, LSU, Florida, Kentucky, Auburn, Mississippi State) in the SEC beat our champ ( Michigan)."
Hate to say it, but you're clueless. Bama and Georgia probably could, but LSU and below all have offenses that would really struggle to score against Michigan. Take a deep breath, man. Sheesh.
That's fair. I would also counter that by saying that our fans are in for disappointment if we are expecting an easy, say, 49-10 win.
Think this will be close in the first half. Purdue has some solid skill position players, especially Rondale Moore, the true freshman stud. In the end, think this will be another example of Ohio State's talent and depth winning out. Buckeyes pull away in the second half and head into the bye week to regroup and get some guys healthy.
Ohio State 45, Purdue 27.
The Gophers are starting a 3-star true freshman at QB in The Shoe... Even without Nick Bosa, I cannot imagine that will bode well for them in any way. Another game for Jonathan Cooper to get another start under his belt and for the back 7 to work on improving. I think it will be smooth-sailing for our Bucks in all regards this game. Indiana is a well-coached, offensive-minded program that has given us problems in recent years. Expect the Buckeyes to rebound this Saturday.
Ohio State 52, Minnesota 14
JMO, but do not think we "need" any help at all. Hell, we would be in the CFP if it started tomorrow. If we go 13-0, we are a lock and probably the #2 seed (this is me assuming Bama/Georgia goes into the CFP at 13-0). Clemson's schedule is Charmin soft and it would be laughable if we do not jump them going 13-0.
Not ideal, but ready to see what Cooper can do in the mean time. Also, expecting more Cornell as well. Penn State game just got tougher (assuming Bosa is out, which looks likely), but we have enough depth on the DL to still get a W.
Could not be more pleased with this draft pick. This guy is tough as nails and should do great things in Cincy for years.
Michigan does play good defense, but Villanova is so balanced and efficient across the board offensively. Best team Michigan has played in this tournament is Houston and they needed a prayer from Jordan Poole, a bench player, to win that one. Think the good luck/lack of an elite opponent will finally catch up to the bum juices up north.
About time Urban lands a talented running back.
Kelsey was amazing here. She'll be great in the WNBA too.
Can't say I am overly impressed with McGuff. Our ladies have underachieved in his tenure.
Incredible career, just wish she could go out on a much better note.
Virginia, Xavier and Villanova are solid bets for 1 seeds. Think Duke is likely the 4th.
Mavunga was unbelievable on both ends. Good job, ladies! One more to go.
(-__-)
Met him at The Arnold and my bud took a pic of Moe and I.