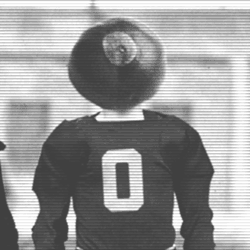 urbanater13
---
MEMBER SINCE September 01, 2014
Recent Activity
590
Yeah, I am going to fast for 48 hours before the game to appease the football gods. I did the same thing before the playoff games in 2014-2015.
I wish him success wherever he goes. He looks like a great player, but I do worry about his size. I think he is listed at 5'10.5, but looks to be about 5'8.
Well that sucks.I saw his name in the transfer portal and got my hopes up. Speed like that doesn't grow on trees.
If Phillip's doesn't sign after visiting utah, the bucks should go after Scooby Carter in the transfer portal from Alabama. He had osu in his top 6 before committing to the tide. He runs a 4.36 40 according to ESPN.
390 yds
Lol nice username.
John Cooper ruined my childhood.
333
28-21 if it rains like they are predicting, 49-17 if it doesn't rain.
431
324
98
Seems like every michigan qb, reguardless of how they played throughout the year, plays like Tom Brady against OSU. I'm expecting a close game no matter who starts.
Did you just get done reading Gravity's Rainbow?
There's no way it's 4.8. There is a Jalen Harris who plays TE at Auburn. Maybe the 4.8 references you are finding allude to him. Heck, I ran a 4.9 in high school and was a 235 lb noseguard at the D5 level. I doubt Urban has ever offered a receiver with 4.8 speed.
Scout.com says 4.52, which, given his height, is easily fast enough.
I think Gibson will be back this year. I went to osu's " find people" search engine and typed in his name. One Torrance Antonio Gibson pops up with a major in Sports Industry. I think that means he is enrolled at OSU.
One of their disgusting, fatbody lineman conveniently falling on J.T.'s leg is a concern.
I really hope this is the week that we get it done. If the line blocks like they did against PSU, however, our only hope for an offensive explosion will be if someone lets out a fart.
535
Yes he should. I recall that when he was being recruited, his biggest attribute was his physicality and his relentlessness to get open. That is something we are sorely lacking in our wide receiver group this year.
Stagnant
28-24 bucks
If Mack accounted for 6 touchdowns, how did they only score 38 points? Did they go for 2 four times and fail or did they miss 4 extra points?