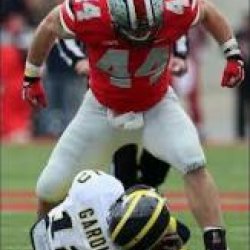 UrbanAssaultVehicle
---
Member since 30 January 2013 | Blog
Favorites
SPORTS MOMENT: OSU v Michigan @ the Shoe 2006.
COLLEGE FOOTBALL PLAYER: Ted Ginn Jr
COLLEGE BASKETBALL PLAYER: Kenyon Martin...beast
NFL TEAM: Bengals
NHL TEAM: Jackets
NBA TEAM: Pass
MLB TEAM: Reds
SOCCER TEAM: Columbus till I die
Recent Activity
This sounds much more important than following up on my stolen car from 2 weeks ago...wish I was joking. Thanks Columbus police.
Yeah we already got the 7 in there. Just looking at where the holder was when it was kicked, the 42.
Negative. Gotta add that endzone Yardage in there. He Kicks from the 42 then it has to cover 42 yards plus the extra 10 to get to the back of the endzone to the goal posts.
Of course its true, if its posted on 11W it is the gospel.
...And its not always -4 degrees!!!
Compared to Sullinger anyone was a stiff... I'd take Ravenel on this year's team though. A serviceable big is the name of the game at this point, and we just don't have one.
Ill never feel comfortable with a recruit that lists Duke or Kansas in his top schools. Heres hoping Thad can pull off some recruiting magic. Just wish he hadn't visited for the Iowa game...
I definitely agree with the article I feel like Im watching Terrel Pryor HS higlight videos. The way Gibson runs though is more RG3, just ridiculous looking track speed. Seems like the real deal. Get after em Urban.
Damien Harris to Brady Hoke this morning...
Kennard looks like he might add a nice three point dimension that we don't really have right now (no offense Amadeo).
Never said he was a coordinator. Just that he has been on the staff. But you are technically correct that he was in fact the Special Teams coach in '02-'03 and not on the defensive staff.
I'm pretty sure Fickell has been on the defensive staff since 2002...and you are going to say hes not a winner? Id say that span saw arguably one of the greatest consecutive years of defensive college football in the history (Im biased...deal with it). Lets also not forget which position group he coached last year and how that group faired. I think its wise to take a step back and look at the facts before we start demanding people's heads.
Heacock did have Urban on his staff at Illinois State in the early 90's so there is definitely a connection there. I wouldn't be at all surprised if he was brought on in some capacity more than his current consultant role. You have to think Urban would want a tireless recruiter at is co-DC position though. Especially to fill the Vrabel void.