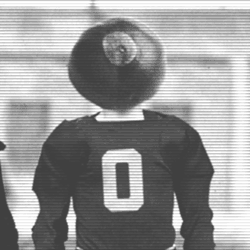 urban86
---
MEMBER SINCE November 29, 2013
Recent Activity
REMOVE KEVIN WARREN AND REPLACE WITH JIM DELANEY
Buckeye Nation, I am honestly torn on this issue. While I absolutely relish watching Coach Pissy Pants consistently lose on the big stage, watching our Buckeyes rip out their throats, (8 years in a row), listening to the Skunk weasel fan base use the same excuses, while tweaking out new ones from time to time about their "illustrious leader", there are truly not many more things so mind numbingly stupid as listening to his press conferences. That insanely stupid look he has on has face, sporting his birth control glasses, and tobacco stained teeth, he says nothing about nothingweek in and week out. Driving back and forth over speed bumps is more entertaining and informative than enduring Little Jimmy Harbaugh's voice. Ah, the hell with it, LIFETIME CONTRACT FOR THE WALKING BIRTH CONTROL xIchigan xan. Salud Jimmy
Buckeye Nation will let that pathetic shit stain know when he is permitted to have an opinion on UFM. Harbaugh with his birth control glasses, bank stare, bleach skin, tree climbing , and sleep overs at recruits, he has enough issues. Muck Fichigan!!
I asked this questions to many, fans of OSU and not. Even a few fans of the TTUN, (immediately have to shower afterwards). How can ANY fan base get behind Jabba the Hoke? He MIGHT have some positive on the field, but the face of your team. He is such an easy target. New all time levels of pathetic. And yet every skunk weasel was excited to have him there, until the end. He's a Xichigan Xan they would say. As for Harbaugh, the man has nothing behind his eyes. Dead eyes!!!!. His press conferences could put a meth addict to sleep. I would almost feel sorry for the press having to cover him week in and week out, but then again, they are SCUM fans and they are getting what they deserve. As much as it pained me listening to Brady the Hut and stills pains me listening to Coach Pissy Pants...hope he stays a long time..His daily worship to the traitor Bo and his 2 tight end set and a full back will continually keep the Banana and the Blue drowning in a sea of mediocrity. Xichigan still sux!!
Urban Meyer is Awesome...when he is being Urban Meyer. I don't see the fire in eyes. the ora of confidence and swag in his step. The arrogance he walked with in the first 5 years. The whole ZS fiasco was nothing short of a soggy shit sandwich that all of Buckeye Nation is still wiping off our table. I have to think we can't wait til Shitigan week. Buckeye gods, I humbly ask that every soul inside the WOODY becomes healthy, hungry, and PISSED THE FUCK OFF!!
AMEN
9/1/2018 in 9 days away.. Buckeye Nation,,,to hell with the national media... ESPN is now the known as the sports version of the THE VIEW. Coach Urban Meyer we stand with you. See you on the sidelines soon.
Oregon St. : nothing personal
GO BUCKS
and ichigan still SUX