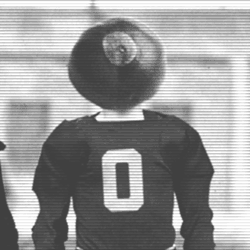 urban86
---
MEMBER SINCE November 29, 2013
Recent Activity
Buckeye Nation will let that pathetic shit stain know when he is permitted to have an opinion on UFM. Harbaugh with his birth control glasses, bank stare, bleach skin, tree climbing , and sleep overs at recruits, he has enough issues. Muck Fichigan!!
I asked this questions to many, fans of OSU and not. Even a few fans of the TTUN, (immediately have to shower afterwards). How can ANY fan base get behind Jabba the Hoke? He MIGHT have some positive on the field, but the face of your team. He is such an easy target. New all time levels of pathetic. And yet every skunk weasel was excited to have him there, until the end. He's a Xichigan Xan they would say. As for Harbaugh, the man has nothing behind his eyes. Dead eyes!!!!. His press conferences could put a meth addict to sleep. I would almost feel sorry for the press having to cover him week in and week out, but then again, they are SCUM fans and they are getting what they deserve. As much as it pained me listening to Brady the Hut and stills pains me listening to Coach Pissy Pants...hope he stays a long time..His daily worship to the traitor Bo and his 2 tight end set and a full back will continually keep the Banana and the Blue drowning in a sea of mediocrity. Xichigan still sux!!
Urban Meyer is Awesome...when he is being Urban Meyer. I don't see the fire in eyes. the ora of confidence and swag in his step. The arrogance he walked with in the first 5 years. The whole ZS fiasco was nothing short of a soggy shit sandwich that all of Buckeye Nation is still wiping off our table. I have to think we can't wait til Shitigan week. Buckeye gods, I humbly ask that every soul inside the WOODY becomes healthy, hungry, and PISSED THE FUCK OFF!!
AMEN
9/1/2018 in 9 days away.. Buckeye Nation,,,to hell with the national media... ESPN is now the known as the sports version of the THE VIEW. Coach Urban Meyer we stand with you. See you on the sidelines soon.
Oregon St. : nothing personal
GO BUCKS
and ichigan still SUX
Figure Paulina Dickbaum will have something to say negative to say, provided he can crawl out from under Nick Sabans desk.
It would appear from Urban's statement on Friday, he reported what he knew. Like all of us, I wished he answered honestly at Media Days. The MEDIA. By and large the media is a festering sewer. The media kept saying we need to hear from Urban, well, we heard form Urban on Friday. The media, by and large didn't like his statement. His statement didn't coincide with the by and large media narrative which is to crucify Urban and Ohio State.
Not once did I see Urban's entire statement on ESPN,(actually their official name is E SEC PN, FS1, or Big 10 Network, talk shows is what I am referring to. The part where Urban talks about his mother, wife and daughters. Not once was that shown, and the endless loop played over and over confirms it. Paul Finebaum had his 2 minute rant condemning Urban. Hey Paul, if we want your biased opinion we will let u know. Paul, shut up, put your I LOVE NICK SABAN SHIRT on and continue to dream up reasons why Oklahoma kicked Alabama's ass in the Sugar Bowl a few years back. Finebaum, you are NOT the icon you think you are. Your absolute clear, unwavering bias all things Alabama, Nick Saban, and the sec is pathetic and ESPN allows you to get away with it.
If the investigation shows Urban, Gene Smith followed protocol and they are cleared, you can bet your last dollar now the bullet head paul finebaum will be shouting conspiracy from the tallest barn in sec country.
Personally, I don't believe Urban would sacrifice or jeopardize his career and legacy for ZS or anyone else.
GO BUCKS!!
and XICHIGAN STILL SUX
Its amazing how many no talent "personalities/experts" are on the air. Greg McElroy repeats virtually everything other shows talk about. Uses 50 words where 5 will do. Greg McElroy, please return to your true calling as a NY Jets Tackling Dummy.
Traitor,,Traitor..Traitor.. Wanting to coach for George McFly, how desperate can one be??Have A Turpentine Martini Ed..Rushmen to see you in Late November...Did I mention you are A Traitor?
SEC Porn
Paul Finebaum with his Nick Saban Blow up Doll
YEE HAW