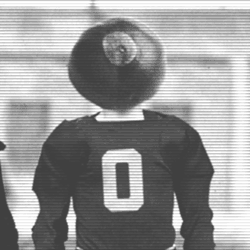 Urban Cowbuck
---
MEMBER SINCE December 10, 2015
Recent Activity
That was golden!
Powerpuff Pete no more! I still think he perhaps needs a barb wired tat and a beard. He looks like a babyface assassin.
What is it, your period? Get him a cranberry juice
Lord, if all is right in the world, please ensure that a former Tight end Ben VanSumeren is starting for UM at running back in November vs. the Buckeyes.
That Preseason Top 10 is ass dude.
Great article! I love this player and family already. Happy that OSU will step back and let he and his family decide on his mission trip plans.
I remember Urban stating often about getting guys touches in interviews. Braxton perhaps? Wanting to get him involved?
Now if a cross were to somehow wash upon a Michigan practice field or something.......naw....not even God would miracle their asses a championship.
Expierced Big Ten starter. Captain qualities. Hell yes. Get er' done.
I'm wondering if this hire might have been initiated with intel from Mattison from Matt's year at Michigan.
SAVAGE is my word for the DAY.
If Day tops off this off with Al Washington LB/ recruiting coordinator and Corey Raymond DB coach he will have knocked a grand slam for his coaching hires. Greg Mattison will be the Sensei for a couple of up and coming DC talents.
The Al Washington news is tremendous! I'm trying to picture in my mind what kind of procedure would have to occur to permit the former UM coach into the Woody Hayes Athletic Center for the 1st time. I'm imagining something along the lines of him being stripped down and handed a match to ignite all of his piss Maize and Blue gear in a bonfire at the door. Dragged naked toward the OSU/UM countdown clock and having some kind of ritualistic cleansing performed. I'm guessing it will be kept all nice and quiet. An in house initiation that we will probably never be privy to.
2 years, $950,000 annually........Yurcich now.
Football Barbie is the best! He will be missed.
I think that defense takes a huge step backwards next season. I'm not sure if all of their underclassmen have declared their NFL intentions, but color me unimpressed with the product they produced against Florida. It's very obvious they have poor depth with a huge drop off in talent when a starter is out.
Dobbins [speaking about Day] " I just think that he looks younger". Isn't that kinda like verbalizing to your wife that your hot 25 year old neighbor has a youthful glow about her?
Worse yet for Greg the Tennessee fiasco probably has destroyed his head coaching aspirations unless he looks at a MAC level or lower position. This season's performance certainly didn't help his cause. Factor in his possible salary at TN and and a potential loss of his DC coordinator job. Will take a huge hit in $$$
I'm crossing my fingers he is outta here.
Let's get the win for Urban. I'm sure it will be a pretty emotionally charged postgame. Still trying to wrap my head around it being his last game with the Buckeyes.
Lol. The Gophers leaving Minnesota and heading to Detroit. That ought to be a thrill for the kids.
From Jim Tressel to Thad Matta to Urban Meyers to Chris Holtman. Damn we are on a stretch of incredible coaching hires. Ryan Day the ball is in your court! Let's make it 5 in a row!
Billy Davis is the Tim Beck of linebacker coaches. He should have been the first to hop on a bus to James Madison with several others boarding in seats next to him. Seriously a horrible move by Day if this rumor is true.
I read Billy Davis returning in 2019, stopped reading the article and sat down my phone. Please someone tell me that's a MIRAGE and all in my head. I'm sure I just didn't read that and it's all just a bad dream.
I thought those were pretty classy statements from Micah.