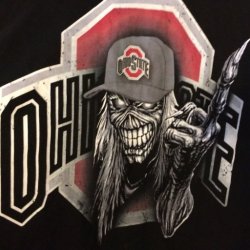 UpIrons
---
Columbus, OH (via Massillon, OH)
MEMBER SINCE August 23, 2014
Born and raised in Massillon, Ohio. Graduated from Canton Central Catholic High School. Moved to Columbus in 1991 and it has been my home ever since!
Favorites
SPORTS MOMENT: 2014/15 Undisputed National Title VS Oregon 42-20!
COLLEGE FOOTBALL PLAYER: Eddie George, Cardale Jones
Recent Activity
OK so maybe the FBI would like to talk to OBJ about this "Fake Money" instead?
Nice to see Alabama all the way down at #8 for a change, though I think they are still rated too high.
It's interesting that the NCAA suggests that the portal exists for reasons of transparency. The reality, however, is that it is not transparent at all once the player decides to change to the next school. They sit and wait for an answer about whether they get to play immediately or have to sit out a year and have no real insight into the process at all. So if they really want transparency, put all of that out there too.
Don't make a statement like this until it happens. I am still not quite over what happened to Braxton.
I know it happened in the first half so it doesn't apply here, but does anyone know how the targeting rule works if, hypothetically speaking, Shaun had been ejected in the second half? Does that carry into the next season?
I watched a little bit of TTUN as well as Wiscy in their respective bowl games. Then, of course, bad officiating reared its ugly head again in both and I think I am done watching til next season. I'll just check the score for LSU when they slaughter Cheatson.
I really don't want to get all tinfoil hat but you add that terrible offensive pass interference call against Wisconsin in the Rose Bowl and how that changed the game as well and one just has to think something is up here!
I don't know enough to say much about the targeting call. But I can say without a doubt that the fumble scoop and score was a total BS call because if it had been the other way around I believe in all my heart that they would have never overturned it in the review booth.
But, at the risk of sounding too much like someone from mgoblog I will just say that I am proud of the team for showing the world what a great team they are and they can hold their heads high for that performance regardless of the outcome.
Sad for a loss but still proud of this team. They played so tough and represented well. Gave the defending national champs more than anyone thought possible and almost had it this time instead of getting embarassed. Great season to watch and great job team!
All the talk about "nobody wants Clemson" was wrong. We needed this game to happen. We needed this chance to prove that 2016 is NOT what this team in 2019 is. Clemson is about as good as it gets if you want to prove anything. Beat them to a pulp and let there be no question! Go Bucks!
This team has what it takes!
I want to see another 85 yards through the heart of the south in this game. That would make me very happy!
This is an interesting conundrum. On one hand, you want to be in the playoffs so that you can recruit the best talent. On the other hand, in order to recruit the best talent, you need time during the weeks of playoff preparation. Seems like the teams that don't make the playoffs have an advantage here, but, again, if you make the playoffs then more players want to play for your team.
THIS is why coaches get paid the big bucks (no pun intended)
This is the exact mentality we need from the young players. Patience. Stop looking at the damn transfer portal as a quick fix and just put your head down and work. Earn that job!
Alabama was a hurdle to overcome at one point and they accomplished that with flying colors in 2014/2015. Now it's Clemson's turn and they are looking like the biggest challenge yet. But this Ohio State team is already special and if any team can remove the Clemson blemishes it's this one.
Ahhh, J. Geils Band. Everyone should go youtube "No Anchovies Please". Go Bucks!
Toughest test yet, by far - probably for both teams. Thanks Wisconsin, for giving our Buckeyes a tough situation to forge themselves against. Gonna need it here!
We beat Clemson and all will be right with the world. I have a feeling Oklahoma is going to roll LSU and that would make for a great revenge game #2 as well, but I'll take whatever we get. Go Bucks!
So proud of this team. Should thank Wiscy for bringing it. That adversity will prove helpful in the playoffs! Go Bucks!
Yeah. I am kinda nervous about this one. There's still a lot of hype around beating TTUN and not as much about this game. Just hope the team doesn't share that mentality.
Not sure the flexible sleeve did much, but, to your point, it probably was good that he got the Physical Therapy and strengthened those muscles from the Penn State game as THAT would help protect him.
So, somebody took a lot of time out of their evening to downvote every single comment 1 time at the beginning of this comment thread. Whoever you are **cough, michigan fan **cough*** I hope it was worth it and I'm sorry you have nothing more positive in your life than to waste it doing that. I also see that you gave up halfway through, much like TTUN does every time we play them! Go ahead and downvote this one as well if you're still reading. Oh, no you left. Couldn't keep reading all the joy, eh?
So, I did some reading of their boards over the past few days and I have to say that these people are truly delusional on so many levels I actually feel bad for them. It isn't even just about football, really. They have this notion that their program doesn't cheat or "pay players" to recruit them and the only way for them to ever beat us would be to start doing dishonest things like that. Then there's the comments about how shitty Ohio is and especially Columbus... Um, have they read the news where Columbus was voted the #1 city in the WORLD? How anyone could compare Detroit to Columbus and come out thinking they are better off there is just insane. I will concede that parts of Michigan are beautiful and their lakes are crystal clear, I love paddling up in Traverse City, for example, but that is closer to Michigan State so they really can't even claim that!
In the end, it's all just a bunch of desperation talk to make themselves feel better and I get it. I am old enough to remember the Cooper years and I did grow up in Massillon which is a town that has basically nothing good about it BUT football, so yeah, I understand. You have to make your own pride when you have nothing else. But at some point you have to realize the only way out of your own delusion is to try and see reality for once and admit you have been fooling yourself.