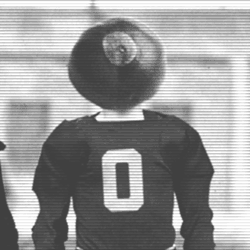 Unstbl
---
Member since 07 September 2010 | Blog
Recent Activity
Does Jimmy Chitwood have any eligibility left???
What do the little numbers next to "OHIO ST" mean in this gif? I don't recall seeing those before.
Is it definitely a torn labrum? Any particular reason the article says "regular season"? That gives me false hope that he will be back for the BTT!
Get well Tater.
Well, there is the omsbudsman... http://sports.espn.go.com/espn/columns/story?id=2826900
Figured it worth a shot and got the following response. Think 11W can generate "several complaints on the same topic"?

"The Poynter Review Project cannot respond personally to all the mail they receive, but every complaint is read and noted. When complaints are specific to a show or an article on ESPN.com, they are forwarded to the producer or editor in charge of that content. When there are several complaints on the same topic, we will look to address them in our blog or monthly column. (The same is true for positive comments.) We cannot assure you that your complaints or ours will result in action, but we can assure you they are not lost in some cyberspace void. They are read, thought about, and disseminated.
Thank you,
Russell Goldstein
Assistant to the Poynter Review Panel
espn.feedback@gmail.com
Click here for the Poyner Review Project archive"