unknownmusketeer
---
Member since 14 August 2011 | Blog
Favorites
SPORTS MOMENT: 2002 NC game
COLLEGE FOOTBALL PLAYER: Braxton Miller
COLLEGE BASKETBALL PLAYER: Aaron Craft
NFL TEAM: Whichever team has the most Buckeye players
NHL TEAM: Colorado Avalanche
MLB TEAM: Los Angeles Dodgers
SOCCER TEAM: Columbus Crew
Recent Activity
Thought that he was Tom Crean with a buzz cut.
Fair is to say that he will.
This is not the confessional thread ... /s
It's 5 o'clock somewhere. /s
Hey, recruiting stars are expensive. With so many cutting cable, they just can't afford to be handing out stars to every Tom, Dick, and Harry.
It would seem Women's Basketball since:
If a recruited student-athlete, the individual shall have been earnestly recruited to participate in the sport in which financial aid is counted (i.e., the institution recruiting the student-athlete shall have a reasonable basis to believe that the student-athlete is capable of participating in the institution's varsity intercollegiate program in that sport, including documentation of a record of previous participation in organized competition in the sport that supports the student-athlete's potential to participate in that sport in varsity intercollegiate competition). http://grfx.cstv.com/photos/schools/tam/genrel/auto_pdf/comp101-4-multi-sport-sas.pdf
From my understanding Kelsey was "earnestly recruited" to play Women's Basketball.
Does this include players?
But how fast does he run 85 yards?!?
Could this help them avoid salary cap issues? Give LeBron $40M per year for being the GM and $5M for playing.
I am still trying to figure out which recruit's grandmother that is.
Reminds me the time that my mom "promised" my brother a car if he got an A in organic chemistry. He did, and my mom bought him a Hot Wheels car.
Did Coach Meyer say a permanent tattoo? Or would a henna tattoo suffice?
But Ryan Hamby deserved it. /s (just to be sure)
In all honesty, this is my major complaint about college football and part of the reason that I am "ok" with players not getting paid more than tuition, living expenses, and books.
Whenever I see this, I think, "Coach Meyer really does recruit every member of the family. I am wonder how many times Coahuila Meyer talked to this kid to make him want OSU."
They were a dominant program at one time. Many things are cyclical. They could be on the rise, making the B1G West more competitive.
You first need to announce that you will be making an announcement about when you will announce your Top 5.
He either (1) donated a giant amount of money or (2) had an "anonymous" donation in his name.
5.15 hang time?
Isn't actually that long to leave Tom Brady hanging ...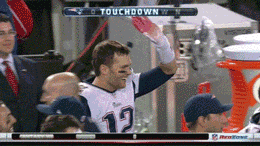 Yes. All future years will include "roster management."
This year? Maybe.
What would people think if the NCAA instituted a scholarship exception for punters and kickers?
In other words, you can have 85 position players and 3 punters and kickers (88 players total, but 3 spots are reserved for kickers and punters).
How will Florida fans react when they learn McElwain is having an affair with a shark? /s
Edit: Evidently, I am not fully awake and should have replied to a later comment.
This means schools between Ohio State and MAC schools will likely suffer.