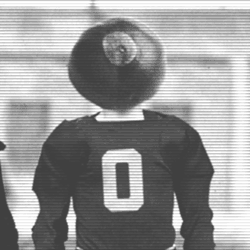 Uncle G
---
MEMBER SINCE July 04, 2018
Recent Activity
I-O
I wish transfers weren't so easy. Sitting out a year, with exceptions for extreme situations, is/ was a good thing. People talk about us benefiting, but if Joe and our other QBs hadn't transferred we wouldn't have needed Fields... However, you can't turn the clock back. Go Bucks!
Maybe thinking Stargate?
You may hate it, but it is a fact, and a solid argument.
Lol
JK 156
Kaleb won't be back He tested the waters last year, this year he'll go.
583
134
logged in just to upvote!
366
We can all look back and see that it didn't work. And there's probably enough blame to go around. But sometimes everybody does their best and it just doesn't work.
He's my quarterback too, but I can still dislike his lack of manners and maturity.
You'll need to relax a bit. I don't want him to get hurt, but I laughed at the thought.
God speed young man!
I agree with many of the comments that we need to be careful about criticizing these players for their decisions. There is so much more to life then money. If I had the ability to play for The Ohio State Buckeyes, I trust that I would play for the love of the game, and to honor my University and my Maker. Upon graduating, I would hope that I had the health, ability, and opportunity to play professionally and earn a paycheck. My current career demands that I be physically fit; if I get injured, I'll need a new one, but I don't live in fear... Just my thoughts.
Anyone who thinks our game against Cincy is an easy one is clueless.
Comparing coaches leaving to players transferring is comparing apples to oranges. If Day decided to quit, we could potentially hire as good or maybe better coach. We cannot just go and hire another quarterback!
Solid work, Jake! Thanks!!
I'm not fine with that. I think it is a step in the wrong direction, to have immediate eligibility if needing to compete to win the starting job is the reason Tate left. I am thankful, though, that we stayed classy and didn't fight it.
303
Which is worse; to see an ESPN conspiracy behind every Rock or to be blind to ESPN bias?
I watched parts of them.... You never know what can happen.... IF you get a chance to play.
I'm not sure Taver should be back...
I disagree.