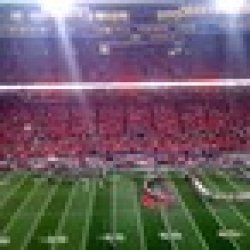 umbyosu
MEMBER SINCE June 03, 2011
Favorites
NFL TEAM: Cleveland Browns
NHL TEAM: Your Columbus Bluuueeeee Jackets
MLB TEAM: The Tribe
SOCCER TEAM: Crew 96
Recent Activity
I remember Herbie talking about covering the NFL draft years ago while he was still associated with The Fan. He said the one year he did it he absolutely hated it and hoped he never had to do it again. Singing a different tune now.
Yes, 1995 was a powerful offensive year, except a November game in the shoe against MSU.
History may reflect that Abe only used the F-Bomb within his inner circle.
in the spirit of Keyshawn Johnson (substitute Dobbins, please).....
I would like to think there is a color photo of Jud to display, not a B&W from the 60's. RIP, Coach.
Always love watching that team and how scrappy that had to play when Johnson got in foul trouble and they had to play small with Singleton at the five. I had almost forgot about Bobon. Oh wait, that team no longer exists on the record and I must have dreamed about the final four run.
No more winning Scoonie's tickets on Friday on 105 The Zone any longer, I assume. Although loyal to the program, I believe all of his recent takes before Matta left were spot on. I am glad he is wanting to take on the responsibility to make the program great again.
The kid from lower Arlington?
What....the kid is from Bloomington....#fireWilson
Is there a bottom of the hill Arlington like hey used to say about Grandview? Maybe not
Or Washington's roster.....
Best player in the big10 going left, not so good going the opposite way, though
I believe he would have picked MSU over Butler as well...jury still out if waves are being made yet or not.
same look he had with the Browns!
For God's sake, let's hope so!!!!!
After Jack Tatum passed through OSU's greatness, there was the late, great Neal Colzie. Big Kat and Lill Animal in my all wildlife team.
This picture has been vacated.......