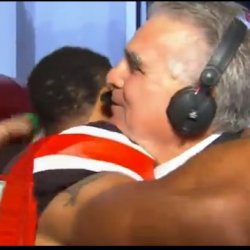 UCBuckeye
Warsaw, IN (via Grove City, OH)
Member since 04 December 2013 | Blog
Favorites
SPORTS MOMENT: My first Ohio State-TTUN game in 2013 and my first Ohio State-TTUN in the Shoe in 2014
COLLEGE FOOTBALL PLAYER: Troy Smith, Braxton Miller
COLLEGE BASKETBALL PLAYER: D'Angelo Russell, Jared Sullinger, Scoonie Penn
NFL TEAM: Cleveland Browns
NHL TEAM: Columbus Blue Jackets
NBA TEAM: Cleveland Cavaliers
MLB TEAM: Cleveland Indians
SOCCER TEAM: Columbus Crew SC, USMNT
Recent Activity
My dad was 1978, mom was 1981, and I was 2009.
That 05 team was sweet. That was my freshman year. I went to every game home/away that year and then probably attended a whole three games the rest of high school.
Let's get that Grove City to Ohio State pipeline started! Go Dawgs!
Nice to see kids from my high school get the opportunity to play at The Ohio State University. Go Dawgs!
weren't all the Michigan Men bragging last week about how they keep knocking QBs out of games this year. Ironic isn't it?
when I was in school I only went to Thursday and Friday night games bc I didn't want to miss Ohio State games on Saturday. But I agree, I would like to go back for one game every year but Miami (OH) and UConn just don't do it for me. Might be a different story if Texas or Oklahoma came to town
They just made renovations to the stadium. They can't do much on the side of expansion bc they are land locked on campus. The school refused to tear down the new tennis courts they built in order to expand. However, the school could reconsider since they will have more money if they join the Big 12.
As a Browns fan I can say that I am riding high today! We almost beat the Broncos this year (read: choked) and the Broncos went on to win the Super Bowl. I'd say that celebration worthy!
It makes me feel old that he doesn't remember Dustin Fox playing for Ohio State and I'm only 25
Obviously wouldn't trade LeBron but I would trade Kyrie and K. Love for CP3 and Blake Griffin without hesitation.
Hopefully the IT guys are Buckeye fans and you've introduced them to a new site lol
I will get no work done and will be on 11w all day
Or the name that's on his birth certificate, James Robert Va-nevermind...
Sorry I forgot about the DT this year named Lyndon Johnson. I swear they announced him as "Lyndon B. Johnson" during one of the games, but I could be making that up.
Bearcats had a safety this year named Mike Tyson.
Cashmere Wright played for the basketball team a couple years ago.
Yeah I would think it meant the same thing. It would still be a win in January regardless of the team.
Tough. I'm trying to share my opinion in a respectful and intelligent manner and you talk crap in another post. You're a child.
In January. This year not last year. Have you been reading the whole conversation?
Didn't prove anything last year, haven't won anything this year. Thanks for reading what I said.
The 2007 Patriots were on a historical run during the regular season too. How did that end up going for them?
Yes they dominated playing the Pelicans who only had Anthony Davis, the Grizzlies who were a matchup nightmare, the Rockets who were a joke and the Cavs who didn't have Love and Irving. Everybody talks about the Eastern Conference being weak but they avoided all the heavy hitters. They still were probably the best team in the NBA last year (I still think a full strength Cavs team beats them in six or seven) but what did they prove? If you have a good team and a lucky playoff matchup break you can win the whole thing?
I'm not being stubborn I'm being a fan. Please tell me how you are being any different when it comes to your opinions of Alabama and Ohio State??
You're right they have no weak links. Why isn't the All-Star game the Warriors vs. the rest of the league?
It's still January dude, I don't care what you say. Beat the best teams by 50 and it still doesn't matter because it's still January. Stretch run in the NBA is after the All-Star break which is 2/3 of the way through the season.
Come talk to me when they are doing it in the playoffs against the Clippers, Thunder, Spurs and the Cavs. After that happens then I'll admit they are dominating.