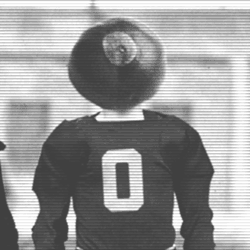 UAGoldenbear84
---
Rochester, NH (via Columbus, Ohio)
MEMBER SINCE March 30, 2015
Recent Activity
The long strange trip will go on forever....thank you for your words Robert Hunter!
Ruckert looked great Saturday! I really think he needs to be on the field all the time. Line him up everywhere, no matter what he's a mismatch.
"TEs being used like they were last year"....Ruckert should transfer, his talent is being wasted.
Why-fi? You pay good $ for the "game experience".....you should experience the game. TV timeouts...all the "down time" people are talking about....go get more FOOD!!!!!!!!!!!!!!!!!!!!
Cars....watch any Mecum auto auction. When cars were cars....not an O/S with wheels.
I wouldn't mind the Buckeyes figuring out how they could turn this get up into a football uniform
Ruckert NEEDS to be on the field for at least 15-20 snaps this year....if not we are wasting the most talented player that has come to Columbus since Zeke.
I wish they would use Ruckert as more of a hybrid. Line that kid up all over the field a mismatch anywhere...a little Gronky!
Once again "29" thanks for a great season of lacrosse insight! I appreciate all you do!
My one take away was there was zero sense of urgency. Yes you go with your game plan, but playing from behind and not pushing, not taking advantage or creating unsettled situations...poor. I saw a few players not pull the trigger for some reason...if the window is open take the shot!
We should never, ever recruit a TE again. Just get another OT and give a TE number. I feel bad for Ruckert.....
Ruckert needs to be thought of as a WR not a TE and used that way. He NEEDS to be on the field. Look at how PSU and Iowa use their TEs. Ruckert is going to run by people...should be used like Rob Gronkowski, he turned out ok.
I don't see us making the post season at all this year.
Ruckert should be used as a WR not a TE!
Ruckert should be used all over the field. A WR more than a TE. No matter how you look at it....he's a mismatch. Just put him on the field.
Thanks for the recap 29! I think our GK situation should improve with Skylar Wahlund and Christian Tomei. I'll admit when I was watching this game I was calling for a switch at goalie. I think it's time to give Sklar some PT.
I don't see them taking advantage of ANY unsettled situations. Time to scrap the slo-mo, deliberate offense. Put Jasinski at X. Jack Myers in front of the cage. More off ball movement. Back to fundamentals.
It was terrible. I said to myself many times watching that game.....Jack Myers is really, really good. I would take him off of X though and put Jasinski back there to feed Myers. I also noticed most of our shooting is sidearm...terribly inaccurate. Need more over the top or 3/4 at best. The off ball movement looked like a mosh pit in front of the net. Back to basics and fundamentals.
Finally. This kid needs to be on the field ALL THE TIME!
Born and bred Buckeye here.....have lived in NH since 1985. I miss Columbus everyday. When Day got the nod, I said to my friend..."great now we're gonna see Ohio State gear EVERYWHERE!" The bandwagon is quite full up here...and it annoys the S- out of me. NH folks-known as "granite-staters" are indeed a proud, hard working bunch for the most part, They love their state motto "Live Free or Die".....but have zero clue about college football. UNH hockey is king....but they haven't done well for a few years. I can't really find many people to have an actual conversation about anything but Tom Brady and the Patriots. I cannot wait until the ride comes to an end for TB, BB and The Patriots insufferable fans....then what? I'm sure there will be some die hard Pats fans that stick around, but I fear the Ohio State bandwagon will have a wait list.
Use him as a WR not a TE.
I think we need to use Ruckert as a WR. Line him up EVERYWHERE! Forget....for the most part...using him to block. He's a mismatch no matter what.
Thanks for yet another great re-cap "29"! You have my vote for team MVP!
UA going to play IMG and Culver this year....yikes!
Great write up "29"! I made the 3 hour trip with my wife.....beautiful sunny day in Amherst! Great to see so many Buckeye fans!